Almond Butter Chocolate Chip Cookies were inspired by Food & Wine's Almond Butter Bars. I loved how the almond butter made them crispy and light, so I tried using it in chocolate chip cookies. The results?  Cookies with the crispness you'd normally get from shortening, but the subtle flavor of almond. They're fairly thin, not overly sweet and have a light and sandy texture.
Here's a photo of yesterday's cookie. Doesn't it look crisp? It is! I have an oatmeal version in the works as well.
For the almond butter, I've been using Maranatha (sweetened).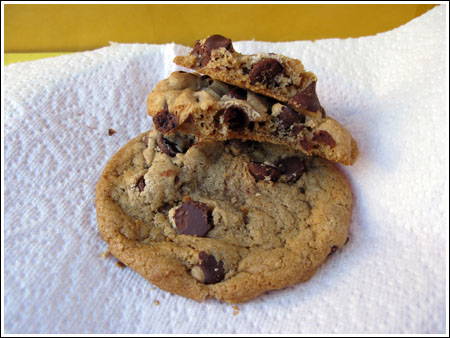 Update: Some people have said these remind them of the Tate's Bakeshop Cookies.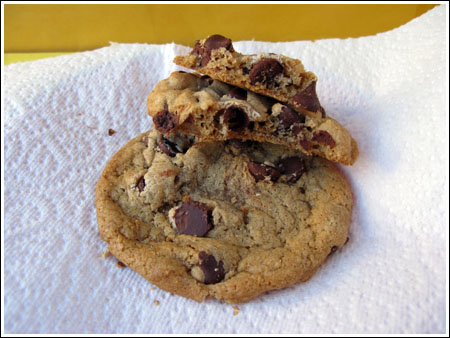 Thin and Crispy Almond Butter Chocolate Chip Cookies
Thin and Crispy Almond Butter Chocolate Chip Cookies
Ingredients 
4

oz

unsalted butter

(114 grams)

1

cup

flour

(127 grams)

1/2

cup

granulated sugar

(100 grams)

1/4

cup

packed dark brown sugar

(50 grams)

2

tablespoons

regular salted almond butter, sweetened kind

1/2

teaspoon

salt

1/2

teaspoon

baking soda

1

teaspoon

vanilla extract

2

tablespoons

lightly beaten egg

(22 grams) — approximately

1 1/3

cups

semi-sweet chocolate chips
Instructions 
Melt the butter in a saucepan. When butter is melted, add the flour gradually and stir, coating it with butter. Set the time for 3 minutes and cook the butter and flour mixture in the saucepan for 3 minutes, stirring almost constantly to keep it from burning. I'm not sure it will burn easily, but I kept moving it around in the saucepan just in case. After 3 minutes, it will become scraggly. Remove from heat.

Transfer the flour/butter mixture to a bowl and let it cool completely. This will take at least a half hour – maybe more. It needs to cool. You can cheat and throw it in the refrigerator after it's cooled at room temp for 30 minutes.

Preheat oven to 350 degrees F. Line a few cookie sheets with parchment paper.

Combine granulated sugar, dark brown sugar, almond butter, baking soda, salt and vanilla in the food processor. Process until smooth and creamy. Add the two tablespoons of egg and process until egg is mixed – don't forget to scrape sides of bowl.

Add the cooled faux-roux (butter/flour mixture) and pulse until mixed. Transfer to a bowl. If you let the faux-roux cool, your dough should be cool enough to add the chocolate chips. If not, you'll need to let it cool some more so you won't melt the chocolate.

Add the chocolate chips to the mixture. I use a lot! Dough will be ugly and kind of course/grainy/greasy/shiny. It should be thick enough to drop by rounded teaspoonfuls onto the cookie sheet, but if it seems too goopy, chill it for 30 minutes.

Drop well-rounded teaspoonfuls of dough onto the cookie sheets, spacing about 2 ½ to 3 inches apart. Bake cookies for 10-12 minutes or until edges are a deep golden brown. Cool on cookie sheets for about 5 minutes, then transfer to a wire rack to cool and crisp.
Notes
**I've been using unroasted almond butter because I wanted a milder almond flavor. If you use roasted almond butter, the flavor will be different – maybe in a good way… definitely toastier.
** If your cookies aren't thin enough, try reducing the flour by 1 tablespoon and the almond butter by 1/2 tablespoon. Also, dark brown sugar works better than light.