One of our favorite breakfasts is scones, and since they're best eaten fresh, I've learned various methods of keeping them that way. My favorite method is to make the dough, score it into triangles, freeze the triangles individually and bake as needed. Yesterday I used this freeze-ahead method for baking a batch of Oatmeal Cinnamon Scones from the Tate's Bake Shop Cookbook.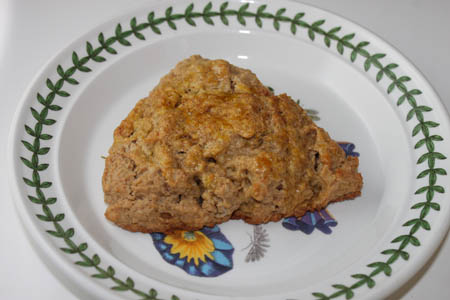 In the book, Kathleen King describes these as the closest she's come to the wholemeal scones she used to eat in the UK. I can't judge based on scones I had abroad, but I can tell you these are very good and different from other scones. They're lighter, not quite as crumbly yet still flaky, and have a really strong oat/wheat taste from the oats and whole wheat pastry flour. They're also very tender.
Below is the method I used for making them. Tate's recipe makes 14 big scones, but I halved the recipe and made 6 slightly larger, triangular ones.
If you've made scones before, you know that the dough is similar to biscuit dough. This dough was too, but it was similar to a drop biscuit dough. It was so soft, cutting it into triangles would have been difficult, but freezing the dough allowed me to get the triangles I wanted.
The trick is to plop the soft dough onto parchment. In the original recipe, Tate's uses a floured surface and kneads the dough a little bit. You could use extra flour, but I didn't do that this time.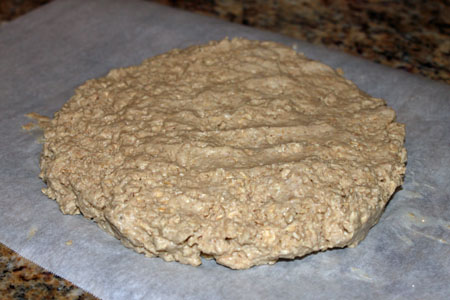 Shape the dough into a circle and score with a knife, then freeze the dough for a few hours or until stiff enough to separate. Separate the triangles and put them in a freezer bag.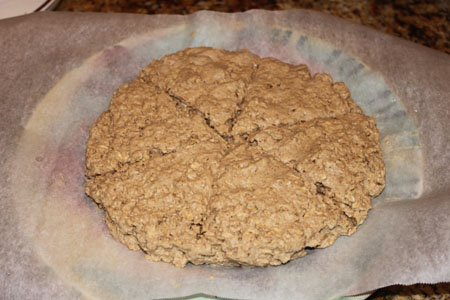 To bake, you just put the frozen scone triangles on a baking sheet.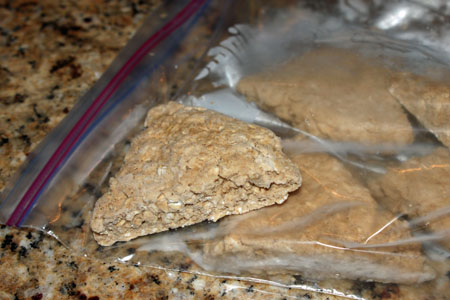 Preheat the oven, let the scones thaw and the oven preheat (that whole process takes about 15-20 minutes) then bake scones as directed.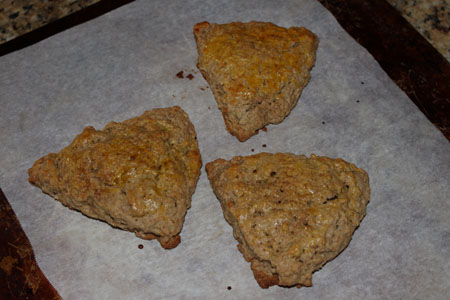 Here's the recipe as I made it.  You can find the original recipe in the Tate's Bakery Cookbook.
Recipe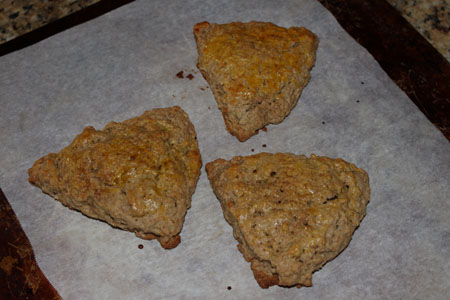 Oatmeal-Cinnamon Scones
Scones made with oatmeal and flavored with cinnamon
Ingredients 
1/2

cup

whole wheat pastry flour

2.25 oz

1/2

cup

all purpose flour

2.25 oz

1

cup

old fashioned oats

1/8

teaspoon

salt

double if using unsalted butter

1

tablespoon

baking powder

1/4

teaspoon

cinnamon

1/4

cup

dark brown sugar

light brown okay

4

tablespoons

salted butter

3/4

cup

plus 2 tablespoons half & half

Topping:

1

large egg

lightly beaten

3

tablespoons

milk

Cinnamon sugar
Instructions 
Mix the flours, oats, salt, baking powder and cinnamon together thoroughly. Stir in the sugar and mix well.

Cut the butter in with a pastry cutter or your fingers (food processor would be okay too) until the mixture resembles small crumbs. Add the half & half and stir well. I used the full amount, but you might want to start with just 3/4 cup to make sure the dough is still firm enough to handle. Dough should be soft, but not so soft that you can't shape it into a circle.

Dump though dough out onto a piece of parchment paper and shape it into an 8 inch circle a little less than an inch thick. Wetting your hands lightly very will help with this part. Score the dough into 6 triangles but don't separate them yet. Put the circle of triangles on a plate and freeze for a few hours or until stiff. When stiff, separate the triangles and put in a freezer bag.

When you are ready to bake the scones, remove from the bag and set on a baking sheet. Preheat oven to 375 degrees F. Rub scones with a mixture of egg and milk if desired or just brush with some half half. You can also sprinkle the tops with cinnamon sugar if you like.

Bake for 20 minutes.
Disclosure: The Amazon link on this post is an affiliate link so if you click on the link and purchase something, I will receive a small commission. Thanks!