Chocolate Chip Peanut Butter Protein Cookies are easy, stir-and-bake protein cookies made with ¼ cup of protein powder. You can use soy or whey. The cookies aren't low in fat, but they are higher in protein than your average peanut butter cookie.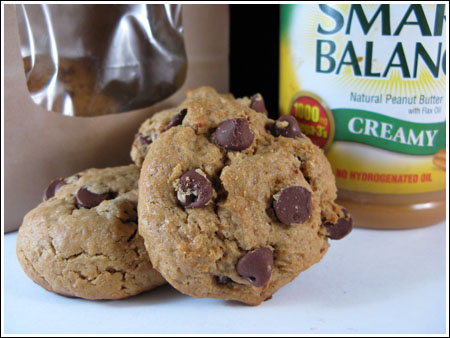 According to Mastercook, each cookie (about 1.2 oz each) has 148 Calories; 8g Fat, 4g Protein; 17g Carbohydrate; 2g Dietary Fiber. And if you use Smart Balance peanut butter with Omega 3's, you'll get a good does of Omega 3's as well.
In the past I've noted that these protein cookies are better when completely cooled. That is, do not serve warm.
Stir & Bake Peanut Butter Chocolate Chip Protein Cookies
Peanut Butter Chocolate Chip Protein Cookies
½ cup white whole wheat flour (2.25 oz) – all purpose okay too
¼ cup protein powder
½ teaspoon salt
½ teaspoon baking soda
2 tablespoons unsalted butter -- room temperature
2 tablespoons unsweetened applesauce
5 tablespoons turbinado sugar **
1 tablespoon molasses
½ teaspoon vanilla
1 large egg
¼ cup peanut butter (a not-too-sweet type like Smart Balance)
½ cup chocolate chips
Preheat oven to 350 degrees F. Line 1 or 2 cookie sheets with parchment paper.
Mix the flour, protein powder, salt & baking soda together in a bowl; set aside.
Beat the butter, applesauce, sugar, molasses, vanilla and peanut butter together in a second bowl. Stir in the egg. I do this all with a spoon.
Add the flour mixture to the peanut butter mixture and stir until blended. Add the chocolate chips and stir. Scoop up tablespoons of dough and shape them into neat rounds. If you don't want to bake all the dough at once, just scoop up what you need and chill the rest. The cookies don't spread much or change shape much, so try to make the mounds of dough look nice rather than scruffy.
Fit the mounds onto one or two cookie sheets. Bake for 12 minutes or until cookies appear set. Transfer to a wire rack and cool completely. These taste good after they've cooled. They're not very good while still hot.
Makes 12 cookies
**Turbinado sugar works very well, but I think packed brown sugar would work well too. Evaporated cane juice would also be a good choice. I also think it might be fun to swap agave syrup for the molasses or use almond butter in place of peanut butter.