I'm not sure how many Keto recipes I'll be posting, but I'm enjoying these Muffin Tin Keto Chocolate Chunk Cookies and like the idea of eating grain-free, low carb desserts more often. Plus Keto baking is a real challenge due to the restrictions on sweeteners. With Paleo baking you can use some natural sweeteners, but with Keto baking you're limited to sugar alcohols, stevia, monkfruit and probably some other ones I'm not familiar with yet.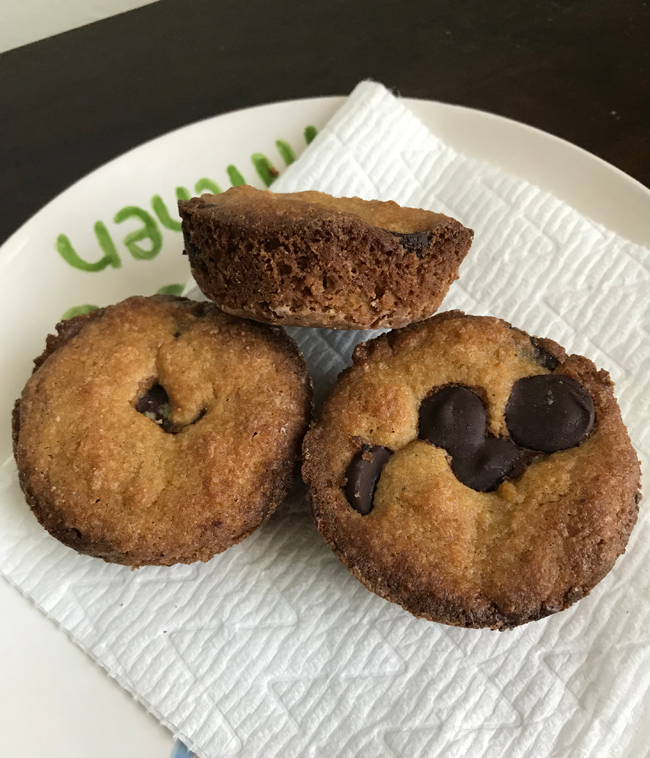 Almond Flour or Hazelnut Flour
Sweeteners aside, what I love about both Paleo and Keto baked goods is the nut flour. Almond flour in particular, is an interesting change and adds texture and flavor plus minerals and protein. There's also hazelnut flour, which I haven't used enough of and which would probably be very good in these.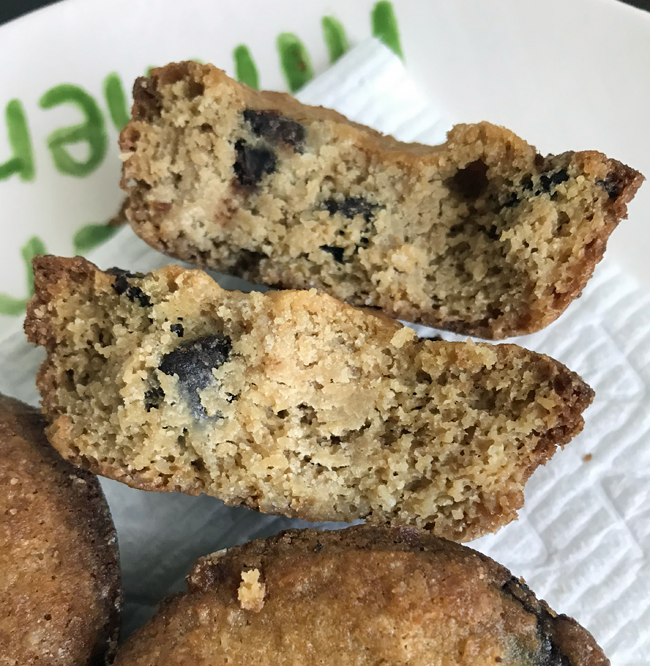 Lily's Sugar Free Chocolate
And finally, Keto Chocolate Chunk cookies need sugar free chocolate.  Luckily Lily's sugar free chocolate is pretty good! There are other brands, but Lily's easy to find and comes in different flavors which you can chop up and put in the cookies. You can also make homemade keto chocolate by melting unsweetened chocolate with a little coconut oil and sweetening it liquid stevia.
Keto Chocolate Chunk Changes
So here's the recipe! The original is on the Kettle and Fire broth site and calls for stevia powder, but I switched that out for Swerve, increased the chocolate a bit and found the yield to be 8 instead of 6.  I've also included a note about how you can make these "non-Keto" using regular sugar.
Recipe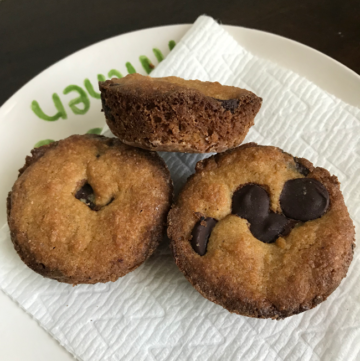 Muffin Tin Chocolate Chunk Cookies
Muffin Tin Keto Chocolate Chunk Cookies
Ingredients 
4

tablespoons

unsalted butter, softened

(56 grams)

¼

cup

Swerve, brown sugar flavored

(50 grams)

1

large

egg

room temperature

1

teaspoon

vanilla

¼

teaspoon

salt

I like Pink Himalayan

¼

teaspoon

baking soda

1

cup

blanched almond flour

(100 grams)

3

oz

sugar free chocolate (Lily's), chopped

(84 grams)
Instructions 
Preheat oven to 350 F. Grease 8 muffin tin indentations liberally with coconut oil, then line bottoms with 2 inch pieces of parchment paper, smashing it down in there and greasing well. You could use muffin papers, but lining the bottoms only with parchment and greasing the sides with coconut oil gives you crispier edges.

In a mixing bowl, using a heavy duty scraper or a spoon, mix together the softened butter and brown sugar. Stir in the egg and vanilla until well blended, then add the salt and baking soda. Stir well, then add the almond flour and stir until blended. Lastly, stir in the chocolate.

Using a generously rounded tablespoon, spoon dough into muffin cups, spreading evenly.

Bake for about 12-15 minutes or until brown around edges. In my experience they always look a little overdone coming out of the oven, but once they cool and set they don't seem that way.

Let cool in cups, then carefully loosen sides and remove. If cups seem delicate and you think they will break, put the tin in the freezer and allow the chocolate to solidify a bit.

You can eat the cookies warm, but I think they're a little better solid. What I do is when they are slightly cool, I put the cookies in a freezer bag, but don't seal it. I freeze until chocolate is solid (about an hour), then bring back to room temperature before eating.
Notes
Note: If using sugar, use only 2 tablespoons of beaten egg rather than a whole egg. If using sugar you can also use 2 T. of granulated and 2 T. brown for a slightly crumblier cookie.