Today's cookie is another example of how beating the eggs can make a shiny cookie; and it's also representative of just how much chocolate you can shove into one cookie! I wasn't sure this recipe would work, but it did. Just make sure you chill the batter (or let it cool), otherwise it will be too thin to scoop up into balls. Since these cookies are mostly chocolate, I recommend using the best. If you live near me, check H.E.B. because they are having a blow-out sale on Scharffen Berger and selling 6 oz blocks for $2.50. Come to think of it, I'm mad at myself for not just buying them all up yesterday.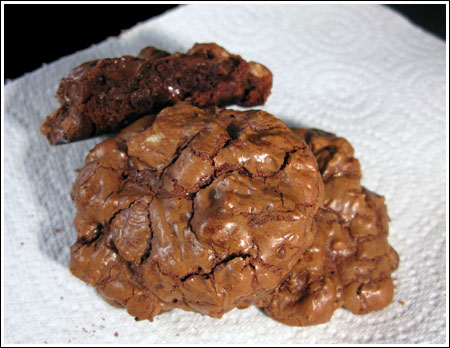 And here's another thing I've been meaning to tell you. I've stopped melting chocolate in the microwave. Directions saying "melt chocolate over a pan of barely simmering water" used to sound like a pain, and I'd always melt chocolate in the microwave instead. But what I realized was the only pain was figuring out which bowl fits over which saucepan. Once you've found the perfect size metal bowl to fit over your saucepan, melting chocolate over barely simmering water is much less stressful than melting it in the microwave. First off, there's less chance of it seizing. And second, you don't have to stop and stir every 30 seconds. You can go about your business while the chocolate gently melts. And finally, once you are done melting the chocolate (which always seems smoother and happier having been melted this way), you can dump the boiling water into sink and over dirty spoons or something else with gunk on it. All of the above applies only to people who for one reason or another are resistant to buying a double boiler. I am, because I hate buying something when I know I can build it. Here's my contraption. I'd say the bowl is about an inch from the simmering (barely) water. Please excuse my dirty stove.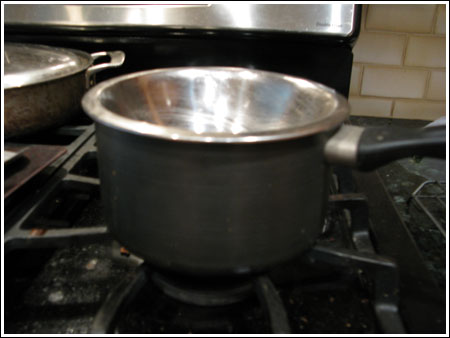 P.S. In regard to melting chocolate over barely simmering water, I have a feeling a bunch of you are saying "Of course, dummy." but since I've been baking for about 30 years and am only now getting comfortable with the melting chocolate over indirect heat method, maybe there are others out there who are still relying on the microwave….not that there's anything wrong with that. I just feel I'm getting better results melting chocolate over barely simmering water.
UPDATE:  I'm calling myself out on that remark.  I STILL use the microwave and it's just as good — just be careful with the settings.  You can also toast your walnuts in the microwave, but again — you have to play with the settings.  I generally use 50% power for about a minute and a half.  Sometimes I stop halfway through to shuffle the nuts around.
And now for those cookies!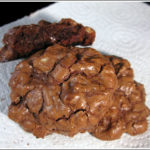 Print Recipe
Shiny Happy Chocolate Cookies
Shiny, fudgy cookies
Ingredients
1/4

cup

sifted all-purpose flour

1 oz

1/4

tsp.

baking powder

1/4

teaspoon

salt

8

oz

chopped semi-sweet chocolate

62%

4

tablespoons

unsalted butter

2

large eggs

2

packed tablespoons brown sugar

1/2

cup

granulated sugar

1/4

teaspoon

vanilla extract

1 1/2

cups

chocolate chips

2/3

cup

walnuts or pecans

chopped and toasted (optional)
Instructions
Mix together the flour, baking powder and salt; set aside.

In a metal bowl set over a saucepan of barely simmering water, melt chocolate with butter. Cool slightly (about 3 minutes). If you melt the chocolate over barely simmering water, it shouldn't be too hot in the first place.

Beat eggs and sugar in a mixing bowl using high speed of an electric mixer for 2-3 minutes. Beat the melted chocolate mixture into the egg mixture. Beat in the vanilla. Add the flour mixture and stir it gently into the batter. Make sure the batter is cool, then add the chocolate chips and walnuts.

Chill dough for at least one hour.

Preheat oven to 375 degrees F. Line two cookie sheets with parchment paper. I used an insulated cookie sheet.

Scoop up rounded tablespoons of dough and set dough balls on parchment paper spacing about 2 ½ inches apart. Bake for 11-13 minutes. Let cookies cool on sheet for about 3 minutes, then transfer to a wire rack to cool.

Note sure of yield, but I'll estimate 20.