Shiny Top Brownies were the result of an experiment putting Black Silk instant coffee packets into a particular brownie batter -- one that always bakes up with a very shiny top.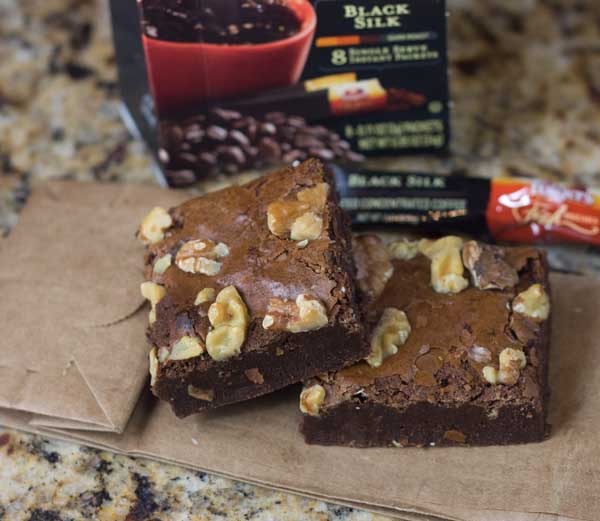 In this case, the shiny top comes from the melted sugar, so a step in the recipe is to melt the sugar gently after adding it to the chocolate mixture in the saucepan. So you melt the chocolate and butter together, then add the sugar and cook the mixture a little bit more.
Shiny Top Brownies and Extra Dark Chocolate
Speaking of sugar, these brownies are sweet. It's important to use extra dark chocolate chips. I used Guittard 63% chips which come in the shiny red bag. I think typical semisweet chocolate chips such as Toll House might make these a bit too sweet, but with the 63% chips combined with coffee and walnuts, the sweetness was just right. As for the texture, these are fudgy and dense without being greasy.
Recipe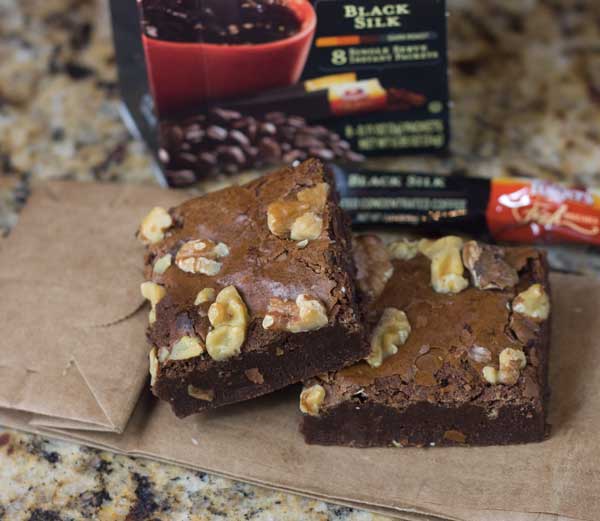 Shiny Top Brownies
Brownies with a hint of coffee flavor and a shiny top. These are baked in a glass pan. If you use a metal pan, bake at 350 F.
Ingredients 
6

tablespoons

unsalted butter

cut into chunks

½

cup

84 grams plus another ½ cup for later extra dark (63%) chocolate chips**

1

packet Folgers Black Silk Fresh Breaks

or 1 tsp. espresso powder

1

cup

plus 2 tablespoons

220 grams granulated sugar

½

cup

plus 2 tablespoons

70 grams cake flour or White Lily flour

¼

teaspoon

salt

¼

teaspoon

baking powder

1

tablespoon

natural unsweetened cocoa powder

2

large cold eggs

1

teaspoon

vanilla

½

cup

chopped and toasted walnuts
Instructions 
Do not preheat the oven quite yet.

Melt the butter in a 3 quart saucepan over medium low heat. Add ½ cup of the chocolate chips and quickly remove from heat. With a heat-resistant rubber scraper, gently stir until the chocolate chips have melted from the heat of the butter.

Stir in the sugar and set the pan over low heat, stirring gently for about 2 minutes or just until the mixture is shiny and sugar has started to dissolve. Do not let it boil. Remove from heat and stir in the packet of Black Silk.

Let cool for about 20 minutes.

While the chocolate mixture is cooling, preheat the oven to 325 degrees F.

Grease an 8-inch glass dish and line it with parchment paper.

Mix together the cake flour (or White Lily), salt, baking powder and cocoa powder and set aside.

After the chocolate mixture has cooled for about 20 minutes, stir in the eggs (still using the scraper), one by one. Do not beat them in, just stir gently. Stir in the vanilla.

Add the flour mixture and stir until it is incorporated, then stir in the remaining half cup of chocolate chips (making sure the batter is cool enough so that they don't melt).

Pour the batter into the prepared pan and level it out. Sprinkle with walnuts.

Bake on center rack for 35 minutes. Let cool completely. I like to chill them for a while, but this is optional. Lift from the pan and cut into squares.
Notes
Note: I used Guittard Extra Dark which are 63%. If you only have semisweet of any other brand, you could use 5 oz and throw in 1 oz of chopped unsweetened chocolate. With brownies, you can't just reduce the sugar without potentially changing the texture quite a bit.