This is a very good recipe for people who like fudge brownies with a shiny top. Not that there's anything wrong with dull-topped or frosted brownies, but if you like your brownies to have a sheen to them, try this recipe!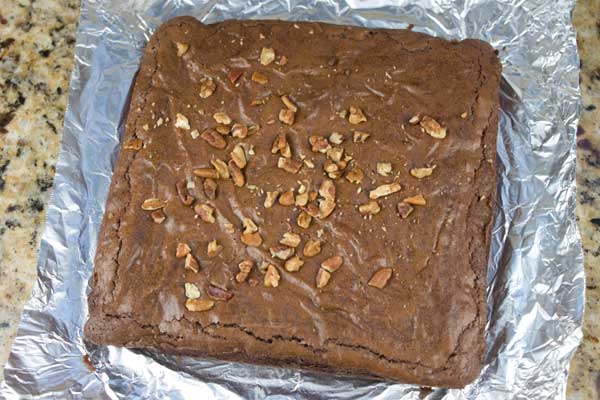 Shiny Top Brownies
The shiny top comes courtesy from some info I learned in the June 2000 issue of Cook's Illustrated.  CI wasn't exactly sure what caused shiny-topped brownies, so they called upon the experts.
Chemistry
A scientist from Nestle explained it something like this:
During the first few minutes of baking, fats in the batter melt, sugar dissolves, the batter becomes more fluid and sugar molecules (because they weigh less than fat and protein molecules) rise to the surface and line up neatly for form a shiny crust.
But this "rising and lining up" of the sugar molecules doesn't always happen. Certain ingredients inhibit the process.

For instance, unsweetened chocolate tends to absorb all the rising sugar molecules, so brownies made with a lot of unsweetened chocolate might have a more matte finish.
A recipe that uses corn syrup might cause a dull crust because corn syrup is hygroscopic. It absorbs moisture and inhibits the sugar molecules from lining up on top.
So there you go. Good luck getting your shiny topped brownies!  And FYI -- these brownies are thin.  It's not a problem, but if you prefer really thick brownies you might want to look for a different recipe.  Now if you are looking for a brownie recipe you can cut with cutters (football shapes, brown horse heads -- that kind of thing), these would be perfect.
Lindt Chocolate = Shiny Top
Update:  I've noticed when I use Lindt chocolate I usually get a shiny top.  It would make since because Lindt has more cocoa butter, the cocoa butter "loosens up" the batter and the sugar molecules float to the top.
Recipe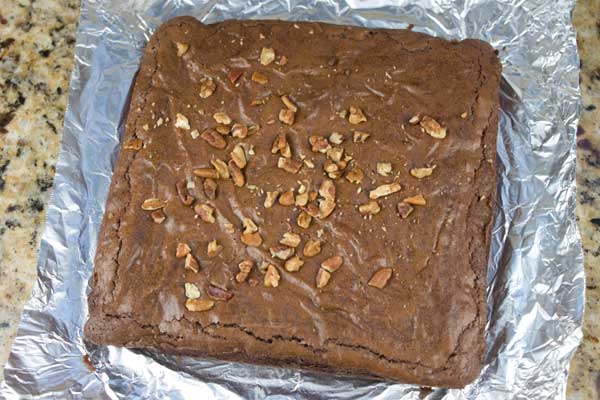 Shiny Top Brownies
Chewy fudge brownies with a shiny top. These are very thin, so if you're looking for a thicker brownie you could try baking them in a 9 inch square pan (which I haven't tested yet) or use a different recipe.
Ingredients 
3

ounces

unsweetened chocolate

chopped

18

tablespoons

9 ounces unsalted room temp. butter, cut into chunks

¼

teaspoon

instant coffee crystals

feel free to use more

½

cup

plus 1 tablespoon cocoa powder

I used Rodelle Dutch

2 ½

cups

17.5 oz granulated sugar

3

large eggs

2

teaspoons

vanilla extract

½

teaspoon

kosher salt

Morton, which says it measure like table

1 ½

cups

all-purpose flour

⅓

cup

chopped

toasted pecans
Instructions 
Preheat the oven to 350° F. Line a 9x13 inch metal pan with nonstick foil or grease pan and line with parchment paper.

In a 3 quart saucepan, melt the butter and chocolate together over gentle heat, stirring with a wooden spoon or a heat-proof silicone scraper. When the mixture is almost fully melted, add the coffee crystals and cocoa powder and stir until smooth. Remove from heat.

Stir the sugar into the hot cocoa mixture. Let it cool slightly (though it shouldn't be very hot if you melted your butter gently) then stir in the eggs one at a time. Add the vanilla and salt and stir until smooth.

Add the flour and stir until blended. Mixture will be pretty thick.

Scrape the batter into the prepared pan, spreading all the way to the edges, and sprinkle pecans over the top.

Bake for 25 to 30 minutes or until brownies are aromatic, appear set and the edges pull away from the side.

Set the pan on a rack and let cool completely. Lift from pan and cut into small squares.
Notes
This recipe was given to me by my friend Jen who adapted it from a recipe by Melissa Clark. For an 8 inch pan version, follow the same procedure, but halve all of the ingredients and bake for 25 minutes in an 8 inch metal pan. Don't try using a 9 inch square pan because these are already thin to begin with and that would be a stretch! To halve an egg, crack one into a bowl , beat it with a fork and use 2 tablespoons. Don't just throw in the rest of the egg or it will mess up all your ratios.