Candy Bar Brownies are from a reader named Louise. The recipe is a good one, but somehow it got lost in the shuffle and didn't resurface until recently when I was going through my files trying to find chewy brownies.  These are some pretty chewy brownies mainly due to the fact they have a whole lot of chopped Snickers mixed in.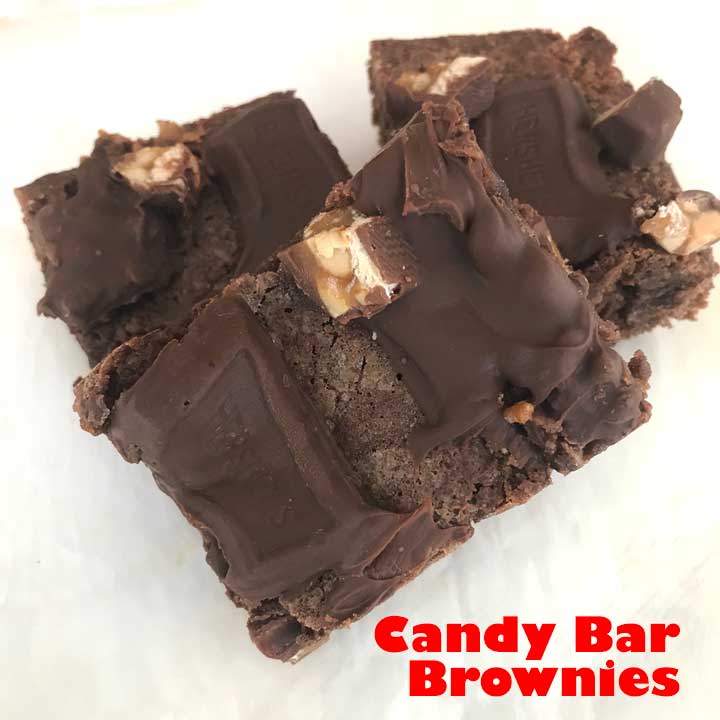 From a Forrest Gump Cookbook!
The source of the original recipe is Forrest Gump My Favorite Chocolate Recipes. I've made a few changes including halving it to fit an 8 inch pan and putting the chocolate on top after baking instead of just in the batter and increasing the amount of Snickers.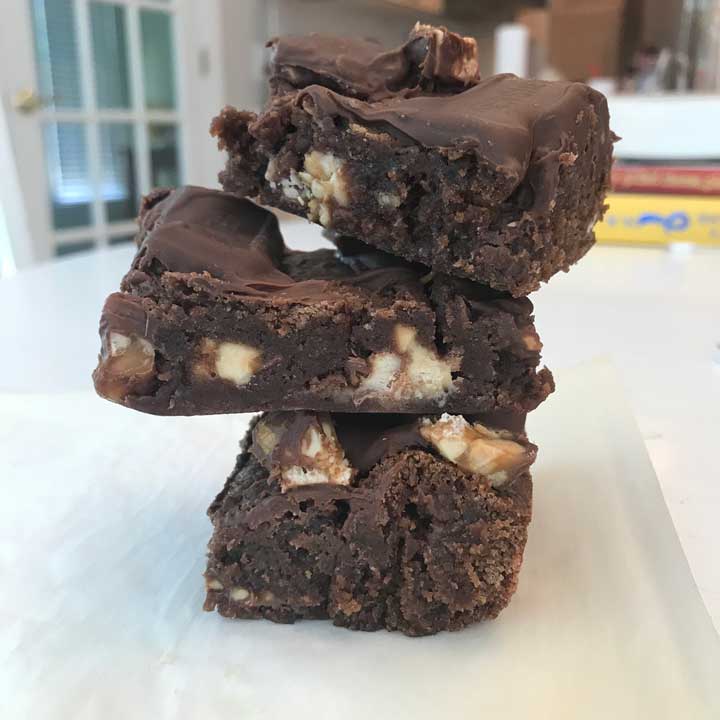 Candy Bar Brownies Tricks
Another thing I like to do is line the bottom of the pan with a square of parchment, then grease both sides of the parchment with coconut oil.  This gives the brownies a hint of coconut flavor so it's almost like you hid a Mounds or Almond Joy in them even though you didn't! If you like a little salt with your sweet, sprinkle some sea salt on the coconut oil greased parchment.
For the top layer of chocolate, you can go with Hershey Bar or mix things up a bit and use assorted Hershey's Miniatures.  I did this for my last batch thinking it would make the brownies more awesome, but I'm not sure having a bit of Krackle and Mr. Goodbar along for the ride did much. Everything kind of melts together in the end.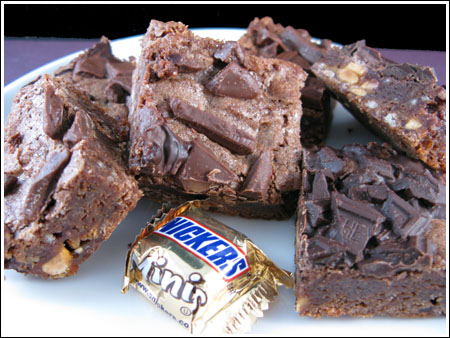 These are super simple and very tasty. They're also much easier to deal with after being chilled, so definitely chill before cutting and store in either the refrigerator or the freezer.
Update: I tested these against another recipe from Food Network -- Dave Lieberman's Candy Bar Brownies. I was hoping I'd like Dave's better, but I'm honestly torn. I think I like these a little better even though they have less cocoa powder, but the others are good too.
Recipe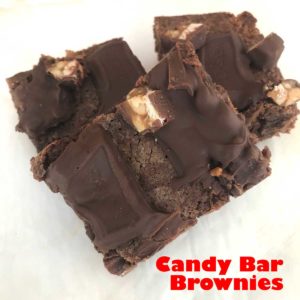 Candy Bar Brownies
Chewy brownies with chopped up Snickers throughout
Ingredients 
2

large eggs

1

cup

granulated sugar

200 grams

6

tablespoon

unsalted butter

melted and cooled

1

teaspoon

vanilla extract

¾

cup

all-purpose flour

95 grams

¼

teaspoon

baking powder

¼

teaspoon

plus ⅛ teaspoon salt

2

tablespoons

plus 2 teaspoons unsweetened natural cocoa powder

4 to 5

oz

Snickers candy bars

cut into chunks plus more if needed

3 to 4

oz

Hershey's chocolate bars

chopped or unwrapped miniatures
Instructions 
Preheat oven to 350 degrees F. Grease an 8 inch square metal pan (I recommend coconut oil) and line with a piece of parchment paper. Grease over the parchment. Melted Snickers are sticky.

Light beat the eggs with a whisk, then stir sugar, melted butter and vanilla in with the eggs.

Combine flour, baking powder, salt and cocoa powder; stir into sugar mixture. Fold in chopped Snickers

Spoon mixture into pan and bake at 350° for about 28 minutes or until the brownies appear set. Remove pan from oven and immediately sprinkle top with chopped milk chocolate bars or miniature bars. Also, scatter on extra chopped Snickers. Set a sheet pan over the brownie pan to lock in some of the heat and help the chocolate melt. Let cool at room temperature until the pan is cool enough not to warm up the refrigerator, then chill thoroughly. When chilled, lift from the pan and cut into squares.