Candy Bar Brownies were inspired by Louise, a master gardener, world traveler, and cookie baker extraordinaire! After watching the video of Paula making Symphony Bar brownies, Louise sent me one of her favorite candy bar incorporating brownie recipes. Louise's recipe is from Forrest Gump My Favorite Chocolate Recipes but she also found it on Southern Living and was able to link to it. The full batch is here, but I don't plan on sharing these and made a half batch which I've typed out below.
For the half batch, I used an 8 inch square metal pan and did one thing differently with the milk chocolate. Instead of sprinkling it on top before baking, I baked the brownies for about 22 minutes, sprinkled the chocolate on top, then put them back in the oven for another 5 minutes. This kept the milk chocolate from drying out. Of course if you don't like milk chocolate, you can always use dark. You can even use the dark chocolate ate variety of Snickers.
These are super simple and very tasty. They're also much easier to deal with after being chilled, so if you have time you might want to throw them in the refrigerator.
For the next batch, I might try using Caramel Delight Girl Scout Cookies instead of Snickers.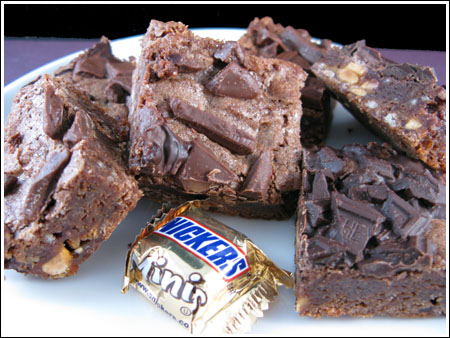 Candy Bar Brownies
2 large eggs, lightly beaten
1 cup granulated sugar (200 grams)
6 tablespoons unsalted butter, melted
1 teaspoons vanilla extract
3/4 cup all-purpose flour (95 gramss)
1/4 teaspoon baking powder
1/4 teaspoon plus 1/8 teaspoon salt**
2 tablespoons plus 2 teaspoons unsweetened natural cocoa powder
2 (2.07-ounce) Snickers candy bars
1 1/2 (1.55-ounce) milk chocolate Hershey bars, finely chopped
Preheat oven to 350 degrees F. Line an 8 inch metal pan with foil and spray foil with cooking spray.
Stir eggs, sugar, melted butter and vanilla together in a mixing bowl.
Combine flour and next 3 ingredients; stir into sugar mixture. Fold in chopped Snickers
Spoon mixture into pan and bake at 350° for 22 minutes. Remove pan from oven and sprinkle top with chopped milk chocolate bars. Return to oven and cook for 5 more minutes. Remove from oven and cool on a rack then transfer to refrigerator and chill. When brownies are cold, lift foil from pan and score into squares.
Makes 16
**If you use margarine or unsalted butter, use a generous 1/8 teaspoon of salt