I drove across town to get my knives sharpened this morning and didn't have a lot of time to bake, but I needed to use up half a can of sweet potatoes and baked anyway. These Sugar Sam Bars came together in a matter of minutes; and this is coming from someone who doesn't care much for sweet potatoes or cake-type bars.
I intentionally left off the icing. As much as I love it, I think any sort of frosting would be overkill because these are very moist and packed with chocolate and nuts. They're a cakey bar, but they're not fall-apart cakey and they're dense enough to wrap individually and pack in a lunch box (which is another reason I left off the icing).
For the sweet potatoes, I used Sugary Sam's Golden Mashed Sweet Potatoes. You might get a less sweet bar if you use a different type of sweet potato, but I'm sure they'd still be good.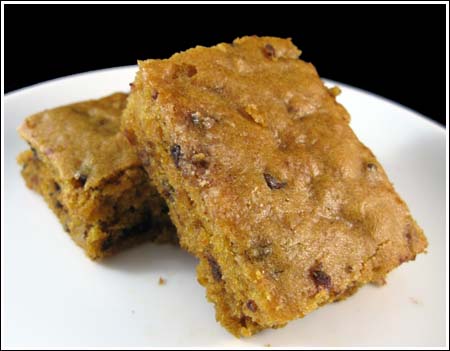 Sugary Sam Bars
1/3 cup vegetable oil
1/2 cup granulated sugar
1 large egg
1/2 of a 15.5 oz can (about a cup) of Sugar Sam's Mashed Sweet Potatoes
1/4 teaspoon vanilla
1/4 teaspoon grated orange peel (optional)
1 teaspoon baking soda
1/4 teaspoon salt
1/4 teaspoon cinnamon
1 cup all-purpose flour (4.5 oz)
1/3 cup semi-sweet chocolate mini morsels
1/3 cup toasted chopped pecans
Preheat oven to 350 degrees F. and spray a 9 inch metal pan with cooking spray. If you want, you may line it with foil before spraying.
Whisk (or stir) oil, sugar and egg together in a medium bowl. Add sweet potatoes, vanilla and orange peel and whisk until thoroughly mixed. Stir in baking, salt and cinnamon, then when thoroughly mixed, add flour, chocolate chips and nuts. Stir just until flour is mixed in. t. Pour into pan and bake for 25-30 minutes or until set. Cool on a wire rack.
.Makes one 9 inch pan. 16 small squares or 9 or 12 bars