Last night I asked Todd what he dessert he wanted for Valentine's Day. His answer was something like "That thing with the stuff". But somehow, I knew he was referring to Blood Orange Icebox Cake made with Gingersnaps, sweetened whipped cream and an easy sauce made with reduced blood orange juice and sugar. Since he liked it enough to mention it again, request it no less, I'll share the recipe. This is a 2-4 serving dessert.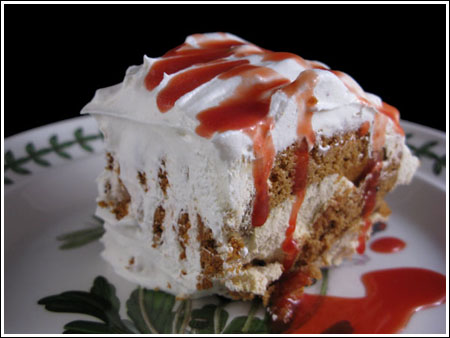 Mini Blood Orange Icebox Cake
1 cup blood orange juice (I used Alesio brand)
3 tablespoons granulated sugar
1 ½ cups heavy cream
2-3 tablespoons powdered sugar
36 thin gingersnaps (such as Anna's brand or the Swedish type)**
Strawberries, raspberries, blackberries (optional)
Combine blood orange juice and granulated sugar in a small non-reactive saucepan and bring to a boil. Boil for 5 minutes or until reduced to about ½ cup. Set aside to cool slightly; chill until cold.
Beat the cream until it doubles in volume and stiff peaks form. Spoon out a cup of the unsweetened whipped cream and combine the cup of whipped cream with ¼ cup of reduced blood orange juice. Using a heaping teaspoon of orange cream mixture, sandwich cookies together to make 6 little logs (6 cookies per log). Line the logs up next to each other to make a square (2 rows with 3 logs in each)"
Sweeten remaining whipped cream with powdered sugar and carefully spread it all over the cookie stacks so that you have a neat square. If you find this challenging, make a messy thin coat then put it in the freezer for half an hour or until the first layer is firm and the square holds together. When firm spread remaining whipped cream neatly.
Chill the icebox cake for 4-5 hours or until the cookies have softened. If you use thicker ginger cookies, it might take longer.
Before serving, drizzle remaining blood orange syrup over top.
To serve, cut square into quarters and serve with fruit.
Makes 4
** Thick gingersnaps will also work, but will take more time to soften. For a light/lower calorie version, you can do this with Cool Whip lite. Omit the powdered sugar.