White Chocolate Pistachio Crunch Cookies are thin, crunchy, white chocolate chunk cookies with ground roasted, salted pistachios in the dough. In addition to the ground pistachios, the cookies have coconut, corn flakes and oats. Those ingredients, plus the combination of oil and butter, give the cookies a crumbly and light texture.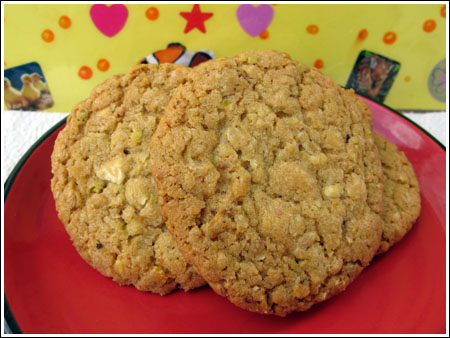 If for some reason you don't like white chocolate, you can leave it out and you'll still have a great cookie. In fact, the original version of these didn't call for any. But I do like the white chocolate, so I always put it in there. Lately I've been adding dried cherries as well.
White Chocolate Pistachio Crunch Cookies
½ cup roasted, salted pistachio kernels (56 grams)
¾ cups oats (75 grams)
¾ cups corn flakes (22 grams)
⅓ to ½ cup shredded, sweetened coconut (42 grams)
1 ¾ cups all purpose flour or white whole wheat (220 grams)
1 ½ teaspoons baking soda (7 ml)
Scant ½ teaspoon salt (2 ml)
8 tablespoons unsalted butter, room temperature (114 grams)
½ cup packed light brown sugar (110 grams)
½ cup granulated sugar (95 grams)
Half and egg, which is 2 tablespoons lightly beaten egg (30 ml)
2 teaspoons vanilla extract (10 ml)
½ cup vegetable oil (120 mil)
3 oz good quality white chocolate, very finely chopped (84 grams)
1. Preheat oven to 350 degrees F. (180 degrees C)
2. Combine pistachios and oats in food processor and process until pistachios are ground and mixture looks coarse. Add corn flakes and coconut and pulse processor about 20 times or until mixture is fairly uniform but there are still some flecks of corn flakes. Set aside.
3. Mix flour, baking soda, and salt together in a medium bowl. Set aside
4. Beat butter and both sugars using high speed of an electric mixer just until creamy; add egg and vanilla and beat for another 30 seconds, then beat in oil. Add flour mixture and stir by hand until it is almost mixed in; add pistachio/corn flake mixture and white chocolate and stir until mixture is fully blended.
5. Using a tablespoon measure, scoop up tablespoons of dough and roll into 1 inch (25 grams each) balls. Press the balls lightly to make ½ inch thick rounds and place on parchment lined cookie sheets about 2 inches apart.
6. Bake for 13-15 minutes. Remove from cookie sheet and let cool completely on a wire rack.
MAKES 36 to 38