Next time you visit Chicago, stroll through the lobby of The Palmer House Hilton. It's one of my favorite places in the city, with so much history. A while back I wrote about my great grandmother having spent some time there, so whenever I'm in the hotel I always think of her. And brownies. The Palmer House Brownies are legend.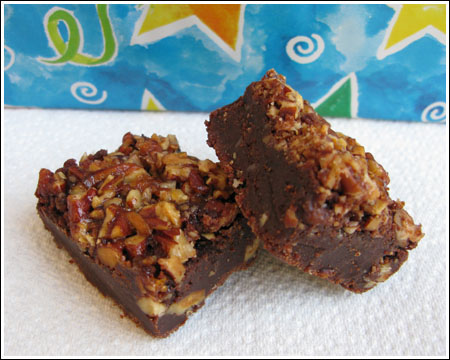 Since I first posted this, several copycat Palmer House Brownies recipes have surfaced and you can find them with a quick Google search. I originally found the recipe in Bon Appetit and made my own changes to it. Update: There's one floating around that calls for 8 eggs and is baked in a 9x12 inch pan, so should be interesting. This version is for an 8 oz pan, uses "only" 9 oz of chocolate and just 2 eggs.
Type of Chocolate in Palmer House Brownies
As you can guess from the 9 oz of chocolate and half pound of butter, the brownies are intensely fudgy. My first batch was a little too sweet because I used 9 oz semisweet chocolate instead of bittersweet.  I went back and made the brownies with 7 ½ oz of 60% cacao bittersweet chocolate and 1 ½ oz of unsweetened and they were much better.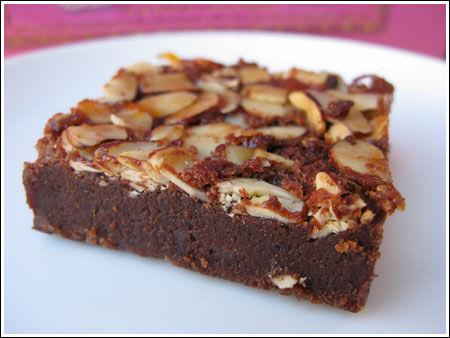 Definitely Use Nuts
This recipe is meant to be topped with a whole lot of nuts. Just sprinkling the nuts on lightly won't do the trick. You need a thick layer of nuts to counteract the sweetness from the jam and the brownies themselves.
Crust on Top and Bottom of Brownies
Along with the being dense and fudgy, the brownies have kind of a crust on top and bottom. That might be due to beating the eggs with a mixer rather than gingerly whisking them into the batter, but in any case I like the crust!
Old Version From Bon Appetit October 2009 RSVP
(AKA Palmer House Brownies)
1 cup (114 grams) cake flour (4 oz) or equivalent all-purpose (weigh out 4 oz)
1 teaspoon (5 ml) baking powder
¼ teaspoon (1 ml) salt
9 ounces bittersweet chocolate, chopped**
8 oz (230 grams) unsalted butter (or use salted and omit the salt) (½ pound)
1 cup plus 6 tablespoons (270 grams) granulated sugar
2 large eggs
½ teaspoon (2 ml) vanilla extract
1-2 cups (90-180 grams) whole toasted pecans or walnuts (see note)
2-3 tablespoons apricot preserves (optional)
Preheat oven to 350 degrees F. Line an 8 inch square metal pan with non-stick foil or line with foil and spray foil with cooking spray. Or use parchment!
Stir together cake flour, baking powder and salt; set aside.
Melt butter in a saucepan set over medium heat. Add chocolate. Reduce heat to low and stir until chocolate is melted. Remove from heat and let cool slightly.
Beat eggs and sugar together for about 40 seconds in a mixing bowl using high speed of an electric mixer. Stir or whisk in the melted chocolate and vanilla. Sprinkle the flour mixture over the chocolate batter and gently fold it in. Pour batter into prepared pan. Drop the pan from about 5 inches off the counter to release air bubbles.
Chop the nuts and sprinkle them over the brownies.
Bake brownies for 40-45 minutes or until edges are raised and have begun to pull away from pan.
Microwave apricot preserves for 20 seconds and strain out any chunks (I didn't strain). Brush as much as you like over nuts. Cool at room temperature for an hour then transfer to refrigerator to chill. Lift from pan and cut into 16 squares.
**Original recipe used 9 oz of bittersweet chocolate. In the past I've used 7 ½ oz of 60% combined with 1 ½ oz of unsweetened. It's best to use the bittersweet, or something that is 70% to 85% for this recipe
Note about nuts: I used 1 cup of nuts. Louise made these with 2 cups of nuts and said the extra nuts, which were in the original recipe, really helped cut the sweetness of the brownie. So this brownie is probably better with the 2 cups of nuts.