Instead of making the olive oil upside-down cake with nectarines or plums, I decided to use a fruit that was actually in season…strawberries! This Strawberries & Cream Cake is a combination of the olive oil cake (sans olive oil) and a filling and topping I saw on a Chowhound cake. The Chowhound cake called for mascarpone and next time I will use that, but cream cheese worked perfectly and the cake was a big success. I also liked that that it was smaller than usual. In Italy, most of the layer cakes I saw were about this size and seemed to be one cake split horizontally and filled.
I covered this cake with whipped cream about 4 hours before serving and it held up just fine. The whipped cream was excellent, but for a lower fat cake you could use 7 minute icing. I might try that next time.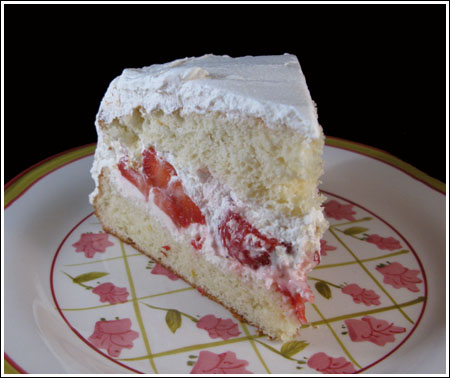 Strawberries & Cream Cake
1 1/4 cups (5oz/140 grams) cake flour (5 oz)
1/2 teaspoon (2 ml) baking soda
1/4 teaspoon (1 ml) salt
3/4 cup (150 grams) granulated sugar (divided use)
1/2 cup (120 ml) buttermilk
1/4 cup (60 ml) vegetable oil
1 teaspoon (5 ml) vanilla extract
3 large eggs, separated – room temp if possible
1 teaspoon (5 ml) lemon zest
1 tablespoon (15 ml) fresh lemon juice
Strawberries:
1 tablespoon (12 grams) granulated sugar
1/2 tablespoon (7 ml) lemon juice
1 pint strawberries, trimmed and sliced
Cheese Mixture:
3 oz (85 grams) cream cheese or mascarpone
1 tablespoon (12 grams) granulated sugar*
1/2 cup (120 ml) heavy cream
1/2 teaspoon (2 ml) vanilla extract
Topping
1 1/2 (360 ml) cups whipping cream
2 1/2 tablespoons (30 grams) granulated sugar**
1 1/2 teaspoons (7 ml) vanilla extract
Preheat oven to 350 degrees F (180 degrees C). Spray a 9 inch round springform pan with flour-added cooking spray.
Combine the flour, baking soda, salt and 1/2 cup of the granulated sugar in a mixing bowl and stir well.
Whisk the buttermilk,  oil, vanilla and egg yolks together in a second bowl, then add to flour mixture and stir until smooth. Add lemon zest and lemon juice and mix well.
Whip egg whites until soft peaks form. Slowly add the reserved ¼ cup sugar to the whites. Whisk the cake batter into the egg whites until well blended. Pour the batter into the pan.
Bake on center rack for 30-35 minutes or until a toothpick inserted in center comes out clean. Cool on a rack for 10-15 minutes and remove the ring from the pan. Cool.
While cake is baking, mix the sugar and lemon juice;toss with the strawberries. Chill until close to serving time.
Prepare the filling: Combine the cream cheese (or mascarpone) and sugar and beat for 1 minute. Beat in the cream, sugar and vanilla; beat until creamy and smooth, scraping side of bowl.
Prepare the topping: Beat 1 1/2 cups cream until stiff peaks begin to form. Beat in sugar and vanilla.
Assemble: Cut cake in half horizontally through center to make two layers. Spread the cream cheese mixture across cut side of cake. Spread strawberries over cream cheese mixture and drizzle the liquid from the macerated strawberries over berries and cream.
Spread about a half cup of the sweetened whipped cream over the berries, then cap with top of cake. Spread remaining sweetened whipped cream over top and down sides of cake.
* Sweeten to taste — 1 tablespoon was enough, but you may want more or less.
**Taste as you go. You might want to use up to 3 T. sugar.