This is a recipe I first tried one Easter. I'd been in a baking rut, and the Pecan Caramel Bar Cookies pulled me out of it. These are a little different from the usual Pecan Pie Bars in that they do not call for corn syrup. They have a butter cookie crust and a caramel-pecan topping where the caramel is made the old fashioned way – with sugar and heat.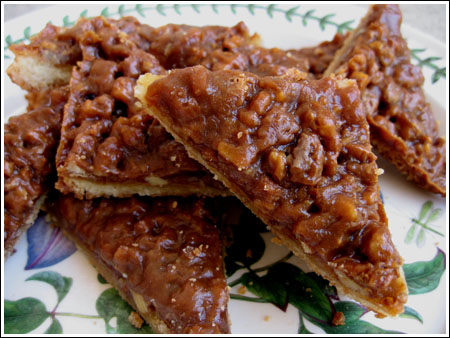 I know a thing or two about making almond toffee, and my pralines are pretty good these days, but caramelizing sugar by itself in a pan scares me, and I suspect this fear is based on a bad experience using the wrong pan. So this time I used my new All-Clad stainless 2 quart saucepan and everything worked perfectly – no scorching, burning, ruined pans.
These are excellent and the recipe makes just enough bars to eat and share. The original full batch recipe is on Epicurious and if you make it, read the reviews first. Most people cut 10 minutes off the crust's bake time. I had to alter the bake times for the half batch. My half batch version is below.
Pecan Caramel Bar Cookies
1 cup (130 grams) all-purpose flour
¼ (1 ml) teaspoon baking powder
¼ (1 ml) teaspoon salt
6 tablespoons (80 grams) unsalted butter, softened
½ cup (95 grams) granulated sugar
1 ½ tablespoons (20 ml) lightly beaten egg
¼ teaspoon (1 ml) vanilla
Topping:
¾ cups (150 grams) granulated sugar
½ cup (120 ml) heavy cream
3 tablespoons (40 grams) unsalted butter, cut into bits
½ teaspoon (2 ml) vanilla
¼ teaspoon (1 ml) salt
1 cup (114 grams) pecans, toasted cooled, and coarsely chopped
Instructions
Line an 8 inch square metal pan with foil and spray foil with cooking spray.
Stir flour, baking powder, and salt together in a small bowl. Cream butter and sugar in a large bowl.. Beat in egg and vanilla, then add flour mixture and mix until just combined.
Press dough into bottom of pan and chill for about 20 minutes (I used wet hands to press…it helped).
Meanwhile, preheat the oven to 375 degrees F. When dough is chilled, bake it for about 15 minutes or until edges are golden. Let it cool on a rack while you make the pecan topping.
Cook sugar in a 2- to 3-quart heavy saucepan over moderate heat, undisturbed, until it begins to melt. Continue to cook, stirring occasionally with a fork, until sugar is melted to a deep golden caramel. Tilt pan and carefully pour in cream (caramel will harden and steam vigorously). Since this is a small batch, you'll need to watch a little closer for burning at this point. Cook over moderately low heat, stirring, until caramel is dissolved. Remove from heat and stir in butter, vanilla, salt, and pecans.
Quickly spread topping over cooled crust and bake until bubbling, about 13 minutes. Cool completely in pan on rack (Mine were cool enough to cut in 1 hour, but they firmed up considerably after I'd cut them). Grasp foil, lift bars from pan and cut into triangles or squares. I cut mine into 9 squares then cut those squares to make 18 triangles.