There's a famous Texas candy company called Lammes. They make several types of candies, but the candies they are most known for are their chewy pralines. My great grandmother was especially fond of Lammes and she was on my mind yesterday when I made these Texas Chewy Pralines.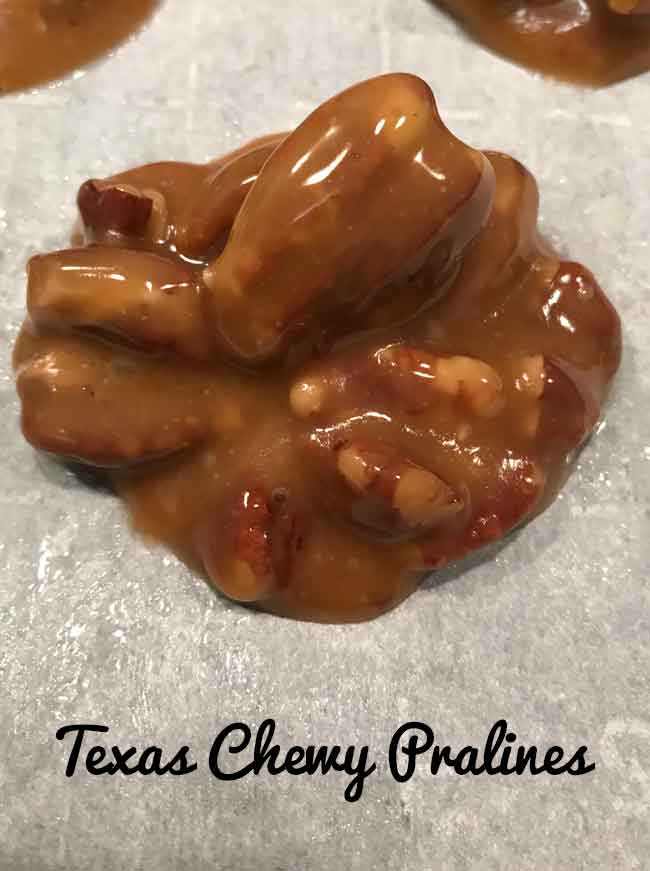 Not Overly Sweet
Like the candies from Lammes, Texas Chewy Pralines are soft, chewy and very flavorful. The large amount of butter, cream and pecans keeps them from being too sugary, so they are rich without being super sweet.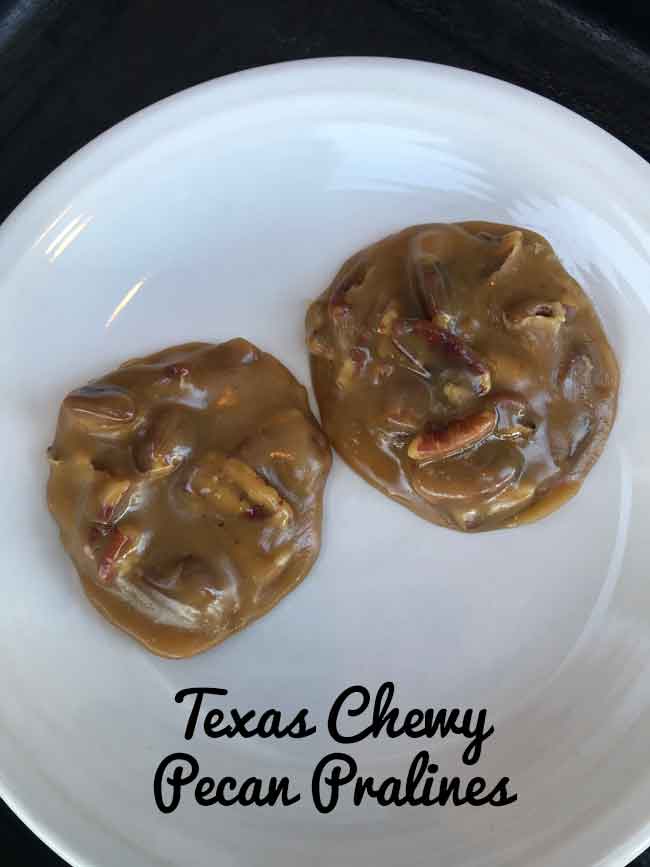 The clone recipe I used as a starting point calls for light corn syrup, but people who know Lammes suggested using dark, so I used a combination of dark and light syrups. A second change was to jazz up the pecans by toasting them and tossing them in a little extra butter and salt. And the final change was to scale the recipe down. The original calls for 2 pounds of pecans and a pound of butter!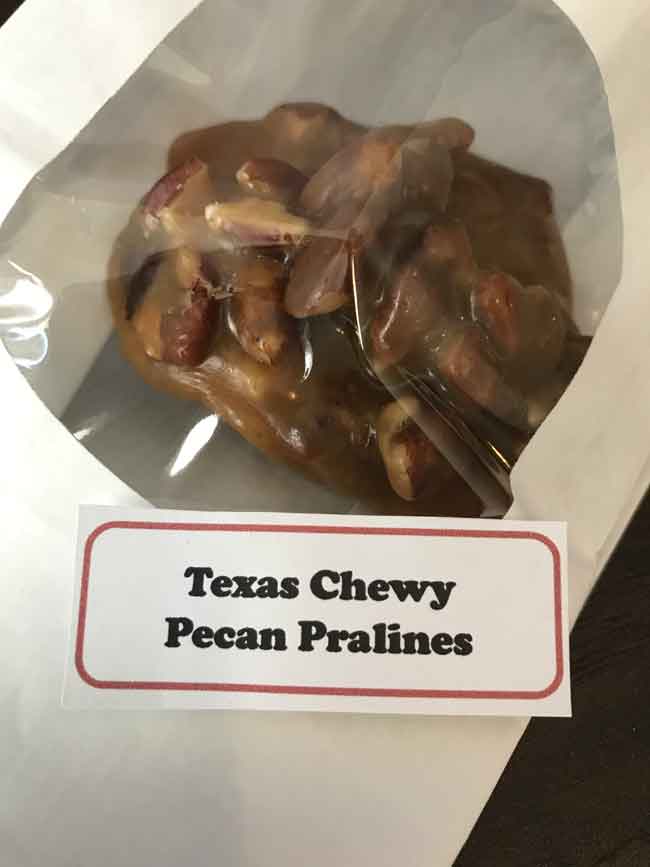 Saucepan Size
While scaling down from 56 to 18 pralines, I was concerned that my trusty 3 quart nonstick pan would be too large for the smaller amount of candy. A 2 quart pan seemed too small so I went with the 3 quart and was relieved the candy mixture was deep enough to submerge the thermometer. I was able to control the heat and keep the temp rising at a slow and steady pace.
Once the heat was rising slowly and steadily, the recipe came together easily and was more relaxing to make. For chewy pralines, you don't have to worry about the race to drop them before the sugar crystallizes in the pan.
Amount of Pecans
I start with 2 cups of pecans which I toast and toss with butter. Sally mentioned in the comments that she thought it was too many pecans. If you don't want to use all the pecans, feel free to hold some back.
Recipe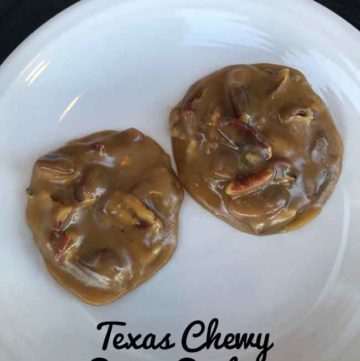 Texas Chewy Pralines Small Batch
Chewy Pralines like Lammes Candies
Ingredients 
2

cups

pecan pieces

plus about a teaspoon butter and pinch of salt

¼

cup

white sugar

50 grams

¼

cup

dark brown sugar

50 grams

½

cup

corn syrup

use half light and half dark (Karo)

1

stick

114 grams salted butter (Land o' Lakes)

½

cup

heavy cream

½

teaspoon

vanilla

Tiny pinch of salt
Instructions 
Line a baking sheet or flat surface with parchment paper.

Lay the pecans on a rimmed baking sheet and bake at 375 for 7 minutes or until they start to release their oils. Pull from oven and toss with about a teaspoon of butter and a sprinkling of salt. Set aside to cool completely. You can use all of the pecans, or if you like fewer pecans, hold some back.

In a heavy 3 quart saucepan (preferably nonstick), combine both sugars and corn syrup. Put the pan over medium, insert the candy thermometer and heat until mixture reaches 250 degrees F. This should take about 10-15 minutes, and you shouldn't really need to stir much. Keep the heat rising slowly and steady.

Remove from heat and stir in butter, one chunk at a time until melted. Pour in the cream, then return the pan to heat, stirring constantly and keeping the candy at a slow boil/rapid simmer, until mixture reaches 242 degrees F. This should take about 15 minutes. It's important to go slow and keep the mixture moving just enough not to burn. If temperature stalls, raise it in tiny increments.

Remove from heat and add pecans, vanilla and salt, then stir with a wooden spoon allowing the mixture to cool and thicken just slightly. Drop by spoonfuls onto the parchment lined paper and let set. Note: You don't have to work as quickly with chewy pralines because it takes longer for them to set. In fact, if the first one you spoon out runs just stir a bit and let the mixture cool and thicken a little before spooning out the next one.