This recipe for Butterscotch Scones is adapted from one that's supposed to be a Starbuck's clone and which originally called for glaze and frosting. But I left off the toppings, added butterscotch chips and pecans, then sprinkled the tops with some vanilla icing sugar I brought home from Italy. I put the icing sugar container in the photo in case you want to pick some up next time you're in Italy. Don't you just love the little shaker container?  Fancy sugar or not, the scones are excellent.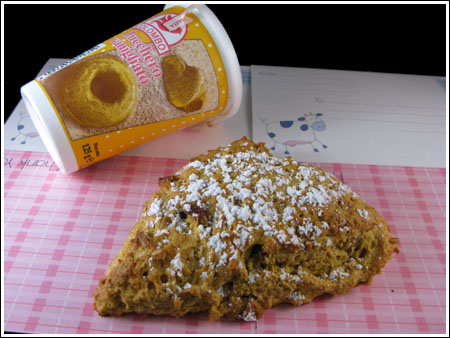 Pumpkin-Pecan-Butterscotch Scones
2 cups (270 grams) all-purpose flour or white whole wheat flour**
7 tablespoons (84 grams) granulated sugar
1 tablespoon (15 ml) baking powder
1/2 teaspoon (2 ml) salt
1/2 teaspoon (2 ml) ground cinnamon
1/4 teaspoon (2 ml) ground ginger
6 tablespoons (90 grams) cold butter (I used salted)
1/2 cup (120 grams) canned pumpkin
3/4 teaspoon vanilla
3 tablespoons (50 ml) milk
1 large egg
1/3 cup butterscotch chips (or use semi-sweet chocolate chips instead)
1/3 cup chopped, toasted pecans
Powdered sugar for garnish
Preheat oven to 425 degree F (220 C)
Mix flour, sugar, baking powder, salt, cinnamon and ginger together in mixing bowl or bowl of food processor. Cut in the butter to make a coarse and crumbly mixture. If you are using the food processor, pulse until crumbly.
Mix the pumpkin, vanilla, milk and egg together in a large bowl and add the crumbly mixture to the pumpkin mixture, followed by the butterscotch chips and nuts. Mix well and shape into a big 9 inch round. (about 1 inch high). Cut that round into 6 triangles and carefully transfer the triangles to a cookie sheet. Space them a few inches apart and bake for 18-20 minutes.
Sprinkle with powdered sugar before serving.
Makes 6
**If you haven't bought a scale yet, spoon and sweep the flour gently so you don't use too much.