Years ago I took the Starbucks Pumpkin Scones recipe and changed it up a bit to make Butterscotch Scones. So this recipe is basically the Starbucks Pumpkin scone, but without the glaze and WITH pecans and butterscotch chips. I like the photo because it shows a package of powdered sugar I bought in Italy. The package has a top with holes in it so you can sprinkle things directly from the powdered sugar canister. I wish American confectioners' sugar came in a package like this.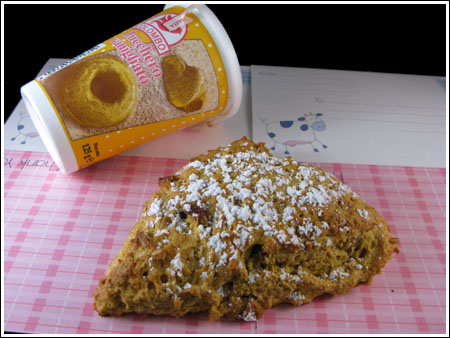 Butterscotch Scones
2 cups (270 grams) all-purpose flour or white whole wheat flour**
7 tablespoons (84 grams) granulated sugar
1 tablespoon (15 ml) baking powder
½ teaspoon (2 ml) salt
½ teaspoon (2 ml) ground cinnamon
¼ teaspoon (2 ml) ground ginger
6 tablespoons (90 grams) cold butter (I used salted)
½ cup (120 grams) canned pumpkin
¾ teaspoon vanilla
3 tablespoons (50 ml) milk
1 large egg
⅓ cup butterscotch chips (or use semi-sweet chocolate chips instead)
⅓ cup chopped, toasted pecans
Powdered sugar for garnish
Preheat oven to 425 degree F (220 C)
Mix flour, sugar, baking powder, salt, cinnamon and ginger together in mixing bowl or bowl of food processor. Cut in the butter to make a coarse and crumbly mixture. If you are using the food processor, pulse until crumbly.
Mix the pumpkin, vanilla, milk and egg together in a large bowl and add the crumbly mixture to the pumpkin mixture, followed by the butterscotch chips and nuts. Mix well and shape into a big 9 inch round. (about 1 inch high). Cut that round into 6 triangles and carefully transfer the triangles to a cookie sheet. Space them a few inches apart and bake for 18-20 minutes.
Sprinkle with powdered sugar before serving.
Makes 6
**If you haven't bought a scale yet, spoon and sweep the flour gently so you don't use too much.