I'm not a huge fan of green baked goods, but St. Patrick's Day calls for an exception. Plus I had a box of pistachio flavored pudding mix burning a hole in the pantry. So here are some Pistachio Pudding Mix Scones. The recipe is an offspring of the Poppy Seed Scones with Lemon Pudding Mix recipe, but I made several little changes here and there and added a few notes.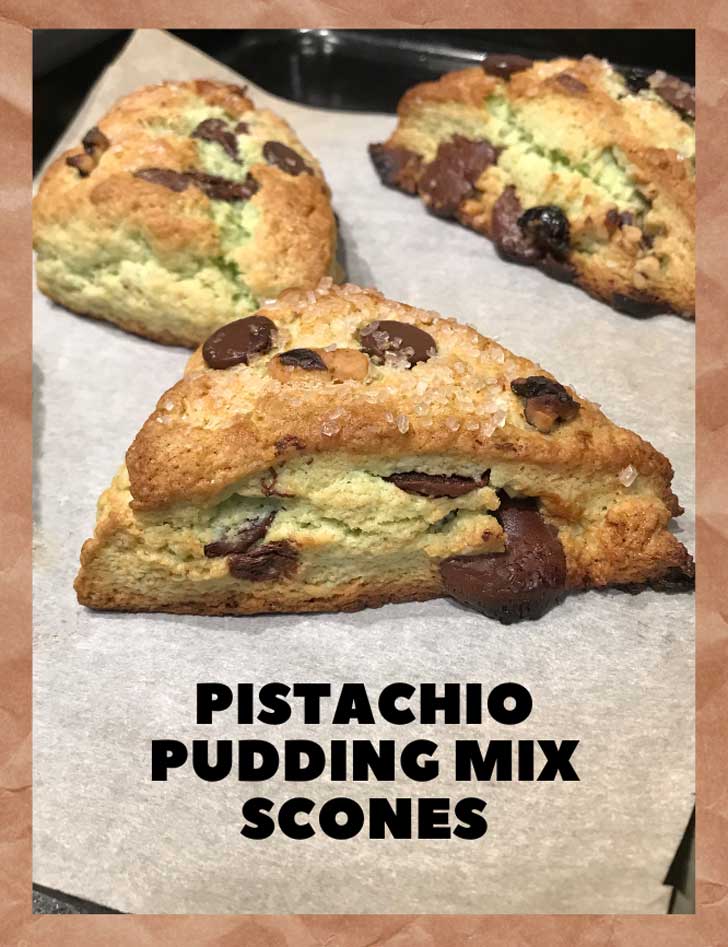 Grating Butter for Biscuits and Scones
As I put this recipe together, I noticed my old pudding version called for using a pastry cutter to cut in the butter. These days I almost always grate cold butter right into the flour like this. It's a bit clumped up in this photo. To disperse it, stop every so often as you grate and toss it with the flour. It's just so easy and saves you from having to clean out the food processor. But with that said, if you do have a food processor it will certainly get the job done quicker.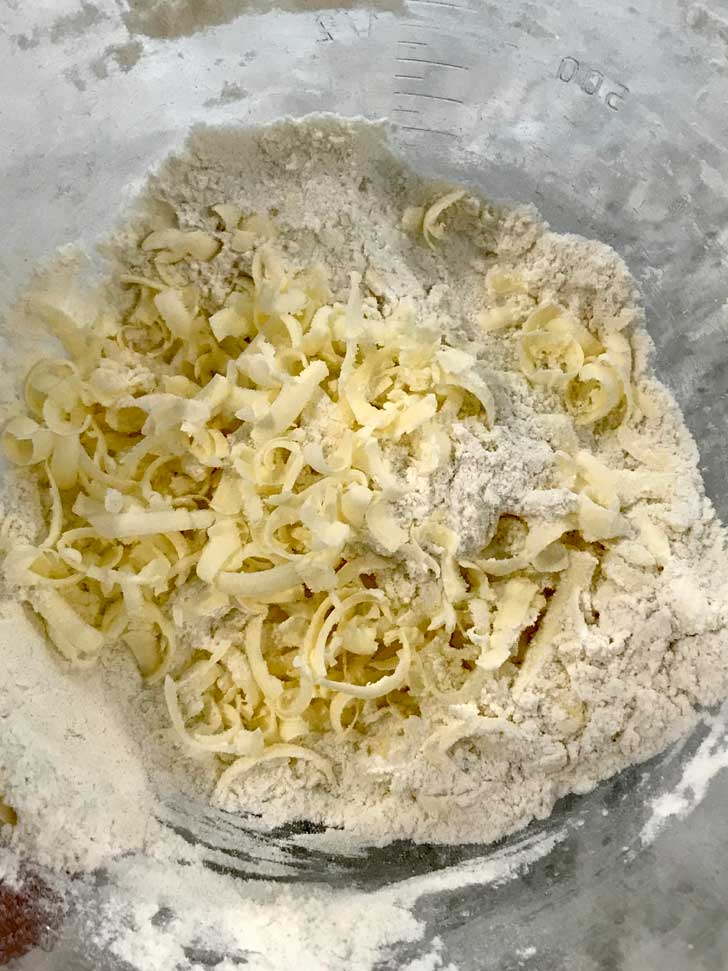 Dough Starts Dry
The dough may seem dry at first because the butter is so cold, but it should come together. If not, keep adding a little cream without adding too much. You want just enough moisture for it to hold together. Then once it holds together, you can mash it down on the work surface to make a slab. I lput chocolate wafers on the slab and folded the dough over on itself to create lines of chocolate through the dough. This works best with Guittard chocolate wafers, but you can use any chocolate you like.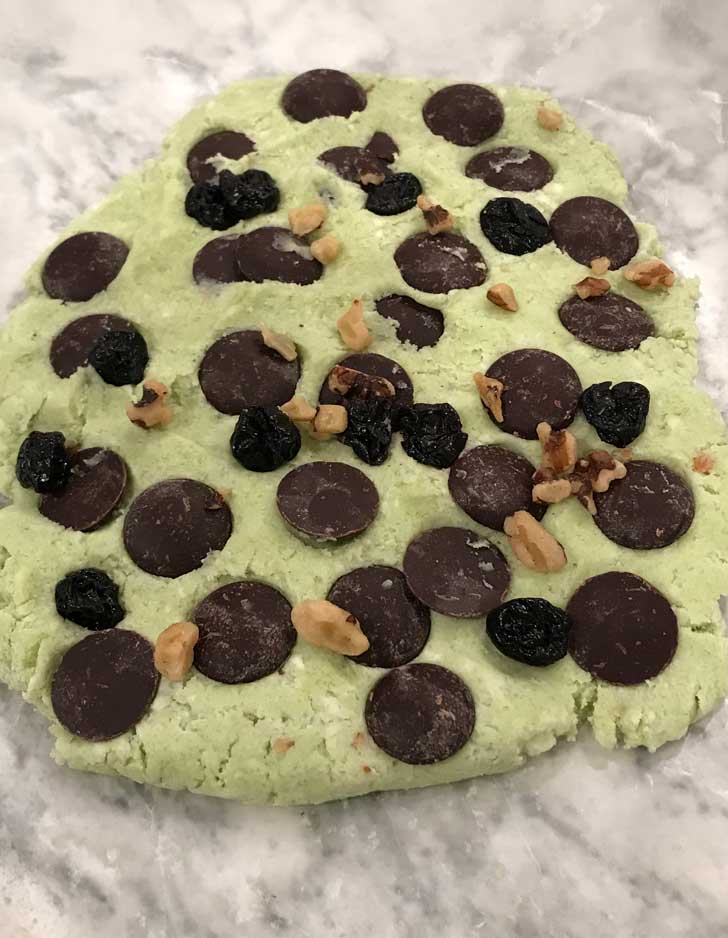 I tried adding cherries and they were okay, though next time I'd chop them really small. Walnuts, however, were great! Pistachios would be even better of course, but sometimes you have to make due with what's around.
Pistachio Pudding Mix Scones Bake Time
I'm still baking a lot of things in my Breville Smart Oven Toaster. After 13 minutes at 425 degrees F in the toaster oven, the scones were pretty brown and I had my doubts as to whether the insides would be done. Years ago this situation (especially with brownies) would be stressful, but now I just use my trusty digital meat thermometer to check and make sure the scones have reached 200 degrees F. They were almost there so I let them sit in the oven for another 2 minutes with a foil shield, then let cool.
Right out of the oven they tasted a little floury, but after sitting for 30 minutes they were excellent! I find this with a lot of scones. They need some standing time. It's hard to wait, but worth it.
Mini Version
After making these as large scones, I made some minis by cutting each triangle in half to make smaller triangles. The minis would be perfect to serve at a St. Patrick's Day coffee or a playgroup where people might be grazing on different treats. With all the chocolate they are rich enough to satisfy a sweet tooth, yet the dough itself is not very sweet. I liked these way more than I thought I would even though they are green.
Recipe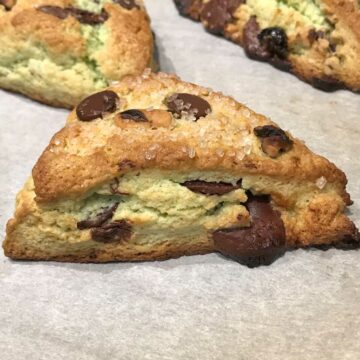 Pistachio Pudding Mix Scones
Scones made with instant pistachio pudding mix and lots of chocolate.
Ingredients 
2

cups

all-purpose flour, measure by weighing or spooning lightly.

(250 grams)

2

tablespoons

granulated sugar

1

tablespoon

baking powder

½

teaspoon

kosher salt

1

3.4 oz

box instant pistachio pudding mix

6

tablespoons

cold unsalted butter, diced

(84 grams)

¼

teaspoons

vanilla

1

large

egg

⅔

cup

heavy cream plus more as needed

coarse sugar for sprinkling
Instructions 
Preheat oven to 425 degrees. Line a baking sheet with nonstick foil or parchment. If you know your oven runs hot, consider baking at 400F. These do get pretty brown around the edges, but we like them that way around here.

Weigh the flour or measure carefully. You want to use only 250 grams or just barely 2 cups. Mix the flour, sugar, baking powder, salt, and pudding mix in a mixing bowl or food processor.

Set the mixing bowl on a scale, set tare to zero and begin grating cold butter over the flour mixture, tossing to mix, until you reach 84 grams. If using a a food processor, add the butter by chunks and pulse until mixture is coarse.

Make a well in the center and add the vanilla, egg and about half of the heavy creamy, Stir with a spoon or heavy duty scraper and continue adding cream until dough comes together. If using a food processor, add half the cream and pulse. When mixture holds together, empty onto a lightly floured surface or pastry mat.

Divide dough in half. Working with one of the halves, press down into a ½ inch thick slab and lay chunks or disks of chocolate over. Fold in thirds and form into a 6x3 inch rectangle. Repeat with the second half of the dough to make two rectangles. Cut each rectangle into 4 triangles and place triangles the baking sheet. Brush tops with heavy cream and sprinkle with coarse sugar.

Bake for 13-15 minutes or until edges and tops are nicely browned and center is cooked through. Internal temperature should be at least 200 degrees F. If the scones are brown but seem underdone, you can shield with a piece of foil and bake a little longer at a reduced heat such as 350.

Let the scones cool for a half hour before serving (if you can stand the wait!). These taste best when given some time to stand outside the oven.