Can you make pecan pie without eggs?  This was my question when I realized I needed a quick pie for a school function and had everything on hand to make an egg free pecan pie.  An egg free pecan pie didn't sound possible, but guess what?  Pecan pie can be made without eggs and it is good!  Here's an egg free pecan pie specimen I snagged shortly after dropping the pie off.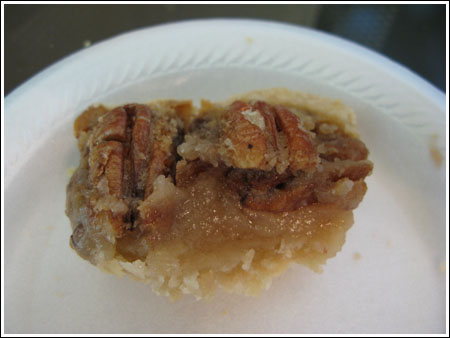 The filling is kind of pale and has a strong vanilla-maple flavor. The thickener is flour and you can kind of taste the starch, but it isn't too bad. I'd definitely make this again if I met someone with a recently diagnosed egg allergy who was sad about having to give up pecan pie.
Hopefully I can get a few more reviews when I go pick up thedish.
Recipe is from The Pecan store via their post on Bakespace, but I made a few adjustments. One being, I baked it in a 9 inch pie plate. I'm not sure it would really fit in an 8 inch, which is what the recipe calls for. I also didn't use vanilla bean or vanilla powder, but rather my every day Mexican vanilla.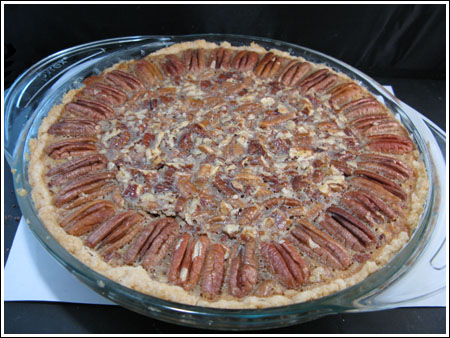 "No Eggs" Egg Free Pecan Pie
1 9 inch pie shell, unbaked
1 stick (114 grams) butter
1/2 cup (65 grams) all purpose flour
1/2 cup maple syrup
1 1/3 cup (230 grams) granulated sugar
1/2 cup very hot water
5 oz evaporated milk
1/8 teaspoon salt
1 teaspoon vanilla extract
1 1/2 cups chopped pecans
Some giant (Mammoth) pecans for decoration
Preheat oven to 350 degrees F. Line a 9 inch glass pie plate with crust.
In top of a heat-proof bowl set over a pot of boiling water, melt the butter. Reduce heat slightly and add the flour – stir until smooth; add the maple syrup and sugar. Stir gently, then stir in the water. Continue heating for about a minute to dissolve some of the sugar. Remove the bowl from over the pot and mix in evaporated milk, salt and vanilla extract. Finally, stir in the pecans. Pour mixture into pie shell and arrange pecan halves around the rim if desired
Bake at 350° for 50-60 minutes, or until a knife inserted 1 inch from the edge comes out clean.