You are going to love today's cookie. This one is from KAnn who found it in an old Marshall Fields cookbook where it's titled "Butterscotch Granola Cookies". Now I'm scratching my head (and typing at the same time!) trying to figure out why they called these "Granola Cookies" when they don't have granola.  They don't taste like granola nor are they crunchy. Maybe when this recipe was invented, granola was exotic and the title made them sound more interesting? I'm not sure, but it doesn't matter because these are delicious and if you like the flavor of wheat, you should make them.
Wheat is definitely the predominate flavor here, but with all the butter and other ingredients, the wheat is very pleasant and nutty and tastes the way you want wheat to taste – that is, not like cardboard or some sort of fiber. But the cookies do need the add-ins to keep them interesting, so make sure you don't leave out the chips (chocolate would be good too) or walnuts.
Here's the recipe as KAnn wrote it. As mentioned, I used whole wheat pastry flour in place of the stone ground.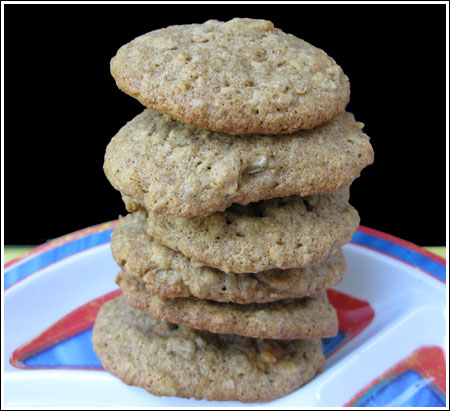 Butterscotch Walnut Wheat Cookies aka "Butterscotch Granola Cookies"
1 C butter (I used room temp unsalted) -- 220 grams
1 ⅔ C brown sugar, packed -- 260 grams
2 t vanilla
3 eggs
2 ¼ C stoneground whole wheat flour (I used 290 grams ww pastry)
2 t cinnamon
1 ½ t soda
1 t salt
12 oz butterscotch chips
1 C old fashioned rolled oats -- 90 grams
1 C walnuts, chopped -- 100 grams
⅓ C wheat germ
1 /3 C coconut (I used unsweetened)
Cream butter, sugar and vanilla util light. Combine and add eggs, beat well. Combine dry ingredients. Add to butter mixture. Add chips, oats, nuts, wheat germ and coconut. Drop onto greased cookie sheets. Bake at 350 for approximately 10-12 minutes.
I'm not sure of the yield at this point because I didn't bake all the dough.