A friend told me she loves oatmeal chocolate chip cookies, so this morning I went on an oatmeal chocolate chip cookie baking rampage. To start, I pitted the Frog Commissary Cookies against a 5-star 1000 + review cookie from allrecipes.com. Guess which won? Neither! Both batches were terrible — but not because of the recipe. I measured everything correctly using my scale and measuring cups to do so, but I'd acquired some bleached flour by accident and made the bad choice to use it. The cookies were puffy and kind of chalky tasting.
Just to make sure bleached flour was the issue, I gathered up what little I had of unbleached and made another small batch of the Frog Commissary cookies. This second batch, made the same way but with unbleached flour, were thinner with crispy edges and chewy centers. Here's a photo of the cookie made with bleached flour next to the cookie made with unbleached.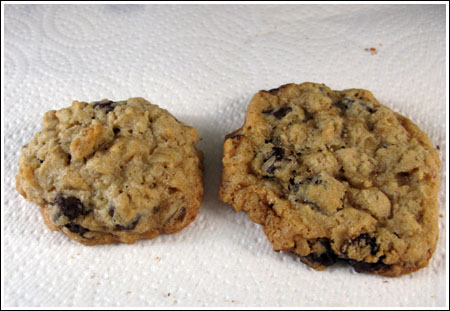 So after shoving my bleached flour in the deep freeze and vowing only to use it for certain cakes, I went to the store for more unbleached flour and made three batches of cookies back to back – Frog Commissary Cookies, a batch of the popular cookies from allrecipes.com and just for fun – a batch of the curry cookies made without curry. We'll call them "Friendly Kitchen" cookies since that's where I adapted the original recipe, which was vegan.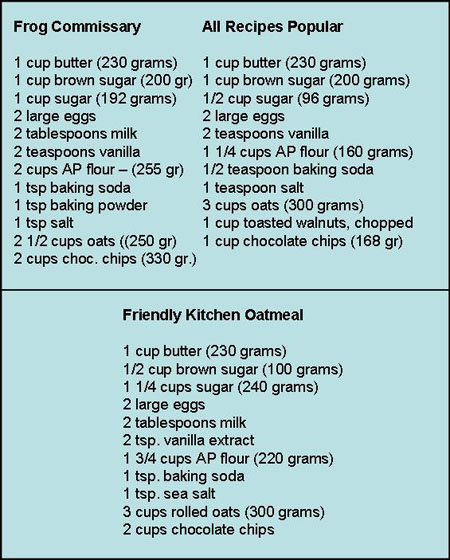 All three cookies were winners. My favorite was the Friendly Kitchen cookie because it's sturdier, thicker and less sweet, but butter lovers will probably choose the allrecipes cookie and the Frog Commissary cookie will get the vote for crowd pleaser.