This is a new improved version of Coconut Cream Pie with Half & Half. My first version called for just half & half, but so many people love the flavor of coconut milk that I decided to incorporate it into the filling of this pie. It adds body and mild coconut flavor. Plus using a combination of coconut milk and a little coconut extract gives the pie enough coconut flavor that you can leave the flaked coconut out of the filling. This is great for people (like me) who don't love the texture of coconut shreds or flakes suspended in the cream filling. My new thing is to just put the coconut flakes along the bottom of the crust and sprinkle over the top of the pie.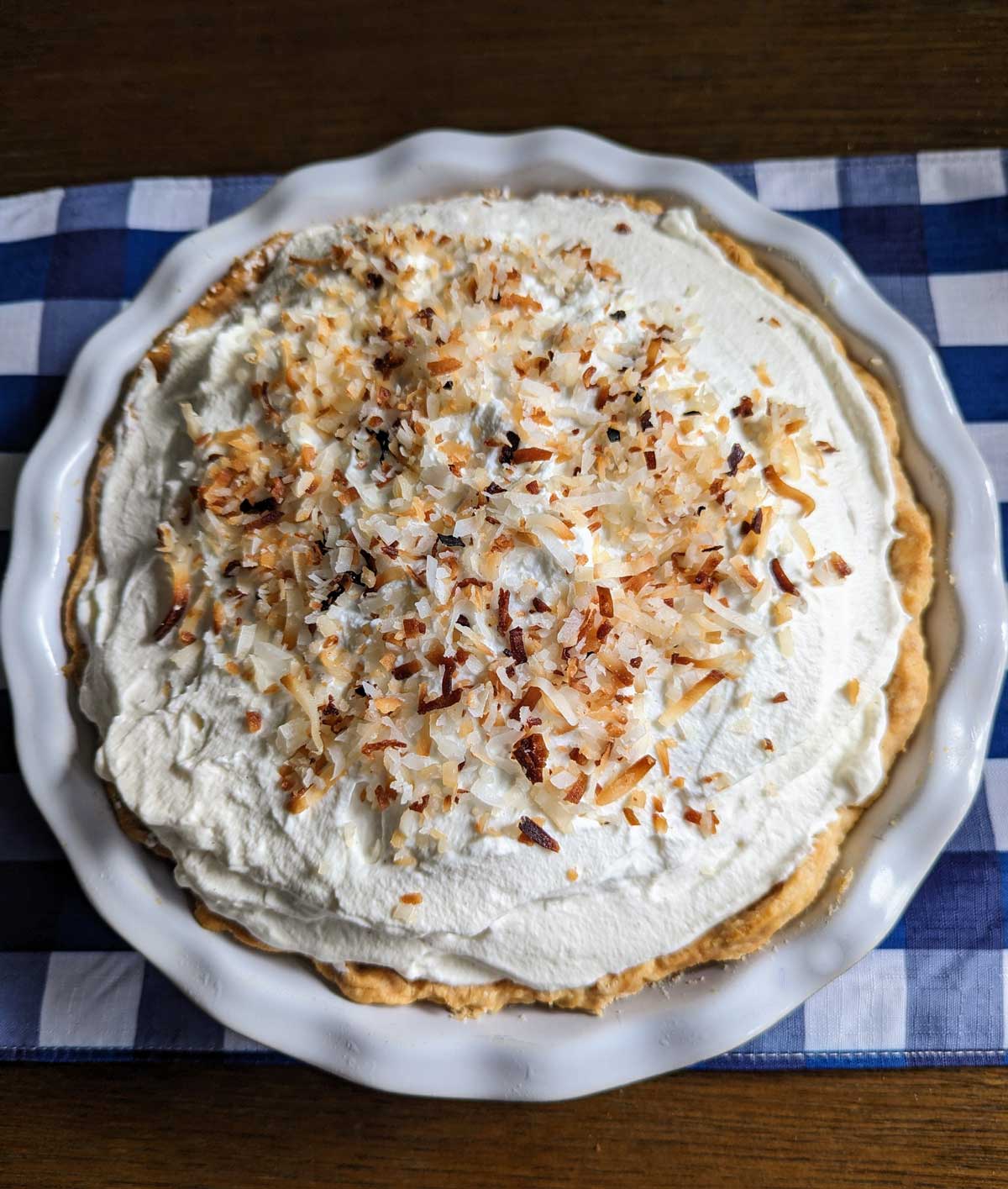 Filling Tips
You can make this with any brand of coconut milk, but be sure to use the full fat kind. I have not tested with light coconut milk and don't think it would work well.
To keep things simple, I mix the dry ingredients and the liquid off heat until well blended, then just set the pot over the heat and whisk. If you prefer you can use a double boiler.
To help avoid lumps of egg yolk, mix the dry ingredients with some of the liquid first, then whisk in the yolks.
Wondering what to do with all of the leftover egg whites? Lately I've been pouring them into ice cube trays and freezing them.
As mentioned, I don't care much for the texture of shredded coconut in cream. Instead of stirring it into the cream filling, I spread it over the baked crust.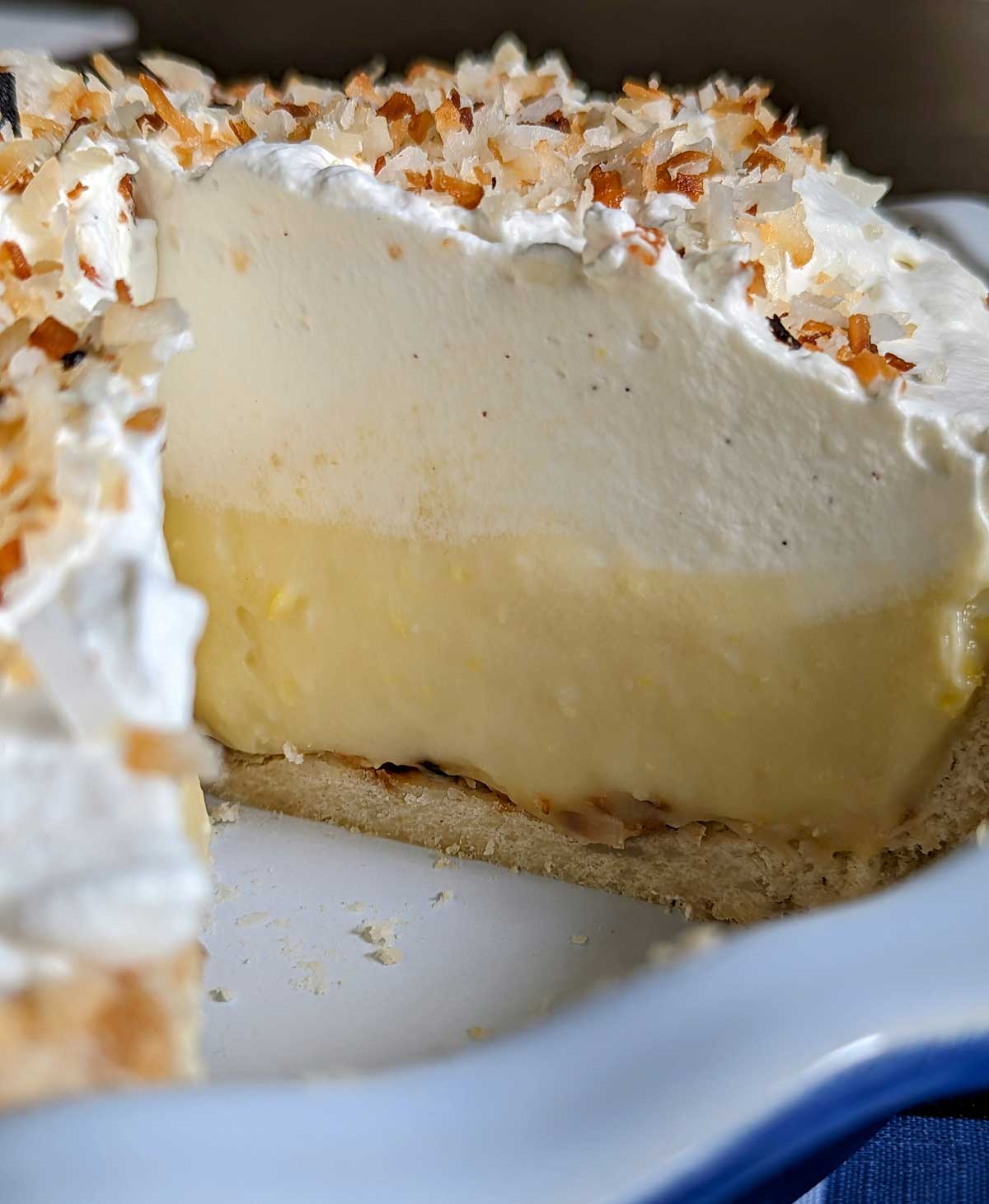 Coconut Cream Pie Crust
For the crust, use store bought or a pre-baked homemade crust. The Baked All Butter Pie Crust works well. Also, if you are using store bought pre-lined crusts such as Keebler, you should have enough filling for two shallow Coconut Cream Pies which you can top generously with whipped cream.
.
Recipe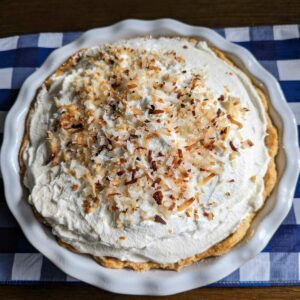 Coconut Cream Pie with Half & Half
Coconut Cream Pie with Half & Half is one of our family's favorite coconut cream pies. This recipe gives you a lot of whipped cream topping so if you want less, use the amounts in parenthesis.
Ingredients 
9

inch

deep dish pastry crust, baked

1

cup

granulated sugar

(200 grams)

⅓

cup

cornstarch

(45 grams)

4

large

egg yolks

1 ¾

cups

half & half (14 oz)

1

can

coconut milk (13.5 oz)

1

tablespoon

butter, cut into smaller chunks

(14 grams)

¼

teaspoon

salt

1

teaspoon

vanilla extract

¼ to ½

teaspoon

good quality coconut extract or just use extra vanilla

1 ¼

cup

flaked sweetened coconut, divided use
Whipped Cream Topping
1 ½

cups

heavy whipping cream

or just 1 cup

⅓

cup

powdered sugar (I use ⅓ cup, but you can lower to 3T.)

1 ½

teaspoon

vanilla extract**

or 1 teaspoon
Instructions 
In a heavy saucepan (about 3 to 3 ½ quarts) off heat, whisk together the sugar, cornstarch and a cup or so of the half & half. Whisk in the egg yolks.

Gradually whisk in the remaining half & half and the coconut milk, then put the pan over low to medium-low heat. Continue whisking until mixture starts to boil, then continue whisking as it boils for 1 minute. That is, 1 extra minute from the time it just starts to boil.

Remove from heat and whisk in the butter and salt. Let cool a little more and add both extracts and about ¾ cup of the coconut. Alternatively, you can leave the coconut out of the main filling and just sprinkle toasted coconut over the bottom of the pastry. This is for people who like the flavor of coconut, but don't love the texture of it in their cream.

Put in a bowl, press a piece of greased wax or parchment paper over to keep skin from forming and let cool to room temperature. When cool, transfer to your baked pie shell and chill. Alternatively, you can whisk the mixture for a few minutes, set it in in an ice bath and whisk a little more to quick cool before putting it in the pastry shell.

While you are waiting for the pie to chill, toast the remaining coconut. Just lay it on a toaster oven or regular oven tray, preferably lined with foil, and bake at 350 degrees F. just until the edges start to brown. Keep an eye on it! It can take anywhere from 5 to 8 minutes. Let cool.

Whip the cream until soft peaks form, then add powdered sugar. Start with ¼ cup and add more to taste (up to ⅓ cup) and beat until stiff peaks form. Beat in vanilla. Pipe or spread over the pie.

Sprinkle with the toasted coconut.
Notes
This pie was originally adapted from Crisco's collection, but I've modified it quite a bit and have incorporated the coconut milk for extra flavor.