If you've never tried sweetening your banana bread with banana juice, it's time to give it a go. I waited years to try this old Americas Test Kitchen trick, and wish I'd tried it sooner. Using the naturally occuring sugar in the bananas to sweeten the bread is just brilliant and adds so much more flavor. And the trick to doing it, rendering and reducing the banana juice, is actually very simple.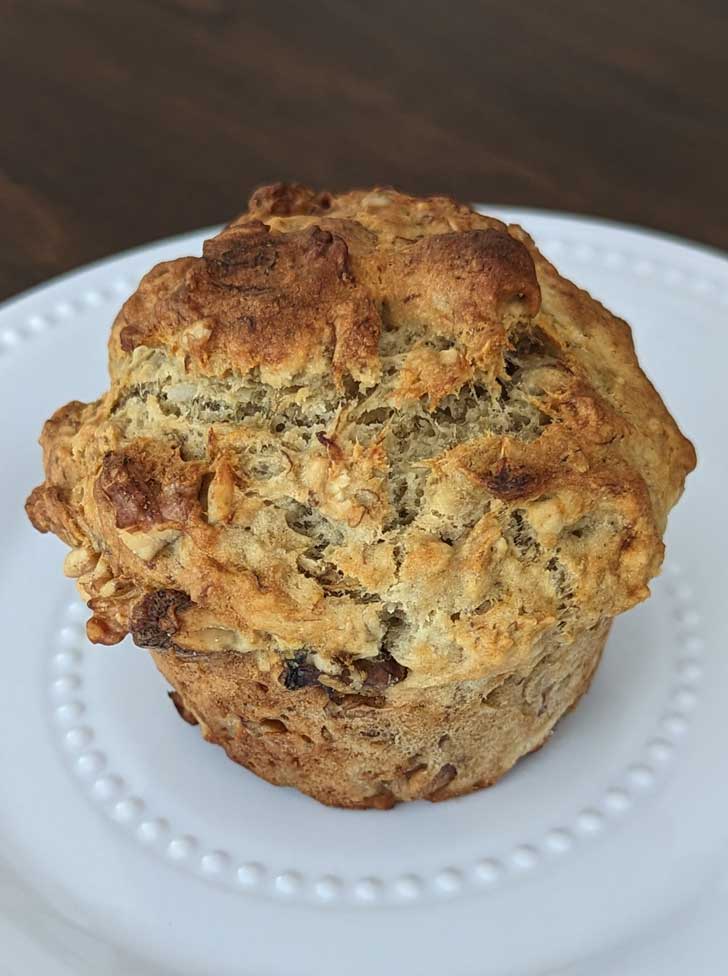 Banana Juice
All you need to do to make your concentrated banana juice sweetener is microwave some bananas for about 5 minutes, drain the juice and give it a 5 minute boil to reduce it. At first I thought the whole process sounded cumbersome, but it's actually pretty quick and fun. And concentrated banana juice really does amplify the banana flavor, to the point where I feel like these might be my new favorite banana muffins.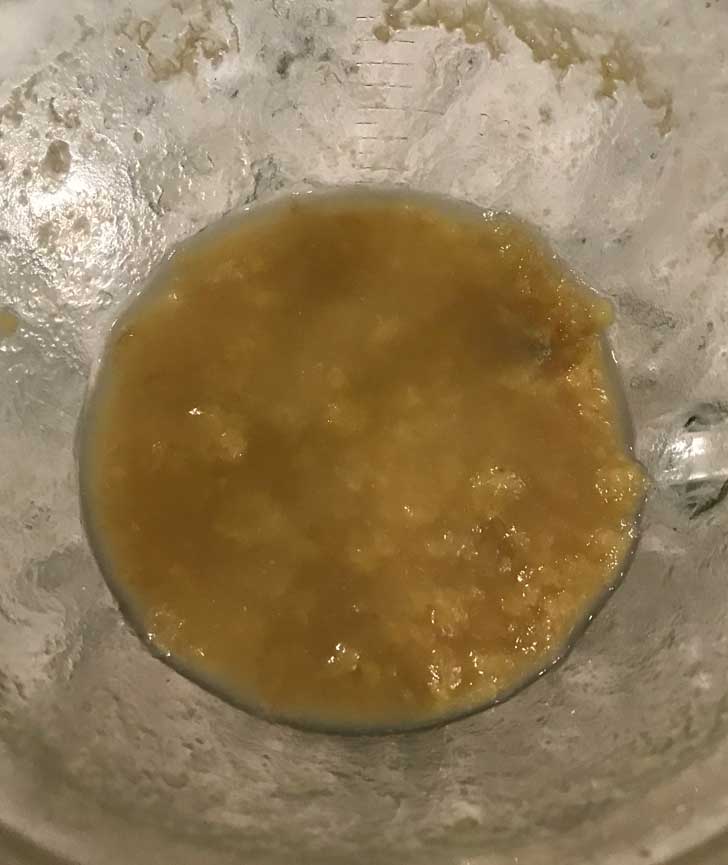 Small Batch No Added Sugar Banana Muffins Notes
I learned this recipe by reading America's Test Kitchen's Naturally Sweet, a helpful book for anyone interested in baking with table sugar alternatives. My version of the recipe is different. I rarely have six over-ripe bananas or the need for a full dozen muffins. Instead, I use three or four bananas for six muffins, or sometimes I make them larger and get four muffins. For the pan, I use a silicone muffin pan like this. I also use coconut oil for the fat (never tried them with butter) and either cake flour or Thomas Keller's Cup4Cup to keep them very moist and/or gluten-free.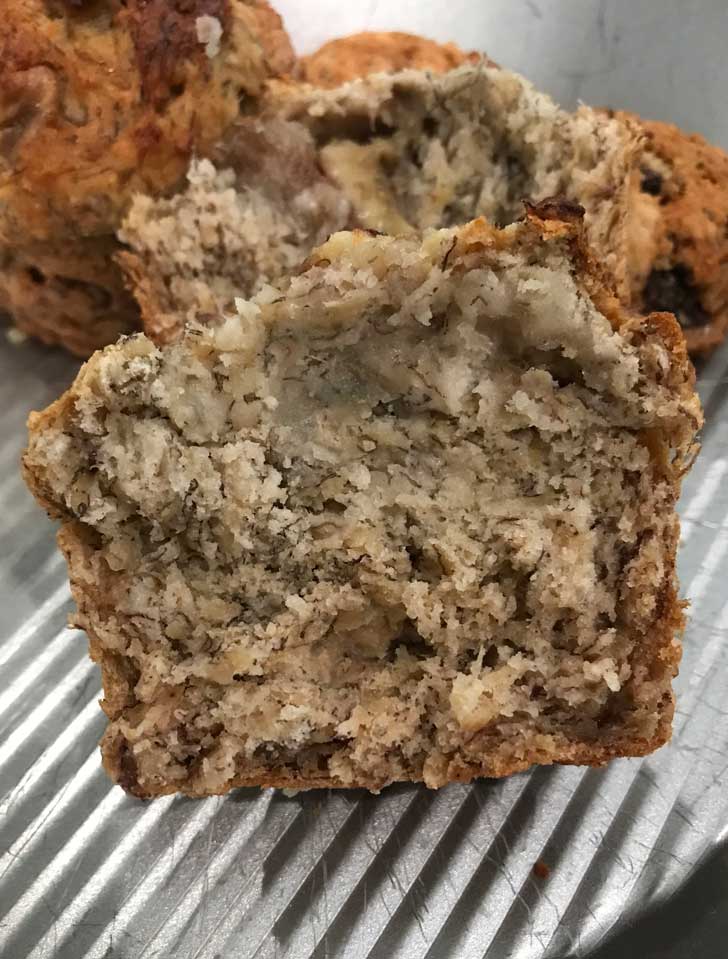 These are just so very good. Because they are naturally sweetened with banana juice only, they're not quite as sweet as your usual muffins and you may want to add chocolate chips to add a tiny bit more sweetness or something like walnuts to make them richer, though they are pretty rich. When you take out the sugar, you have a higher ratio of oil, so the bananas are actually richer tasting and maybe more satisfying in some ways. Here's the recipe, and I'd love to hear from anyone who tries it.
Recipe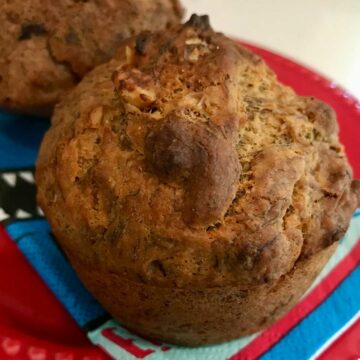 No Added Sugar Banana Muffins
These muffins get all of their sweetness from the bananas.
Ingredients 
3-4

or so

large and very ripe bananas, almost black — (12.5-14 oz after being peeled)

(around 370 grams)

4

tablespoons

melted coconut oil or 5 tablespoons melted butter

1

large

egg

1

teaspoon

vanilla extract

generous

1

cup

cake flour or 114 grams of a gluten-free blend such as Cup4Cup

(114 grams)

1/4

teaspoon

salt, scant or use less if you are sensitive to salt

1 1/4

teaspoon

baking powder

5/8

teaspoon

baking soda

2

tablespoons

oats

1/3 to 1/2

cup

walnut pieces (the nuts really add to the overall appeal here.
Instructions 
Have ready a 6 cup silicone muffin pan or have 6 greased or lined muffin cups ready. You can also bake these in greased custard cups for very large muffins, but you'll obviously get fewer and will need to adjust the time.

Peel the bananas and put them in a large microwave safe mixing bowl. Cover with plastic wrap, leaving a vent to prevent spattering, and microwave on high for about 3 minutes. Keep a close eye on them or the juice may boil over. Check to see if they've released any juice, then continue heating for another 2 minutes or until you can see that they've released their juice.

Set a strainer over a liquid measuring cup and let juices drip into the cup until you have about 1/3 cup. Press a little if you need to. Transfer to a small saucepan and boil until it's reduced by about half. Just eyeball it. This won't take long because you are working with such a small amount of liquid.

In the mixing bowl, mash the bananas (if needed, they'll be pretty soft and mushy already) and then beat in the oil (or butter), egg and vanilla. Mix together the flour, salt and leavening agents and stir into batter, followed by the oats and nuts. Let the batter stand for about 10 to 15 minutes while the oven preheats.

Scoop up batter and divide evenly among muffin cups. It should be thick enough so that it piles.

Preheat oven to 400 degrees F.

Bake the muffins anywhere from 18 to 25 minutes (18 if you made smaller muffins, up to 25 if larger) or until they are nicely browned.