I liked the Friendly Kitchen cookies a lot because they were a little thicker, denser and less sweet. They'd be great with coconut, but I left it out this time.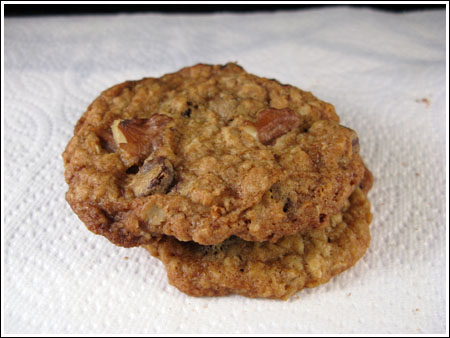 Friendly Kitchen Cookies
8 oz unsalted butter (230 grams)
1 1/4 cups granulated sugar (240 grams)
1/2 cup brown sugar (100 grams)
2 large eggs
2 tablespoon milk, soy or regular milk (30 ml)
2 tsp. vanilla extract
1 3/4 cups unbleached all purpose flour (220 grams)
1 tsp. baking soda
1 tsp. sea salt (if you're using salted butter, skip this)
3 cups rolled oats (300 grams)
2 cups chocolate chips
1 cup shredded unsweetened coconut (80 grams) — optional
Preheat the oven to 375 F.
Cream the butter and the sugars with an electric mixer until light. Beat in the egg, then the milk and the vanilla extract.
Stir the flour, baking soda and salt together and gradually stir the flour mixture into the sugar mixture until it's incorporated. Stir in the oats chocolate chips and coconut (if using).
Drop dough, making 1 inch rounds, onto the cookie sheet, placing about 1 1/2 inches apart so they have room to spread.
Bake on center rack for 10 minutes, until golden brown at the edges and light golden at the center.
Cool on baking sheet for at least 1-2 minutes before moving to a wire rack to cool completely