If you happen to find some good blueberries but don't feel like making a blueberry pie, try these Blueberry Crumb Bars.  They're outstanding!  The original 13x9 inch recipe is on Epicurious, but I cut the recipe in half and made it in an 8 inch pan.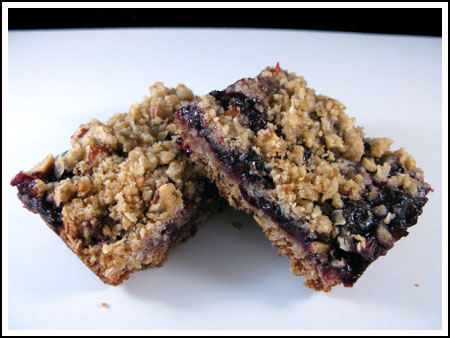 Blueberry Crumb Bars
1 cup flour (135 grams)
½ cup old-fashioned oats
½ cup (packed) golden brown sugar
¼ teaspoon salt
⅛ teaspoon ground cinnamon
½ cup (1 stick) chilled unsalted butter, cut into ½-inch cubes
¼ cup chopped roasted almonds
Filling:
1 ½ cups fresh blueberries (about 7 ½ ounces) or 6 oz unthawed frozen berries
½ cup blueberry preserves (5 oz )
½ tablespoon all purpose flour
½ teaspoon finely grated lemon peel
Preheat oven to 375°F. Line an 8 inch metal pan with foil and spray foil with cooking spray.
Pulse the flour, oats, sugar, salt, and cinnamon together in food processor bowl. Add butter and pulse until you get a coarse meal. Transfer 1 cup to a medium bowl and mix in the almonds. This will be the topping.
Press remaining crumb mixture evenly onto bottom of prepared pan. Bake crust until golden and just firm to touch, about 15 minutes. Cool 10 minutes.
Mix all ingredients in medium bowl. Spread evenly over crust in pan, then sprinkle reserved topping over. Bake bars until filling bubbles thickly at edges and topping is golden brown, about 35 minutes; cool in pan on rack. Cut lengthwise into 3 strips, then cut each strip into 4 pieces, forming 12 bars.