If there's one thing the ancient Maya are known for, it's their spectacular Maya Chocolate Cream Pie. Depictions on cave walls suggest it was served at Maya roadside diners, and legend has it that Maya cooks prided themselves on just how much cayenne they could add to the filing. Chocolate Cream Pies were so valued among the Maya that they were often, alongside blood, used in sacrifices.
Okay, maybe not. Above is just a sequence of thoughts that go through my head when I see any dish with chocolate, chilies and the word ""Maya". And hey, I'm so on board with that. I love the chocolate chili trend was really happy to stumble across this recipe in Texas Co-Op Power Magazine.
Cayenne in Maya Chocolate Cream Pie
That said, the pie posed a bit of a conundrum. The original version from the magazine was so spicy I had to throw it out and start over. The second pie was great, but I still had to know what the right amount of pepper was so I wrote a letter to the editor and got a quick and thoughtful response saying the original 1 tablespoon of cayenne was correct.
So what to do? If you like super fiery hot desserts, go with the original. If you prefer a pleasant warmth, try my version below.
And there's one more catch. I accidentally left out the cream cheese on the second version (Oops!) and the pie was still very good – not too sweet, as you would except with the missing 3 oz of cream cheese. But maybe it's because I used a less sweet chocolate.
So pick your poison, but don't skip this pie if you're a chocolate chili pepper fan because it's a good one. If you make it, let us know how much pepper you used.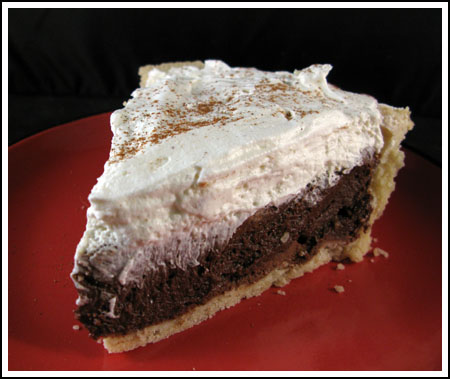 Maya Chocolate Cream Pie
Maya Chocolate Cream Pie (Mexican Chocolate Pie)
1 ready to bake pie crust or your favorite crust recipe, baked
Filling
¼ cup cornstarch
½ cup granulated sugar
⅛ teaspoon salt
1 cup whole milk
2 large egg yolks, beaten
6 oz semi-sweet chocolate, chopped or use Ghirardelli disks**
1 teaspoon cayenne pepper
1 teaspoon ground cinnamon
1 teaspoon vanilla extract
3 oz cream cheese, softened (optional – I left it out)
1 ½ cups heavy cream
½ teaspoon vanilla
2-4 tablespoons powdered sugar
Instructions
Mix cornstarch, sugar and salt in a heavy saucepan. Add a quarter cup of the milk and whisk until smooth. Turn heat to medium and slowly add the remaining milk and egg yolks, whisking constantly. Continue whisking over medium heat until mixture thickens – this should happen pretty quickly and it will appear lumpy at first.
When the mixture is thick, turn off the heat and whisk in the chocolate and spices. When chocolate is melted, whisk in the vanilla. Pour it into a bowl to cool. If will be thick and gloppy.
In a large mixing bowl, whip the cream until stiff peaks form. Add about a cup of the unsweetened whipped cream to the cooled chocolate mixture – the chocolate is so thick it might be difficult to fold, so just do your best. It's not supposed to be fluffy anyway. Spread the chocolate mixture over the pie crust.
Being careful not to over-beat the whipped cream, lightly beat or just stir in the ½ teaspoon vanilla and enough powdered sugar to sweeten. I used about 3 tablespoons. Spread the sweetened whipped cream over top of pie. Chill for 4 to 6 hours or overnight if you have time. I chilled mine for 4 hours and it was fine, but it might be different with the cream cheese.
Baking Notes
Also, the pepper was definitely not as strong on Day 2 so if 1 teaspoon doesn't seem to give you enough heat (because you're going to taste it as you go), then go with 1 ½ or more.
**Chocolate – original recipe calls for 1 cup chocolate chips which are usually about 52% cacao. I used 6 oz Ghirardelli 72% cacao chocolate so my pie was less sweet and probably had a deeper chocolate taste. This also may be why my omission of the cream cheese didn't ruin the pie or cause it to be too sweet.