Two-Tone Chocolate Mousse Pie is a recipe I came up with by accident while making something else. I wasn't sure I'd post it since I already have so many chocolate pie recipes, but this one is a little different in that it has two layers of chocolate cream. There's a dark layer and a lighter milk chocolate, and they both taste different. The other neat thing about the pie is that it has a pile of cookies on top!
Jump to Recipe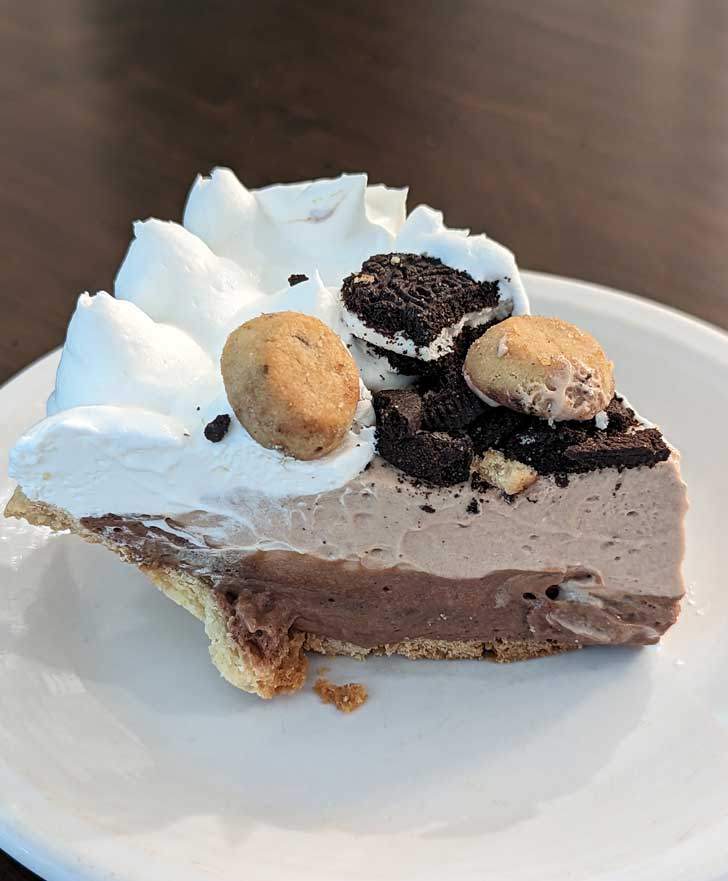 Cookies Crumbled On Top
The inspiration for Two-Tone Chocolate Mousse Pie actually came from the cookie pile. It was a feature on an older pie which was good, but not great. I originally used Mini Chips Ahoy, and have since tested with homemade cookies and Oreos. If using homemade cookies, you'll probably want to go with ones that are very crisp. But storebought are perfect because they crumble just right. Plus the minis, such as Chips Ahoy and Fudge Stripe, are really cute. I just love storebought cookies and am always looking for excuses to try new ones. As a home baker, there's a slight bit of guilt buying packaged ones, but that's silly. You just can't replicate a factory cookie at home.
Chocolate Crumb Crust or Pastry Crust
Speaking of factory baked goods, I've been making this pie using the convenient frozen crusts that come ready to bake and fill. All you do is bake them for 10 minutes and you're set. You don't even have to own a pie pan. This type of crust works very well, plus it's easy to pop the frozen pie out of the pan and cut it into slices. While a baked homemade crust would also be wonderful, the frozen ones stay crisp while supporting the mousse and cookies, which are the star of this pie. But feel free to try a different crust. I know I will because I love making this pie!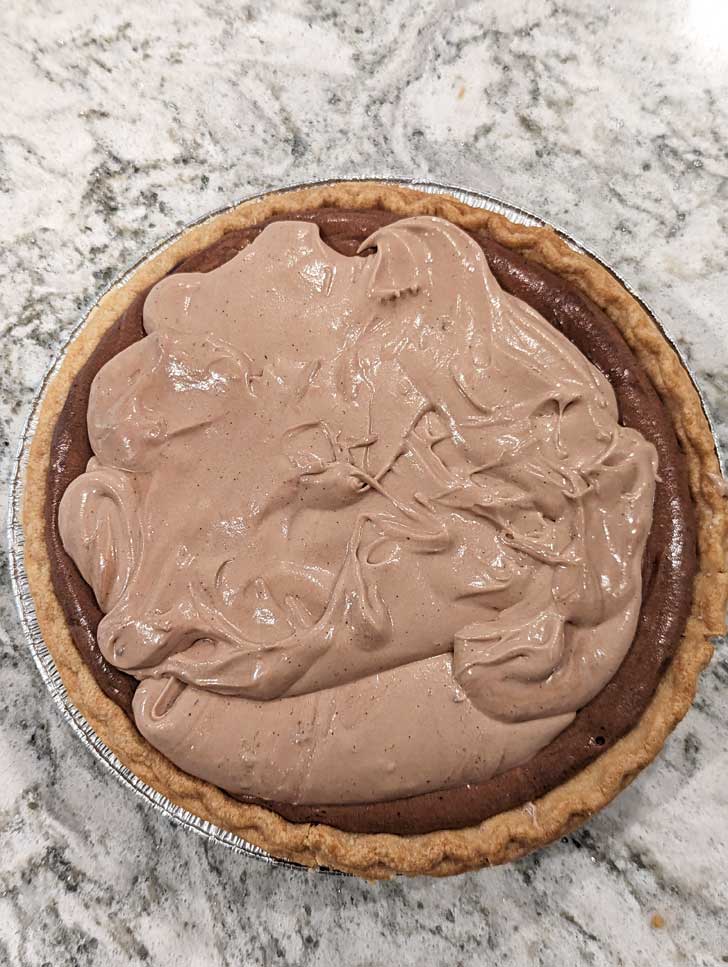 Unsweetened and Hershey's Milk Chocolate
I've tested Two-Tone Chocolate Mousse Pie with various brands of chocolate. The dark chocolate layer only has 1 ½ oz, so you can splurge a little and use a good quality unsweetened chocolate like Lindt or Scharffen Berger. For the milk chocolate, I've been using Hershey Bars, which give it a special flavor. I also threw some unsweetened cocoa powder into the custard, which made the filling just chocolatey enough.
Plain Gelatin
I do not like gelatinous textures and always try to use the least amount of gelatin possible. For this pie, 1 teaspoon works well enough to set the pie when chilled. That said, I prefer to freeze it (or at least partially freeze it) and plate while partially frozen.
Cutting Two-Tone Chocolate Mousse Pie
I tried to insert a video of the frozen pie being cut, but am still trying to get it to work. For now I will just say you just freeze the for about 2 hours, cut it, then either plate the pieces or put them back in the pan and let thaw in the refrigerator for another hour. It all depends on the situation. I freeze the pie, cut it into triangles and keep the cut triangles in a zipper bag in the freezer. This pie is only partially frozen so the triangles aren't as pointy.
Recipe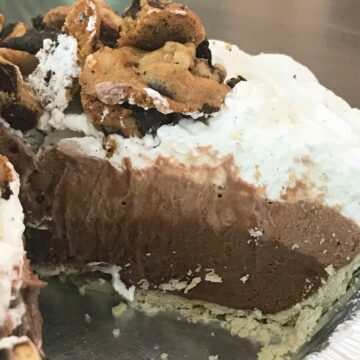 Two-Tone Chocolate Mousse Pie
Two layers of chocolate in one pie.
Ingredients 
1

9-inch

deep dish pastry crust

1 ½

ounces

unsweetened chocolate, chopped

(42 grams)

2

ounces

milk chocolate (from 2 Hershey Bars)

(56 grams)

⅔

cup

sugar

(130 grams)

1

teaspoon

unflavored gelatin

¼

cup

cornstarch

(30 grams)

2

tablespoons

cocoa powder, unsweetened

(12 grams)

2

large

egg yolks

2 ¼

cups

whole milk

(18 oz)

1

tablespoon

cold unsalted butter cut into 3 teaspoon size chunks

1

teaspoon

vanilla extract

2

pinches

salt

6

oz

whipping cream
Whipped Cream Topping
8

oz

whipping cream

3-4

tablespoons

powdered sugar to sweeten the whipped cream

3-10

small or large

chocolate chip cookies, like Chips Ahoy or any cookies you can crumble
Instructions 
Have ready a fully baked pie crust. You can make it from scratch or buy a frozen one and bake as directed. You can also use a crumb crust, though I've only tested with pastry crust so far.

Put the unsweetened chocolate in one large mixing bowl and the milk chocolate in another, preferably a medium size or slightly smaller so you can tell the two mixtures apart.

In a 3 quart saucepan, off heat, whisk together the sugar, gelatin, cornstarch, and cocoa powder. Whisk in the egg yolks and 1 cup of the milk until smooth, then gradually whisk in the remaining milk.

Set the saucepan over medium low heat and whisk continuously until mixture thickens and boils. This shouldn't take longer than 10 minutes, so if it's not thickening just slowly increase the heat. Once mixture thickens and begins to boil, whisk and boil continuously for another 1 ½ minutes. In theory this is supposed to destroy the amylase in the egg yolks, which breaks the cornstarch bond and causes pies to become runny later. Not sure how much it matters here, but I do it anyway.

Set the bowl of milk chocolate on the scale and set tare to zero. Pour in custard mixture (while still hot) until it reads 8 oz. If you aren't using a scale, just measure out 1 cup of custard mixture and pour it into the bowl with the milk chocolate.

Pour the remaining custard mixture into the bowl with the unsweetened dark chocolate.

Add 1 teaspoon of the butter to the milk chocolate mixture and remaining 2 teaspoons to the dark chocolate mixture.

To each bowl, add ½ teaspoon of vanilla and a pinch of salt and whisk until chocolate is melted and mixture is smooth.

Let cool at room temperature for about 45 minutes, whisking once or twice to help it cool down. Between whiskings, keep the tops covered with a piece of wax or parchment paper directly over the pudding. This should help keep a skin from forming. The goal is for the mixtures to be cool enough not to melt the whipped cream.

In a mixing bowl, whip ¾ cup (6 oz) of cream until stiff peaks just start to form.

Give the chocolate mixtures another good whisk and make sure they're cool enough to fold the cream into. Fold half of the whipped cream into the dark chocolate mixture and the other half of the whipped cream into the milk chocolate mixture. The milk chocolate mixture should be lighter in color and texture.

Scrape the dark chocolate mixture into the baked pie shell, then scrape the milk chocolate mixture on top. Cover with a sheet of waxed paper or plastic wrap and chill for at least 4 hours or until gelatin has set and it feels firm enough to cut.
Topping
Once set, whip the remaining 8 oz of cream and sweeten to taste with confectioners's sugar. You can also skip this step and use Cool Whip if you want.

Pipe the remaining whipped cream over the top (or just spread it) and crumble cookies in the center. You can serve it right after garnishing, but I recommend putting the whole pie in the freezer, letting freeze until firm, then cutting while partially frozen. The gelatin prevents it from solidifying completely.
Notes
If you want to make this pie with Cool Whip, you can.  I tested it and it works perfectly, the filling is just a tad sweeter.  To use Cool Whip, just substitute about ⅔ of a tub (2 cups or so -- doesn't have to be exact) for the whipped cream that gets folded into the chocolate mixtures.  You can use more Cool Whip for the top.  I haven't tested one of the coconut whipped creams, but that might work too.