An Unexpectedly Awesome Cheesecake
Today wasn't the greatest, but one good thing came out of it – a terrific cheesecake! I started this recipe shortly before the air conditioner broke and resumed once it was fixed. It was an attempt to use up some cream cheese which I bought by accident last week, but this afterthought-cheesecake turned out to be one of the best cheesecakes I've ever made and impressively free of cracks.
Some cheesecakes are denser and have more of a pull to them. This one is thick, but creamy and very smooth. It's from Alton Brown who bakes it in a 9x3 inch cake pan and uses a water bath. Since I don't own a 9x3 inch cake pan (mine are all 9 by 2-ish), I had to use a regular 9 inch springform pan wrapped in foil. I also changed the flavorings a bit and added an extra half hour to the original cook-time – that part is imperative.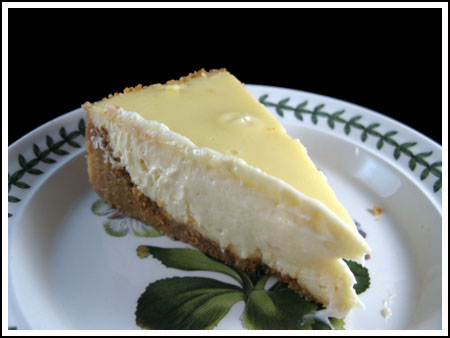 Here's the original cheesecake recipe, but make sure you add 30 minutes to the cook time.
Cook at 250 for 1 ½ hours, let sit in closed oven for 1 hour = perfect cheesecake.
My "secret" flavoring combo is 2 teaspoons of vanilla plus ½ teaspoon orange extract plus 1 teaspoon lemon juice. The orange extract doesn't taste like orange – it just adds a little "Hmmm, what is that?" background flavor. Alton uses 1 tablespoon vanilla and none of the other stuff.
Also, I took this picture after only 3 ½ hours chill time. The cheesecake is good at this point, but I think it will be even better tomorrow.