Yesterday I received a very special present in the mail, a vintage 1959 Best of the Bake-Off Cookbook. It's in great condition, smells pretty good for a 50 year old book and has lots of line drawings of people driving old cars and having luaus. At any rate, I feel so lucky to be the owner of this old book, and many thanks go out to my benefactor, Big Sis from Big Sis Lil Sis who thought of me when she saw it.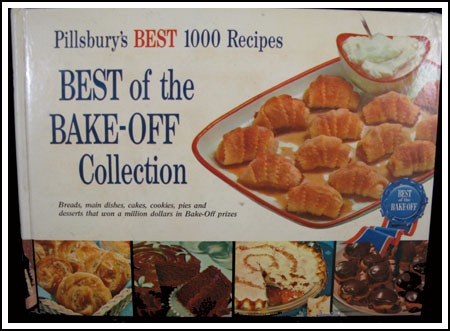 Big Sis had some concerns, though. While she knew I'd appreciate the design, she was worried that Lima Cheese Pie, Gingerunes and By Cracky Bars wouldn't be appealing. But they are! The titles, no….but the recipes themselves are gems and like most Bake-Off recipes, way ahead of their time. In fact, Nicole over at Baking Bites recently made the By Cracky Bars and Gourmet has a recipe for Lima Cheese Pie. Okay, just kidding about that second one -- but it could happen with a few nips, tucks and a name change.
The recipe I made today didn't need any real adjustments nor did its name which is "Pecan Paulines". I'm guessing Mrs. Daniel Jones, who won a "Senior" prize for these cookies, was named Pauline. Or maybe it was her daughter's name? It's fun to speculate.
As for the cookies, they are thin, fairly crisp icebox cookies with a topping of whole pecans and praline candy glaze. What makes these special is the fakety, fake, fake, fake, maple extract. You could leave it out, but it's so worth it to buy a bottle because the fake maple (which smells a lot like fenugreek) gives these more character.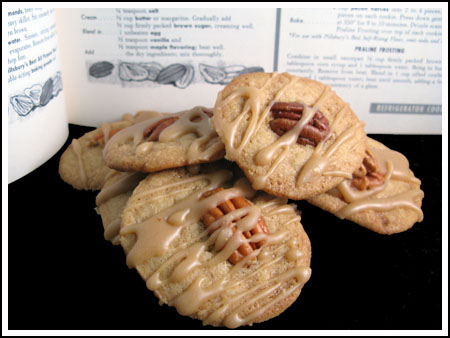 On paper, the glaze looks almost too simple. It has brown sugar, corn syrup, water and powdered sugar – no vanilla, no butter. I was skeptical, but the glaze was fabulous and set up beautifully. You could probably add flavorings if you wanted to, but no need.
Here's the recipe as I made. Aside from the salted butter adjustment, the ingredients are the same and instructions are modified.
Pecan Paulines
1 ⅔ cups sifted all purpose flour (book recommends Pillsbury's Best but I used Gold Medal unbleached)
½ teaspoon baking soda
½ teaspoon salt (use ¼ if using salted butter)
4 oz unsalted butter (book used salted)
⅔ cup firmly packed brown sugar
1 egg
½ teaspoon vanilla
½ teaspoon maple flavoring
Icing:
½ cup packed brown sugar
1 tablespoon corn syrup
1 tablespoon water
1 cup sifted powdered sugar
Another 1 tablespoon water
Don't preheat oven yet – dough requires chilling.
Re-sift the sifted flour with the baking soda and salt. Set aside.
Cream the butter and brown sugar with an electric mixer. Beat in the egg, vanilla and fake maple. Gradually add the flour mixture – dough will be quite thick. Try not to overwork it, but blend in all the flour. Shape into an 8 inch (2 inch diameter) log. Wrap tightly and chill for 4 hours or more.
Preheat oven to 350 degrees F.
Slice the dough into ⅛ inch thick rounds and top each round with either a whole pecan or some broken pecans. Bake on greased or parchment lined cookie sheets for 8-10 minutes (I baked for 10). Let cool on a wire rack.
Make icing. Combine sugar, syrup and water in a small metal saucepan and cook, stirring constantly to melt sugar, over medium heat until mixture begins to boil. Remove from heat and beat in the powdered sugar and remaining tablespoons of water. Beat with the spoon until smooth. Drizzle over cookies and let set.
Makes about 3 dozen