Boiled eggs, dry cereal and turkey sausage. That's the usual breakfast around here, unless a friend spends the night, in which case it's doughnuts. Or at least it was. This summer sleepovers became so frequent that I cut off the doughnuts and told the girls they could make themselves cereal or eat bagels from Costco.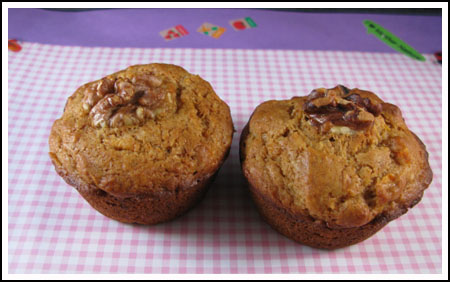 This morning, instead of waking up at 6:30 and breaking into Todd's office to play on the computer, the girls slept in. I was so happy they were catching up on sleep that I decided to surprise them with something a little more exciting than a bagel, but less nutritionally empty than doughnuts.
These carrot walnut muffins went over well.   I had to make them twice to get them just the way I wanted, but both versions were good and the batter seems open to some improvisation. If you try them, let me know.  I'm especially interested to hear how flax & water would work in place of egg.
Carrot Walnut Muffins
1 ½ cups white whole wheat flour (200 grams)
2 teaspoons baking powder (10 ml)
½ teaspoon baking soda (5 ml)
½ scant teaspoon salt (2 ml) – use a little less if you like
¾ teaspoon ground cinnamon
½ teaspoon freshly ground nutmeg
1 large egg
¼ cup very firmly packed light brown sugar (60 grams)
¼ cup granulated sugar (48 grams)
⅓ cup vegetable oil – (80 ml)
½ cup yogurt (120 ml)
1 packed cup shredded carrots
⅔ cup walnuts, toasted and chopped
Preheat oven to 400 degrees F (205 c). Spray 10 muffin cups with flour-added cooking spray. You can use 12 if you prefer smaller muffins.
Mix the flour, baking powder, soda, salt, cinnamon and nutmeg together in a small mixing bowl; set aside.
Whisk the egg in a large mixing bowl, then whisk in the sugars, yogurt, vegetable oil and carrots. Pour the dry ingredients into the carrot mixture and stir until moist. Throw in the walnuts and continue to stir gently until the ingredients are mixed – don't overmix the batter or you'll toughen up the glutens in the flour.
Divide the batter between the cups and bake on center rack for 20 minutes.