After all that searching, I finally found a recipe calling for ingredients on hand — Peach-Cherry Upside Down Cake.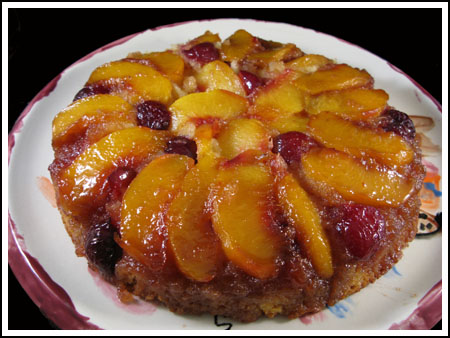 The original cake is from allrecipes.com, and this is a case where I'm glad I didn't read the reviews before jumping in and making the recipe. A few people said the cake was too sweet and one said it had no flavor. That would have definitely put me off had I read it, but luckily the cake was neither too sweet and very flavorful — and I didn't even use the orange zest. I did add a half teaspoon of vanilla and that really helped.
Please take a look at the allrecipes version to compare, but I've re-typed the recipe as I made it using no zest and added vanilla. I also used fresh peaches. I think the people who said it was too sweet might have been using canned. And finally, make sure you put something under the pan because it will bubble over and leak a bit.
Final review. If you like cooked fruit, this should make you happy because there's a big ratio of cooked fruit to actual cake. The layer of cake is very thin and dense and the overall dessert is extremely moist to the point like a baked pudding. If you like more cake, less fruit, and like your cake a little bit dryer, than try a different recipe. After I made this, I looked at a bunch of other peach upside down cakes and was pretty surprised at how many variations there are on such a simple cake.
Peach-Cherry Upside Down Cake
4 tablespoons softened butter (I used unsalted)
1/2 cup packed brown sugar
2-3 fresh peaches, peeled and sliced
1/2 cup fresh cherries, cut in half
1/3 cup shortening
1/2 cup granulated sugar – scant, don't go over
1 large egg
1/2 teaspoon vanilla
1 1/4 cups cake flour
1 1/2 teaspoons baking powder
1/2 teaspoon salt
1/2 cup orange juice (if you have some, add ½ tsp. zest as well)
Preheat oven to 350 degrees F.(175 degrees C)
Rub softened butter over inside of an 8×2 inch round metal cake pan, coating as thoroughly as possible. Sprinkle with brown sugar.
Arrange the peach slices in circles over the sugar. Press the cherries in, cut side up.
Cream the shortening and sugar together thoroughly. Beat in the egg and vanilla.
Sift flour, baking powder and salt together in a separate bow. Add flour mixture to creamed mixture alternately with the juice and stir just until mixed. Pour over the fruit.
Set a foil covered pan on lower rack to catch any drips, then place cake on center rack and cook for 42-50 minutes or until edges are browned and cake appears set.
Let cake cool in pan for 5 minutes, then invert. I dis this by placing a flat cookie sheet flush against the top of the cake, holding them both together with hot pads and turning. Tap the cake and it should come out.