Good Morning! It's time to start the day with some muffins. Oh wait, it's 10:00 already. Yikes. My plan to get to bed before midnight and wake up earlier is not working out. Luckily muffins are for any time of the day.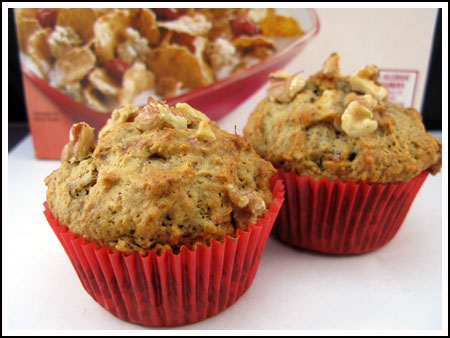 These were actually for Fuzz, whose mouth is still sore after a visit to the orthodontist on Monday. She got her tongue guard tightened, poor thing. Now she's on Motrin and eating soft foods. I thought she'd like the muffins but she took one bite and asked me to make her some turkey sausage. But I liked the muffins, so here's the recipe. It only makes 6, but you can halve it and make as few as three.
Total Cranberry Crunch Applesauce Muffins
2 cups Total Cranberry Cereal (3.5 oz)
1 cup white whole wheat flour (4.5 oz)
1 teaspoon baking soda
¼ scant teaspoon salt
½ teaspoon cinnamon
¼ cup granulated sugar or evaporated cane juice crystals
¾ cup unsweetened applesauce
¼ teaspoon vanilla extract
¼ cup vegetable oil
2 egg whites, lightly beaten with a fork
⅓ cup chopped walnuts (optional)
Preheat oven to 350 degrees F. Line 6 muffin cups with paper liners.
Crush the cereal in a bowl. Add the flour, baking soda, salt and cinnamon and mix very well. Stir in the sugar.
Mix the applesauce, vanilla, oil and egg whites in a separate bowl. Pour the applesauce mixture into the cereal mixture and stir until mixed.
Divide the batter evenly between muffin cups and sprinkle walnuts over top. Bake on center rack for 22 minutes.
Makes 6