I was supposed to be cleaning and prepping for Fuzz's party, but I got an email from a friend asking for a good streusel muffin recipe. I hadn't planned on baking today, but streusel muffins sounded so good I ran to the kitchen and made a quick batch of these Streusel Coffee Cake Muffins.
This is a half batch, slightly modified (chocolate chunks, pecans) version of a recipe from That's My Home. It looks like a long recipe, but the ingredients in the batter are mostly just repeats from the streusel.
These are rich and very good. I'm not sure I'd eat them for breakfast on a regular basis, but I would eat them for dessert or serve them at a school function.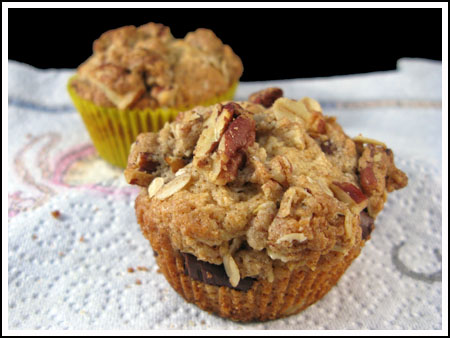 Streusel Coffee Cake Muffins with Chocolate Chunks
1 ½ tablespoons unsalted butter, softened (22 grams)
2 tablespoons packed light brown sugar (27 grams)
2 tablespoons quick or old-fashioned rolled oats
2 tablespoons all-purpose flour (18 grams)
¾ teaspoons ground cinnamon
2 tablespoons chopped walnuts or pecans, toasted
Batter:
1 cups all purpose flour (135 grams)
⅓ cups packed light brown sugar (74 grams)
½ tablespoon baking powder
¼ teaspoon baking soda
⅛ teaspoon salt
½ teaspoon cinnamon
⅛ teaspoon freshly ground nutmeg (I think I used a little more)
¼ cup buttermilk (60 ml)
2 tablespoons lightly beaten egg
½ teaspoon vanilla extract
4 tablespoons unsalted butter, melted and cooled (57 grams)
¼ cup chocolate chunks or semi-sweet chocolate chips
Preheat oven to 375° F. Line 6 muffins cups with paper liners or spray with baking spray.
Combine softened butter, brown sugar, oats, flour, and cniinamon in a bowl. Stir with a fork until crumbly. Stir in nuts and set aside.
Thoroughly combine flour, brown sugar, baking powder, soda, salt, cinnamon and nutmeg in a bowl and set aside.
Whisk buttermilk, egg and vanilla together in a mixing bowl. Pour into dry ingredients, followed by melted butter. Stir until evenly moistened; Stir in chocolate chips.
Spoon batter evenly into prepared muffin cups. Sprinkle topping over tops. Bake until golden and toothpick inserted in center comes out clean – about 20 minutes.
Yield: 6 muffins