You know Halloween's around the corner when the orange and black Halloween Oreo Cookies start appearing on the shelves.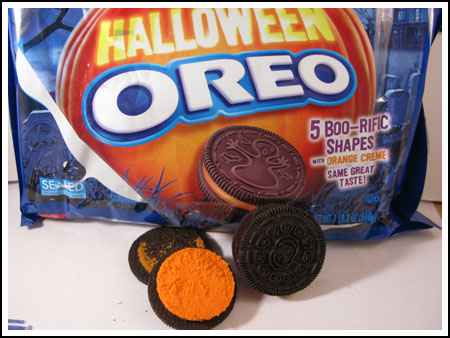 Pretty garish, eh? Or maybe just cute. Or maybe a little of both? I love them nonetheless, and was so happy to find an excuse to use them in these Mini Halloween Oreo Cheesecakes.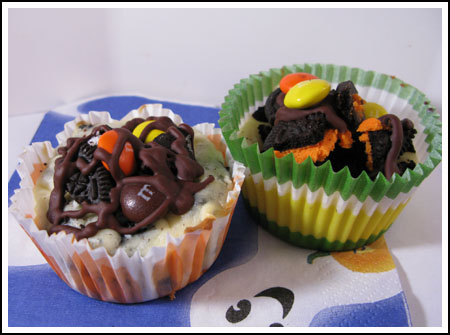 The recipe was adapted from one called "All to Myself Cheesecakes". But I think with the Halloween Oreos these are just too cute to keep to oneself.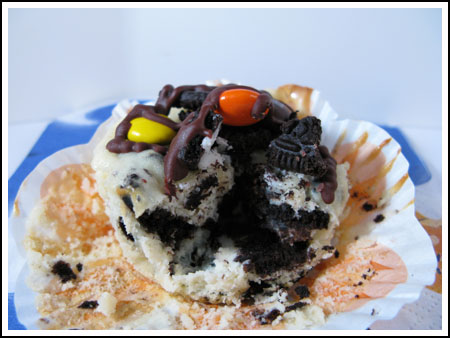 Halloween Oreo Cheesecakes
12 Oreos plus more for crumbling
2 packages (8 ounces each) cream cheese, softened
½ cup granulated sugar
1 teaspoon vanilla
2 large eggs
Chocolate Drizzle
½ cup semisweet chocolate pieces
2 teaspoons shortening
M&Ms
Preheat oven to 325 degrees F. Line muffin pans with paper liners or foil cups.
Split the cookies, keeping filling on one cookie. Place filling covered cookie in bake cups, filling side up. Set aside.
Beat cream cheese, sugar and vanilla till smooth and fluffy. Beat in eggs just till well mixed. Spoon the cream cheese mixture into bake cups. At this point you can crush the remaining Oreos and sprinkle the fine crumbs over the cheesecake mixture, or you can break up the Oreo halves and stir them into the batter. I like Oreos, so I stirred mine into the batter, then broke up more Oreos and arranged them on top.
Bake, uncovered, in 325 degree F oven for about 25 minutes or till set. Cool in pan set on a rack.
In a small saucepan, melt chocolate pieces with shortening over low heat, stirring frequently or melt the chocolate using a low heat setting on microwave. Drizzle the melted chocolate over the tops of the cupcakes or if you'd like, stack more broken Oreos over the top of the cupcakes and drizzle the chocolate over them. If you've going to do that, then you might as well add the M&Ms.
Cover and chill.
Makes 12