Swap Monsters and Blondie Bites are two recipes we created using General Mills cereals. The Blondie Bites are made with Golden Grahams and the Swamp Monster are made with Reese's Peanut Butter Puffs cereal.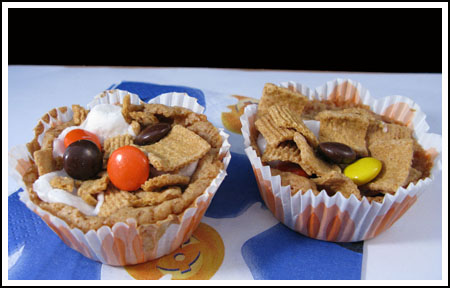 Howlin' Halloween Blondie Bites
3/4 cup all-purpose flour
1 teaspoon baking powder
1/4 teaspoon salt
4 tablespoons unsalted butter
1 cup lightly packed golden brown sugar
1 large egg
1 teaspoon vanilla extract
1 1/2 cup Golden Grahams cereal, lightly crushed (divided use)
1 cup mini marshmallows
1/3 cup candy coated chocolates, brown, yellow, orange
Preheat oven to 325 degrees F. Line 12 muffin cups with Halloween themed or Halloween colored paper liners.
Mix flour, baking powder and salt together in a small bowl; set aside.
Combine butter and brown sugar in a microwave-safe mixing bowl. Heat for 1 minute or until butter is melted; stir until smooth. Let cool slightly (about 5 minutes) then whisk in egg and vanilla. Gently stir in flour mixture, followed by half of the crushed cereal.
Spoon mixture into paper liners and bake for 18-20 minutes or until tops appear set and edges are very lightly browned. Meanwhile, mix together remaining crushed cereal and marshmallows. Quickly sprinkle marshmallows/cereal mixture over cups, dot with about 3 candy coated chocolates, and return to the oven for an additional 3 minutes. Remove from oven and let cups cool – centers should sink a little.
Break remaining Golden Grahams lightly and sprinkle broken Golden Grahams and more candy coated chocolates in center.
Makes 12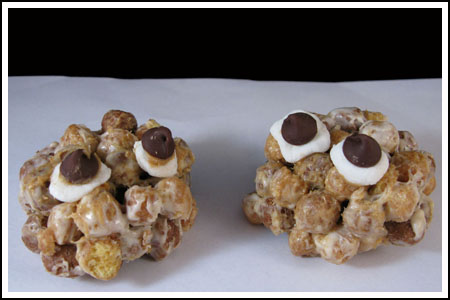 Peanut Butter Swamp Monsters
Butter or cooking spray for greasing
1 1/2 tablespoons butter
2 1/2 cups miniature marshmallows
1 1/2 tablespoons creamy peanut butter
5 cups Reese's Puffs cereal
24 chocolate chips
24 miniature marshmallows
Rub 12 muffin cups with butter or spray with cooking spray.
Microwave 1 1/2 T. butter in a large microwave-safe mixing bowl for 30 seconds. Add marshmallows and heat for another minute on high to melt marshmallows. Add peanut butter and stir until smooth. Add cereal and stir to coat with marshmallow mixture.
Spoon mixture into muffin cups, dividing evenly and pressing tightly into cups with buttered fingers. Chill for about a half hour, then carefully remove from muffin cups by loosening with a knife and lifting.
Make eyes. Mash 24 mini marshmallows to make flat circles. Dab a little peanut butter on the flat end of a chocolate chip and adhere each chocolate chip to a marshmallow. Press eyes into the cereal balls, using a little peanut butter if necessary to adhere.
You can serve these little guys on a tray, or grind up more Reese's Puffs and set them on ground cereal so they look like they're sitting in dirt
Makes 12
Variation: Stick banana chips on their heads for ears, red Trix or M&Ms below the eyes for a mouth, a string of licorice for the tail and you have Swamp Mice.