Swamp Monsters are no-bake cookies made with Reese's Peanut Butter Puffs cereal. I came up with the recipe years ago for a General Mills promotion. Without the marshmallow and chocolate chip eyes, these are just crunchy/chewy cereal cookies.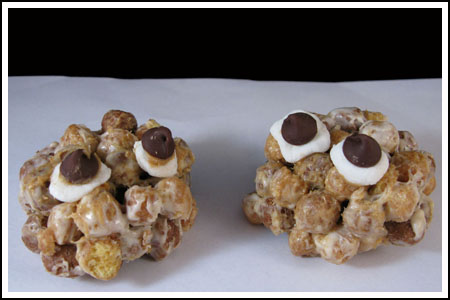 Peanut Butter Swamp Monsters
Butter or cooking spray for greasing
1 ½ tablespoons butter
2 ½ cups miniature marshmallows
1 ½ tablespoons creamy peanut butter
5 cups Reese's Puffs cereal
24 chocolate chips
24 miniature marshmallows
Rub 12 muffin cups with butter or spray with cooking spray.
Microwave 1 ½ T. butter in a large microwave-safe mixing bowl for 30 seconds. Add marshmallows and heat for another minute on high to melt marshmallows. Add peanut butter and stir until smooth. Add cereal and stir to coat with marshmallow mixture.
Spoon mixture into muffin cups, dividing evenly and pressing tightly into cups with buttered fingers. Chill for about a half hour, then carefully remove from muffin cups by loosening with a knife and lifting.
Make eyes. Mash 24 mini marshmallows to make flat circles. Dab a little peanut butter on the flat end of a chocolate chip and adhere each chocolate chip to a marshmallow. Press eyes into the cereal balls, using a little peanut butter if necessary to adhere.
You can serve these little guys on a tray, or grind up more Reese's Puffs and set them on ground cereal so they look like they're sitting in dirt
Makes 12
Variation: Stick banana chips on their heads for ears, red Trix or M&Ms below the eyes for a mouth, a string of licorice for the tail and you have Swamp Mice.