Today's recipe caught my eye for two reasons. After making Nicole's White Chocolate Brownies, I wanted to try a different version. Plus, I liked the idea of brownie wedges. On a table full of desserts, triangular things always stand out. In fact, I might do my next batch of regular chocolate brownies this way and top each triangle with a little cluster of M&Ms. But first, here's a quick review of these White Chocolate Chunk Brownie Wedges.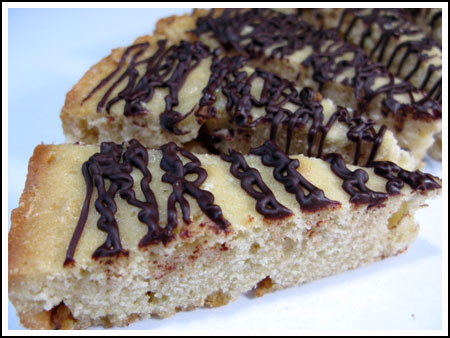 Flavor and texture were interesting thanks to the white chocolate, but I spaced out and forgot to add the extra semi-sweet chocolate chunks to the batter and the brownies were a little too uniform throughout. The white chunks melted right into the batter, so in the end there were no chunks at all. Luckily, the glaze on top helped make up for it. I debated whether to put the glaze on before cutting or after, and found I liked the brownies better when I squeezed it on after cutting.
Overall, these were a nice change from regular brownies or blondies, but I wish I'd added some extra chunks – either the semi-sweet (as called for) or even some nuts or raspberries.
White Chocolate Chunk Macadamia Brownie Wedges
Brownies:
4 oz butter (I used regular salted)
4 ounces white chocolate baking bar, chopped (Divided use)
2 large eggs
½ cup granulated sugar
⅛ teaspoon salt
1 ½ teaspoons vanilla
1 ¼ cups all purpose flour (spoon and sweep)
2 oz semi-sweet chocolate, cut into chunks
Glaze:
1 ounce semisweet chocolate
2 teaspoons butter or margarine
Heat oven to 350 degrees. Line a 9 inch round metal cake pan with foil and spray foil with cooking spray.
Melt the butter and half (2 oz) of the white chocolate together in a heat proof bowl set over a saucepan of simmering water. Alternatively, you can melt the butter in the microwave, add the white chocolate to the hot melted butter, stir well then microwave at 30 second intervals until melted. Let cool slightly.
Combine eggs, salt and sugar in a mixing bowl and beat with a hand-held electric mixer for about 3 minutes or until lighter in color and slightly thicker. Add melted white chocolate mixture and vanilla and mix well, then gently stir in the flour. Fold in remaining 2 ounces white chopped chocolate plus the 2 oz of melted semi-sweet. Spread in prepared pan.
Bake for 23-28 minutes (mine took 28) or until toothpick inserted in center comes out clean. Cool 1 hour or until completely cooled.
In a heat proof bowl set over a pan of barely simmering water, melt glaze ingredients until smooth, stirring often. Drizzle over brownies or transfer to a freezer bag, snip off the tip, and squeeze over brownies. Let stand until set. Cut into 18 wedges.
Adapted from an older book (1993) called Pillsbury Cookies Brownies & Chocolate Galore