I've been busy today making pies for a school function. I'd planned on making just one pecan pie, but I found this sweet potato pie that looked so good, I decided to make one of each. The sweet potato pie is cooling and may or may not be worth posting, so for now here's the recipe for Browned Butter Pecan Pie.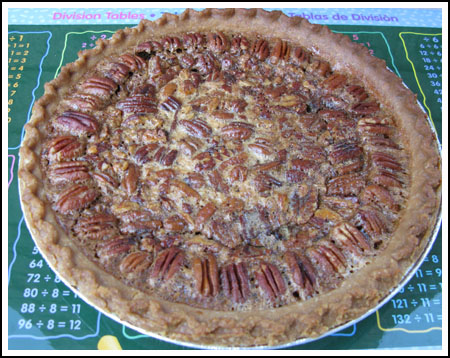 If you've read this blog for any length of time, you know I jump from one pecan pie recipe to another. It's a bad habit, but it wasn't always that way. Before I started pie-hopping, I was famous in my town for this one pecan pie. Okay, not really "famous in my town" but a few people said this pie was really good and started rumors that I made good pecan pie all because they tried the Browned Butter Pecan Pie.
I'm not sure why I started looking for better recipes. Oh wait, I know why. Because I met a person who made much better pecan pie and have been trying to top hers ever since. Then the other day it dawned on me that her pie wasn't all that great anyway and I was just really hungry when I tried it. So I'm going back to this pie forever and will never try another pecan pie recipe again (Ha!).
Recipe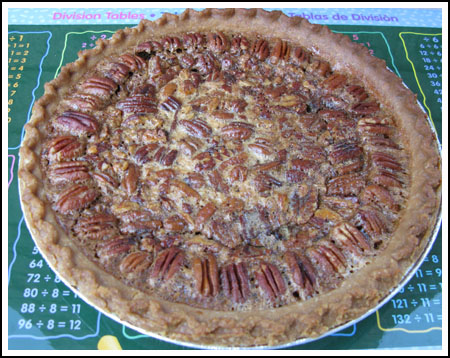 Browned Butter Pecan Pie
One of our family's favorite pecan pies. Browned butter adds extra flavor.
Ingredients 
1 ½

cups

pecan halves

1

4 oz stick butter (regular or unsalted)

3

large eggs

1

cup

sugar

1

cup

dark corn syrup

or use ½ dark plus ½ light

1

teaspoon

vanilla extract

¼

teaspoon

salt

1

unbaked pie shell – use homemade or refrigerated
Instructions 
Lay 1 cup of the pecan halves on a cookie sheet and bake at 350 for about 5-8 minutes or until shiny and aromatic. Let cool, then chop so that you have 1 cup chopped toasted pecans and about a half cup of pecan halves (these will be the border).

Melt the butter in saucepan set over medium heat and cook it just until it starts to brown. Remove from heat and let it cool for about 10 minutes.

Whisk the eggs lightly in a large mixing bowl. Whisk in the sugar, corn syrup, vanilla and salt. Pour in the browned butter.

Put the chopped pecans in the unbaked pie shell and pour the filling over the top. Use the remaining pecan halves to make a border.

Set pie on a baking sheet and bake at 400 for 10 minutes, then reduce heat to 325 degrees F. and bake for another 35-45 minutes** or until the sides are set but the center (about a 3 inch circle in the middle) is still jiggly. Remove from oven. Pie will set as it cools.

Let it cool at room temperature for a few hours. Store in refrigerator until ready to serve. You can keep it at room temperature, but it won't be as stiff.
Notes
Note: Deep dish pies usually bake 400 for 10 minutes and 325 for 45 minutes while smaller pie tins usually take the original amount of 400 for 10 minutes and 325 for 35 minutes.