I was on the fence about whether to make Thanksgiving dinner this year, but we bought the turkey this weekend so I'm locked in. I should be focusing on prep work, but chocolate helps me focus so I made a quick batch of brownies. Inspired by Jennifer at Bake or Break, I used the Max Brenner Brownies recipe.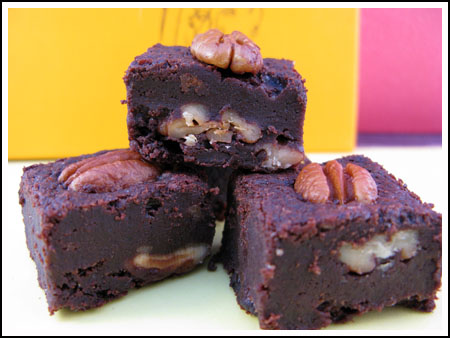 One issue with the Max Brenner recipe is that it's for a 13x18 inch pan. Jennifer made the full batch, so I decided to try scaling it down to ⅓ of itself and baking it in an 8 inch pan. It worked perfectly. Like Jennifer, I used pecans instead of walnuts but I think these might have been better without the nuts or maybe with the nuts just on top. I usually love nuts, but in this case they seemed "in the way". I also refrigerated the brownies before cutting. If you can't tell from the ingredients list, these brownies are super rich – not overly sweet, but rich. At first I cut the pan into 9 squares, but wanting to fill people up on one single brownie, stomachache, I cut each square into 4 more squares to make 36 small brownies.
Small Batch Max Brenner Brownies
⅓ cup unsalted butter (76 grams)
⅓ cup heavy cream (76 grams)
10 ½ ounces dark chocolate (approx. 70%), roughly chopped (294 grams)
1 teaspoon vanilla extract
2 large eggs, room temperature
½ cup granulated sugar (100 grams)
¼ generous teaspoon salt
⅓ cup all-purpose flour (divided use) (45 grams)
½ cup toasted pecans, chopped
Preheat oven to 350°. Line an 8 inch square pan with non-stick foil or line with parchment.
Put the chocolate in a microwave-safe mixing bowl.
Place the butter and cream in a saucepan set over medium heat and bring to a boil. Pour over chocolate and let sit about a minute or until chocolate begins to melt. Stir until chocolate is completely melted and mixture is smooth. Set aside to cool. Note: If chocolate doesn't melt completely, you can microwave the bowl for 20 second and continue to stir. That's why I suggested a microwave-safe mixing bowl.
Add vanilla to cooled chocolate mixture. Whisk in eggs, one at a time. Whisk in sugar and salt.
Sift ¼ cup of the flour into the chocolate mixture. Using a wooden spoon, stir gently until combined. Toss nuts with remaining flour. Stir into batter.
Spread batter in prepared pan. Bake 28-30 minutes, or until a toothpick inserted in the center comes out almost clean. Allow brownies too cool. Wrap and refrigerate for a few hours or overnight.
Yields: As many as 36 brownies or as few as 8