Yesterday, while on a mad de-cluttering spree, I decided to part with a bunch of old cooking magazines. Just as I was about to throw away an issue of Cooks' Country, I saw this recipe and remembered why I'd kept it. It was the issue where they'd tried to improve the classic rice krispy treat by decreasing the cereal and adding vanilla, salt, white chocolate and dried cherries. It seemed like a good idea at the time, but it wasn't until today that I finally tried "White Chocolate Dried Cherry Rice Krispy Treats.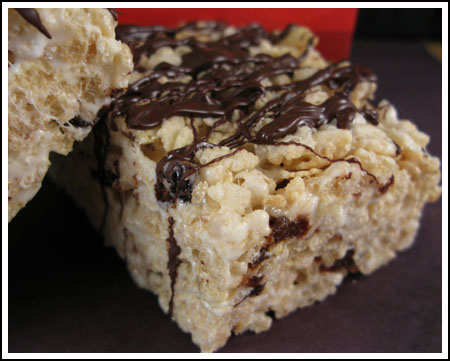 In my opinion, regular Rice Krispy Treats made with salted butter and a little extra vanilla thrown in are better. These were good, but the white chocolate taste got in the way and I didn't care for the chocolate drizzle. Still, they're an interesting variation so here's my adapted version of the recipe.
White Chocolate Dried Cherry Krispy Treats
3 tablespoons unsalted butter
10 oz marshmallows
½ teaspoon salt
3 oz white chocolate or ½ cup white chips
¼ teaspoon vanilla extract
5 cups Rice Krispies
1 cup chopped dried cherries (cranberries would work too)
3 ounces of semi-sweet chocolate, chopped
Line an 8 inch square pan with non-stick foil (Release) or use regular foil and spray it with cooking spray.
Melt the butter in a large pot over medium heat. Reduce heat to low and add the marshmallows, white chocolate and salt and stir over low heat until melted. Remove from heat and stir in the vanilla, then quickly stir in Rice Krispies and cherries. Pat into the pan. I like to press them in the pan by putting a sheet of non-stick foil over the top and pressing down. Cut into large squares. Separate the squares and lay them on a sheet of non-stick foil.
Let stand for about 30 minutes to set. Melt the chocolate in a bowl set over but not touching simmering water or using microwave. Drizzle chocolate over squares.
Makes 9