Thanks to all who have shared German Chocolate Cake recommendations. I'm putting together a list of recipes so we'll have them in one place.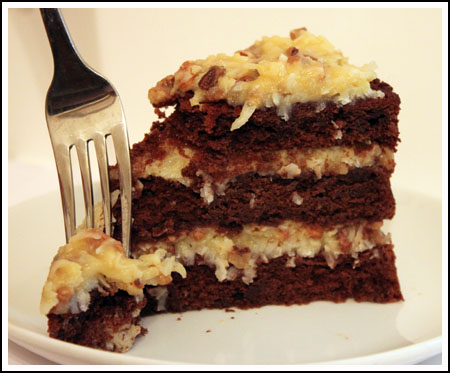 Old List of German Chocolate Cake Recipes
This is an old list, but I am still referring back to it for recommendations. Of course now there are tons more recipes to choose from! I do still love Sue's old Time Life recipe, though.
Old List
The recipe from earlier this week was fabulous, despite having to strain the scrambled egg from the icing.
A few people have mentioned Trisha Yearwood's German Chocolate Cake as their go-to recipe.  Looks good.
Bobby Flay's cake with cajeta got some votes, though I'd have to make it without the goat milk.
And one reader suggested Trish Boyle's German Chocolate Cake from Diner Desserts — a book I just put on my Christmas list. Luckily, the recipe is on-line.
And finally, there's a recipe Sue sent from an old set of Time Life books. I've pasted an adapted version below.  It's very close to the traditional version, but with less sugar, more chocolate and a bit of chocolate in the icing.
Update: German Chocolate Cupcake Recommendations
If you have any great recipes for German Chocolate Cupcakes, let me know. Right now, I recommend these. Since posting this, I've made these cupcakes many times.
Recipe
Time Life German Chocolate Cake
Recipe from an old Time Life book.
Ingredients 
6

oz

German's sweet chocolate, chopped

coarsely chopped

1/2

cup

water

2 1/2

cups

sifted cake flour (weight is after sifting)

(250 grams

1

teaspoon

baking soda

1/2

teaspoon

salt

1/2

pound

butter

(230 grams)

1 3/4

cups

granulated sugar

(350 grams)

4

large

eggs

separated

1 1/2

teaspoons

vanilla extract

1

cup

buttermilk, room temperature

(228 grams)
Frosting
4

large

egg yolks

1

cup

sugar

(200 grams)

1

cup

evaporated milk

canned

12

tablespoon

butter, cut into small pieces and softened

cut into small pieces and softened

2

ounces

German's sweet chocolate

(56 grams)

1

teaspoon

vanilla extract

1 1/3

cup

sweetened shredded coconut

1

cup

coarsely chopped pecan
Instructions 
Preheat oven to 350 degrees F.

Grease three 9-inch cake pans, line them with parchment rounds and flour the sides.

Put the chocolate in a heat proof bowl and pour hot water over it. Let it sit for a couple of minutes, then stir until melted and smooth.

Whisk or sift together the (already sifted once) cake four, baking soda and salt.

In an electric mixer on medium speed, cream the butter with the sugar until light and fluffy. Beat in the egg yolks, one at a time, followed by the vanilla. Reduce mixer speed to low and stir in the melted chocolate. By hand or using lowest speed, add flour mixture alternately with buttermilk (beginning and ending with the buttermilk).

Beat the egg whites to almost stiff peaks in a separate bowl. Fold about 1⁄2 cup of the batter into the egg whites to lighten it up, then fold the egg whites into the batter.

Divide the batter among the three cake pans and bake on middle and lower racks for 35 minutes or until a toothpick inserted in the center comes out with moist crumbs.

Cool the cakes for a few minutes and unmold. Remove the parchment, invert cakes back to upright and cool on racks.
Frosting
Whisk together the egg yolks and sugar in a 2 quart saucepan until thick, about 2 minutes. Whisk in the milk, butter, and chocolate. Cook over low heat, stirring constantly until it is smooth and thick enough to lightly coat a spoon, about 5 minutes. Keep heat low or egg yolks will scramble. If this happens, you'll have to strain. Remove pan from heat and stir in the vanilla, coconut and pecan.

Let the frosting cool to room temperature. Then refrigerate until thicken but not quite solid, stirring it couple of times.

Spoon about a third of the frosting on top of one cake. Spread it out almost to the edge. Place a second cake on top of the frosting, repeat with another third of the frosting. Place the last layer on top and frost just the top of the cake, letting a little drizzle down the sides. The frosting is too fragile and soft to frost the sides.