This is a basic yellow cake , but I'm calling it Potluck Caramel Cake because it has a caramel frosting and is easy to carry and serve.  It's not exactly fancy with the foil pan, but at the end of a party it's always nice not to have to worry about getting a cake dish back.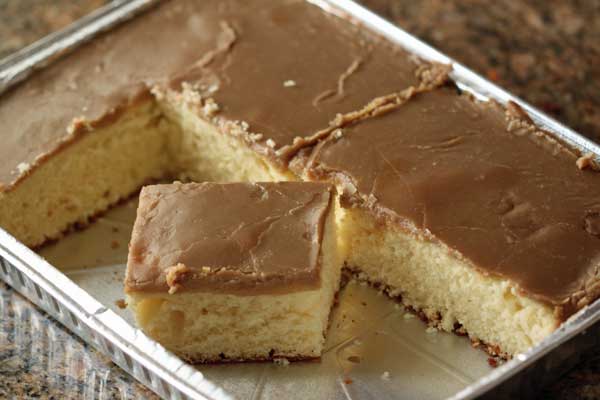 Quick Caramel Frosting
The frosting is The Cake Mix Doctor's "Quick Caramel Frosting" which is the most reliable caramel frosting I know of. Some versions take more time, but this recipe calls for confectioners' sugar and doesn't require a candy thermometer or any real candy making skills. Of course if you'd rather have a chocolate frosting, you can skip the caramel frosting and go with a good sour cream chocolate frosting recipe.
The Cake
As for the crumb, it's a basic yellow cake with a soft and velvety texture. Sour cream keeps it moist, but as with most yellow cakes you have to be pretty meticulous with your measurements and mixing method to get the best results. For instance, it's best to weigh the flour, make sure the butter is neither too warm nor too cold, and add the eggs one by one, starting with a slow mixer speed and increasing speed after each egg. The flavor is vanilla, and if you can find some vanilla and butternut extract (they changed the name to (Cake Batter Flavor), you can another note of flavor and make the cake a bit more yellow in color.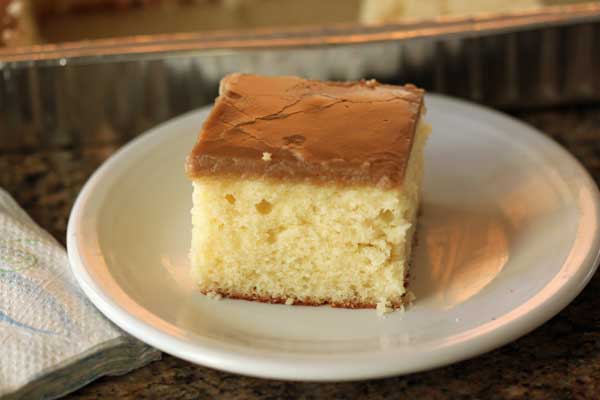 Recipe
Potluck Caramel Cake
Potluck Caramel Cake is a velvet-y yellow cake topped with an easy caramel frosting. I gave it its name because it can be baked in a foil pan and carried along to an event.
Ingredients 
2 ¾

cup

12.4 ounces all-purpose flour

(350 grams)

2

teaspoons

baking powder

½

teaspoon

salt

1

cup

unsalted butter, room temperature

(230 grams)

2

cups

granulated sugar

(385 grams)

2

teaspoons

vanilla

4

large

eggs

¼

cup

whole milk

1

cup

sour cream, at room temperature

(240 grams)
Quick Caramel Frosting
8

tablespoons

unsalted butter, softened

(114 grams)

¼

teaspoon

salt

omit if using salted butter

½

cup

packed light brown sugar

(100 grams)

½

cup

packed dark brown sugar

(100 grams)

¼

cup

whole milk

at room temperature

2

cups

confectioners' sugar, sifted

(240 grams)

1

teaspoon

pure vanilla extract

2-4

tablespoons

of milk or as needed
Instructions 
Preheat the oven to 350 degrees F. Grease a 9x13 inch baking pan or use an ungreased 9x13 inch disposable foil pan.

Mix together the flour, baking powder and salt and set aside.

In the bowl of a stand mixer, beat the butter on medium high speed until light and creamy. Gradually add the sugar, scraping the sides of the bowl once or twice and beating for about 3 minutes or until light and creamy. Beat in the vanilla.

Reduce mixer speed to low and add eggs one at a time, increasing mixer speed after each egg and beating for 30 seconds. When all the eggs are added, increase speed and beat on high for about a minute.

Reduce speed to low and add the milk, then with mixer on the very lowest speed add flour and sour cream alternately.

When flour is fully incorporated, pour mixture into the pan and spread evenly.

Bake on center rack for about 35 minutes or until cake springs back when touched.

Caramel Frosting:

Mix the softened butter, salt and both brown sugars together in a heavy saucepan.

Place the saucepan over medium heat and bring to a boil, stirring often. When mixture reaches a good boil, carefully pour in the milk (it will bubble up!) and allow the mixture to return to a boil. Remove the pan from the heat and add confectioners' sugar and the vanilla. Beat with a wooden spoon until smooth, then pour over the came before it starts to set. The frosting should start to set almost immediately after it is poured over the cake.
Enjoy the Potluck Caramel Cake and let me know how yours turns out! I made this one and am making another tomorrow.