My husband loves Black Forest Cake, so I made one yesterday knowing all the while it wasn't authentic, but rather the "Black Forest" we're used to which is an American style chocolate cake with cherry filling and fresh whipped cream. It's probably nothing like what you'd get in Germany, but if you do a search for Black Forest Cake, it's the type that comes up most often.  And as an interesting side note, it seems quite popular in India!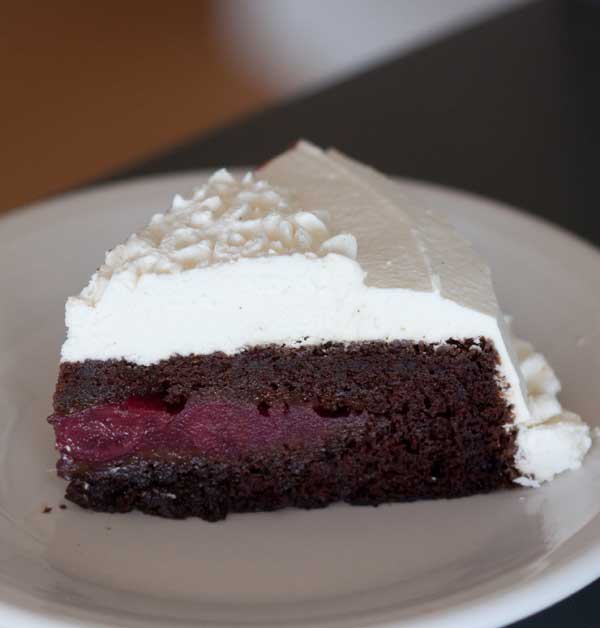 With or Without Kirschwasser
No matter the origin, everyone has their own interpretation of Black Forest Cake, and it's fun to see what's out there. Most versions use a cherry brandy called Kirschwasser, while some leave it out and just use whipped cream and cherries. The richest of the cakes have brandy, cherries, whipped cream and a butter & sugar icing. A couple of years ago I tried one of the more "authentic" versions from allrecipes.com, and while we liked it, the alcohol seemed a bit strong.
After making this cake, I've decided I should probably make more Black Forest Cakes. But this is what I have for now – an easy stir-and-bake "Black Magic Cake" filled with cherry filling and covered in whipped cream. I put some notes on the bottom to help you along should you decided to make this version.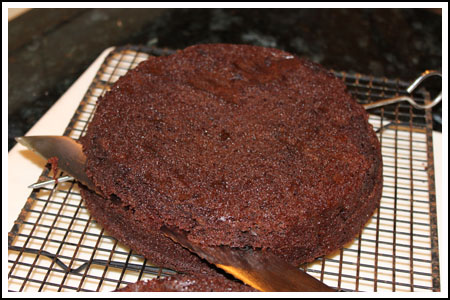 Recipe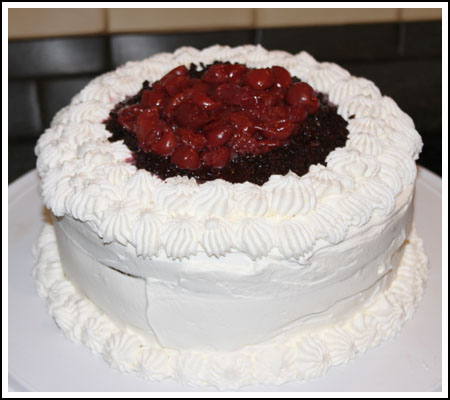 Black Magic Forest Cake
Black Magic Forest Cake is Black Forest Cake made with the old Hershey's Black Magic Cake and homemade cherry pie filling.
Ingredients 
Cherry Filling:
2

cans

pitted sour cherries

(14.5 oz to 16 oz each)

1

cup

granulated sugar

¼

cup

cornstarch

1

teaspoon

vanilla extract

⅛

teaspoon

almond extract

optional
Cake:
1

cup

milk

1

tablespoon

vinegar

malt, white, cider -- any kind

1 ¾

cups

all-purpose flour

7.9 oz

2

cups

granulated sugar

¾

cup

unsweetened cocoa powder

natural style

1

teaspoon

baking powder

2

teaspoons

baking soda

½

teaspoon

salt

2

eggs

½

cup

vegetable oil

1

cup

strong brewed coffee

warm or cold (not hot)

1

teaspoon

vanilla extract
Whipped Cream:
3

cups

heavy whipping cream

⅓

cup

confectioners' sugar

1

teaspoon

vanilla extract
Instructions 
Make Filling First: Drain cherries, reserving ½ cup liquid. Combine the ½ cup liquid, 1 cup sugar and cornstarch in a saucepan. Cook over medium heat, stirring constantly, until mixture boils. Let mixture boil, stirring constantly, until it thickens to the consistency of thick maple syrup. Remove from heat and stir in the vanilla, almond extract and drained cherries Let cool at room temperature then transfer to refrigerator and chill for about 2 hours or until ready to assemble.

Cake: Preheat oven to 350 degrees F. Grease two 8x2 inch cake pans and line with circles of parchment paper (or wax paper). Grease again and dust with flour.

Combine milk and vinegar in a mixing bowl and set aside for a few minutes to sour the milk.

Meanwhile, sift the flour, sugar, cocoa powder, baking soda, baking powder and salt together in a second bowl. Mix well to mash out any stray lumps of cocoa powder.

Add the eggs, oil, coffee and vanilla to the bowl with the milk/vinegar mixture and whisk well. Stir in the flour mixture and beat by hand about 50 strokes or until mixed -- batter will be thin and lumpy. There shouldn't be big chunks of cocoa powder, though.

Pour batter into prepared pans and set the pans on a cookie sheet to catch any spills. Bake for 30 -35 minutes, or until a toothpick inserted into the center of the cake comes out clean – stick the toothpick right in the center to test, this cake might seem done, but you won't know for sure unless you test it. Cool 10 minutes in pan, then turn from pans onto racks. Peel away parchment or wax paper rounds and let cool completely.

Whipped Cream: Beat whipping cream in a large bowl until soft peaks form. Beat in the sugar and vanilla and continue beating until peaks are stiff.

Assemble Cake: With long serrated knife, split each cake layer horizontally in half. Tear one split layer into crumbs and set aside. For finer crumbs, you can pulse the cake layer in the food processor. These will be used as garnish.

Place one cake layer on cake plate. Spread with a little whipped cream; top with about ¾ cup cherry topping. Top with second cake layer; repeat layers of whipped cream and cherry topping. Top with third cake layer. Frost side of cake with remaining whipped cream. Pat reserved crumbs onto frosting on side of cake or if you want, just use them on the top as pictured. Arrange a bit more filling on top in a decorative way. Chill cake until ready to serve.
Notes
For the small version in the first photo, halve the recipe and bake in an 8 inch pan. Split the cake, fill center with cherry filling and frost all over with sweetened whipped cream.
-- I used 8 inch pans because I wanted a tall cake, but 9 inch pans would work too. If you use 9 inch round pans, check the cakes at 25 minutes because they'll probably cook faster.
-- The cherry filling is a little runny, but tastes good. It will thicken up a little as it cools. Also, if you use 8 inch pans you'll probably have some leftover.
-- You'll also have plenty of whipped cream. I like making more than I need so I can pipe extra on top.
-- You probably know how to split a cake, but if you've never done it, here's a tip. Stick a skewer through the center of the cake and cut through with a serrated knife, resting the knife on the skewer as you cut. The skewer will guide you right through the cake.
-- Even if you only make cakes once in a while, a cake lifter is a GREAT tool. I use it all the time for separating cut layers and for moving cakes from rack to cake plate. They sell cake lifters in the cake decorating aisle of places like Michael's.