Today's recipe for Magic Blondies is adapted from Martha Stewart, and it had been on my "to try" list for ages. My concern was that these muffins/cookie things would be pretty, but not very tasty.  Luckily, I was wrong.  The cake part is very moist without being overly rich and there are enough add-ins to make it interesting. These are definitely going in the "Bake Sale" file.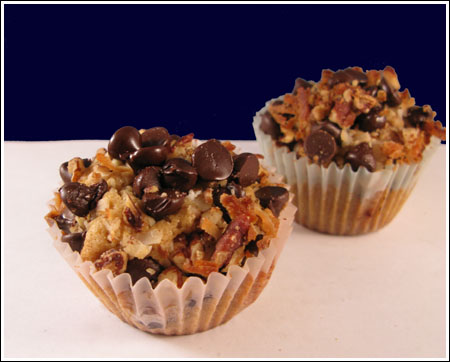 Magic Blondies
⅔ cup sweetened flaked coconut
1 cup (180 gram) semisweet chocolate chips
1 cup (120 grams) chopped toasted pecans
1 ⅔ cups (220 grams) all-purpose flour
1 teaspoon (5 ml) baking powder
¾ teaspoon (3 ml) coarse salt
9 tablespoons (125 grams) unsalted butter, softened
1 cup (220 grams) packed light-brown sugar
2 large eggs
1 teaspoon pure vanilla extract
Preheat oven to 350 degrees F (180 C). Line a 12-cup muffin tin (standard size) with paper liners; set aside. Stir together coconut, chocolate and pecans; set aside.
Mix together flour, baking powder, and salt; set aside.
Cream butter and sugar in a large mixing bowl, using an electric mixer, until pale and fluffy. Add eggs and vanilla; mix until combined. Reduce speed to low or by hand, stir in flour mixture, scraping down sides of bowl, until well combined. Mix in about a cup of the coconut mixture.
Divide batter among muffin cups, filling each about three-quarters full. Sprinkle remaining coconut mixture over tops and bake on center rack for about 25 minutes or until a cake tester comes out with moist crumbs.
Blondies can be stored in an airtight container at room temperature up to 2 days.