Merry Christmas Eve! I'm making a couple of new holiday desserts and will report back soon, but until then here's a terrific chocolate chip cookie recipe (some call it The Ultimate Chocolate Chip Cookie) I discovered while reading my friend's blog, Cooking for Engineers. This isn't actually Michael's recipe, but a fellow named Mark linked to it from the comment section saying it was from a well-known Unix guru who was a wiz with chocolate. My eyes got blurry scanning the 150 comments, but I think it's the 15th comment down.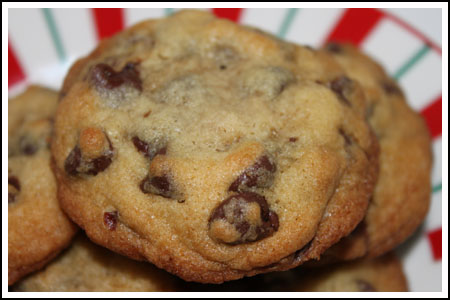 Luckily the Ultimate Chocolate Chip Cookie lives forever in cyberspace, and I hope you agree that it should stay there. It makes an excellent thick, chewy, crispy-edged cookie and doesn't require fancy flours or specialty ingredients. Technique is the key. There's a lengthy creaming of butter & sugar (hence, the stand mixer) and the eggs are mixed with vanilla and added in an ever-so-slowly fashion spanning 3-4 minutes. Finally, Richards recommends chilling the dough overnight and stresses that without that chill-time, the cookies will be just regular chocolate chip cookies. Hmmm, not so sure. I cheated with the chill time and mine were fabulous, but I used cold butter and that probably gave the chill time a head start. At any rate, I can't wait to bake up a few more tomorrow.
I've linked to the original recipe and recommend you follow it, but in case it goes away or you need to know how much the flour weighed, here's my adaptation. I increased the salt by a pinch.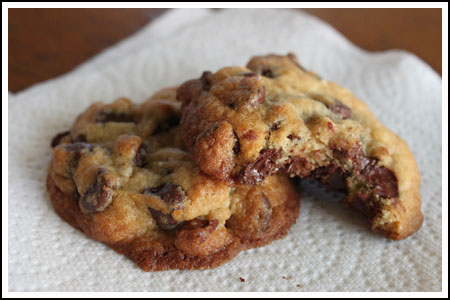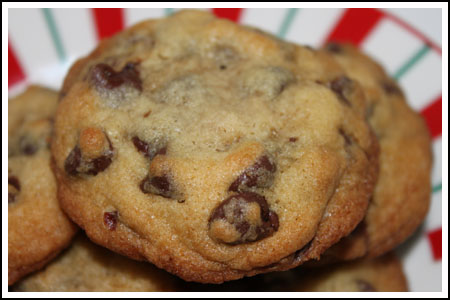 Santa's New Favorite Chocolate Chip Cookie Recipe
The Ultimate Chocolate Chip Cookie
Ingredients 
2 1/2

cups

unbleached all purpose flour

11.25 oz

1 1/4

tsp.

baking soda

1 1/8

teaspoon

of salt

use 1/2 teaspoon if using salted butter

8

oz

unsalted butter

cold, cut into pieces

1

cup

very firmly packed light brown sugar

3/4

cup

granulated sugar

2

large eggs

1 1/2

teaspoons

vanilla extract

2

cups

toasted pecans or walnuts

chopped

3

cups

chocolate chips

18 oz -- Use only 2 cups if desired
Instructions 
Sift together the flour, baking soda and salt; set side.

Beat cold butter until creamy in bowl of a stand mixer fitted with the paddle attachment. Add both sugars and continue beating at medium speed for about 3 or 4 minutes, stopping to scrape down bowl occasionally.

Meanwhile, mix the eggs and vanilla together in a separate (small) bowl or measuring cup and slowly, one tablespoon at a time, add the egg mixture to the cream mixture while the mixer is in motion. This should take another 4 minutes.

With mixer on lowest speed or by hand, add dry ingredients. When incorporated, add chocolate chips and nuts and stir to mix.

Shape dough into golf ball size balls and arrange on a cookie sheet right next to each other. At this point, you are chilling them not baking them so you don't have to worry about spacing. Cover dough balls overnight or for 6 hours. Remove and let warm to room temperature (30 minutes). Arrange cookie balls on ungreased cookie sheets spacing about 3 inches apart. Flatten a little to resemble a hockey puck, about ¾-inch high. Make edges go straight up and down. Make a slight depression in center with finger.

Bake at 400 degrees, 8-10 minutes (mine took a little longer). Edges should be golden brown but center 1-inch pale. Let sit at room temperature 5 minutes before taking off baking pan.

Makes about 32 cookies if you use all the chips and nuts, but if you use only 2 cups of chips and leave out the nuts you'll get somewhere around 28 cookies.
Notes
If you have a scale, it's best to weigh out 11.25 oz flour. If you don't have a scale, give the flour a good stir before measuring it and make sure not to pack it into the cup.