This is my current favorite yellow cupcake recipe, but these Ultimate Yellow Cupcakes are giving it some competition.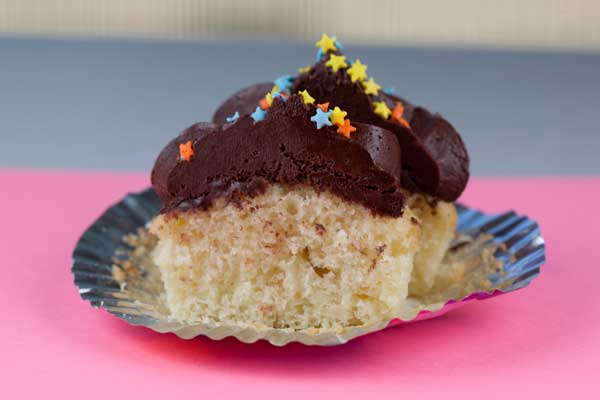 Secret Ingredient
The recipe is from Stef at The Cupcake Project, and she makes the cupcakes with a fresh vanilla bean. I didn't have any vanilla beans today, but I did have a few bottles of McCormick Vanilla Butter & Nut Extract which I'd bought while visiting North Carolina. It's a regionally distributed extract (I can't find it anywhere here in Austin) which adds a touch of yellow color and an interesting butter flavor that might remind you of boxed yellow cake. You can make Ultimate Yellow Cupcakes without, but I'm still enjoying the novelty of it so I used it today.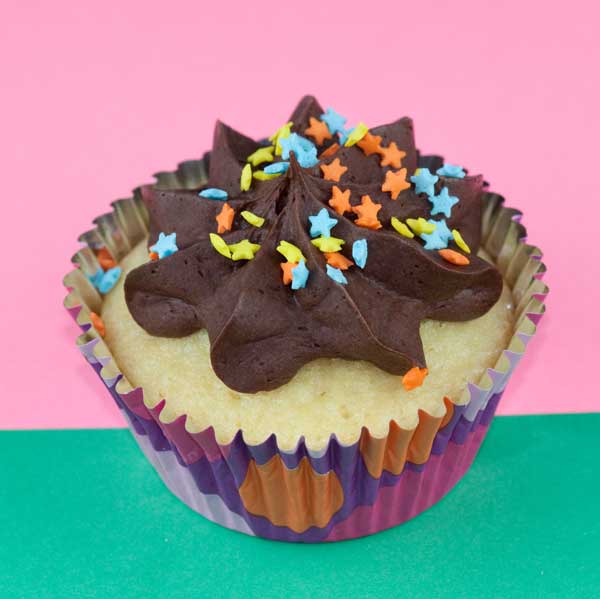 Small Batch Cupcakes
Here's the small batch recipe. You could stretch it to make 12 cupcakes, but they'll be slightly stubby (like mine), so I recommend making 10 cupcakes or doubling the recipe and making 20 to 22. I also had some issues with the gram amounts given in the original recipe. The gram amounts given for the volume of cake flour and sugar seemed a little off, so I used the recipe's volume measurements and adjusted the gram amount below to reflect what they were when I weighed them. Are these really the ultimate? I thought they were good, but I have a lot of great yellow cupcake recipes so it's hard to say. It's good to have more than one solid recipe, though.  For the frosting, I used my favorite chocolate frosting recipe.
Recipe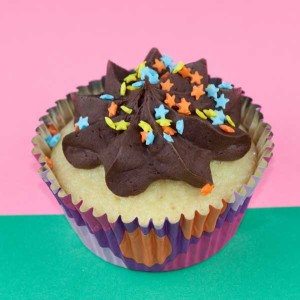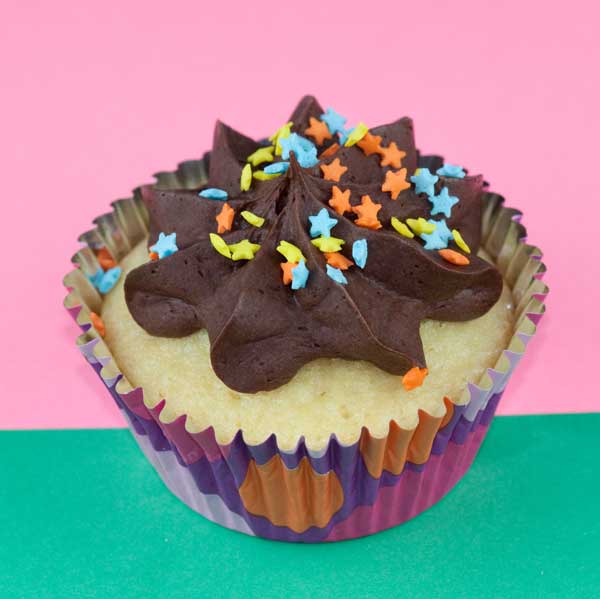 Ultimate Yellow Cupcakes
Yellow Cupcakes
Ingredients 
¾

cup

plus 2 tablespoons cake flour

98 grams -- Not all-purpose!

¾

teaspoon

baking powder

¼

teaspoon

baking soda

¼

teaspoon

salt

½

cup

granulated sugar

96 grams

2

tablespoons

unsalted butter

room temperature (28 grams)

1

large egg

room temperature

3

tablespoons

sour cream

42 grams

2

tablespoons

vegetable oil

1

teaspoon

vanilla and ¼ teaspoon McCormick butternut & vanilla extract

⅓

cup

whole milk

but reduced fat will work in a pinch
Instructions 
Preheat oven to 350 F. Line 10 cupcake cups with paper liners.

In a mixing bowl, stir together the cake flour, baking powder, baking soda, salt and sugar.

Add butter to the dry ingredients and mash it around with a heavy duty scraper or mixing spoon to coat dry ingredients.

In a small mixing bowl, whisk together egg, sour cream, oil, and both extracts until smooth.

Add the egg mixture to the flour mixture and stir until blended. Slowly add milk and stir until blended.

With a hand-held electric mixer, beat on medium speed for about 30 seconds to 1 minute or until batter is velvety smooth.

Divide batter evenly between cupcake liners. Bake for 15 minutes and then test with a toothpick to see if they're done. They will not appear browned at this point, so it's hard to tell just by looking. If the toothpick comes out without batter, they're done.

When the cupcakes are done, remove the cups from the pan and let cool.
Notes
I did some experimenting with the yield and found that when making 12 cupcakes, the cupcakes were too small. It's best to go with 10.