Fuzz loved "Whipped Cream Pound Cake" because it had 4 eggs to crack! It's from one of my favorite cookbooks "Classic Home Desserts" by Richard Sax, a simple but informative book with great recipes, a friendly laid back tone, and a bit of history on some classic dessert favorites.
The recipe was given to Richard Sax by his friend Jan Bayrock, and he cites it as having a unique and less dense texture than the standard pound cake. He also points out that whipped cream pound cake has almost half the fat of most pound cake recipes.  In fact, it has no butter at all.  All of the fat comes from 1 cup heavy cream.
I ran the nutrition stats through Mastercook and came up with 7 fat grams per slice. Fuzz enjoyed hers for dessert (with strawberries and more whipped cream), Todd will have a piece later, and the rest will probably go into some sort of trifle. All in all, it was a good use of a fifty cent pint of cream and got a recipe I'd been interesting in baking out of my system.
Recipe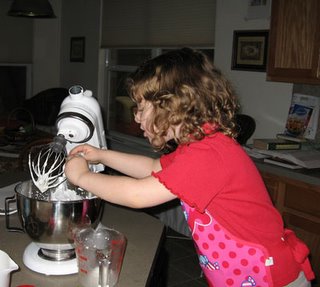 Richard Sax's Whipped Cream Pound Cake
Whipped Cream Pound Cake
Ingredients 
2

cups

all purpose flour, aerate well or weigh

(250 grams)

2

teaspoons

baking powder

1

teaspoon

salt

1

cup

heavy cream

4

large

eggs

1 ½

cups

sugar

(300 grams)

1

teaspoon

vanilla extract

A few drops of almond extract
Instructions 
Preheat oven to 350 degrees F. Grease a 10 inch tube pan or spray with flour-added cooking spray.

Sift together flour, baking powder and salt. Set aside.

Beat cream until thick, then set aside.

Beat eggs until foamy. Beat in sugar, vanilla and almond extract. Stir in flour mixture until blended. Fold in whipped cream. Bake in tube pan for about 45-50 minutes. Turn from pan.
Notes
I've never tried this with cake flour, but I I think it would be even better with 8 oz (2 ¼ cup) of cake flour.