Last week during my experiments with glucose syrup, I came across this recipe from the famous Heny Sison culinary school in Manilla. It's a basic butterscotch bar made with brown sugar, butter, etc., but with the addition of glucose syrup, designed to keep the bars moist and fresh.
Saturday I baked a modified half batch of the bars and put them in a sealed tin to see if they'd really be fresh a couple of days later. Today (Monday), I checked the results and they still taste great!
There are lots of butterscotch bar recipes and chances are you have a good one, but if you need something that will stay fresh for a few days, adding some glucose syrup is worth a try. I finished off my jug of Wilton glucose syrup but am fairly certain honey, golden syrup or corn syrup would have worked very well too.
As for taste and texture, adding syrup to the bars made them a little softer than usual and definitely moister, but not cakey. My batch didn't rise very high, but in the case of butterscotch bars that's a good thing because they are supposed to be dense. I browned the butter and got a really good burnt caramel/brown butter flavor which combined with pecans is always good. So overall, I liked these a lot and am happy to have another make-ahead or shippable recipe.
I'm looking forward to trying glucose syrup in other things and will be posting some more experiments soon.  In the comment section of a recent post, a visitor from a professional cookie bakery gave us a tip on how to make it at home, and I've got my special homemade batch of glucose syrup in the refrigerator right now.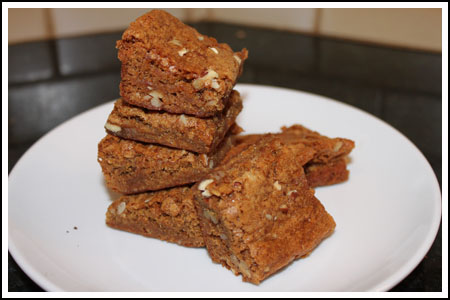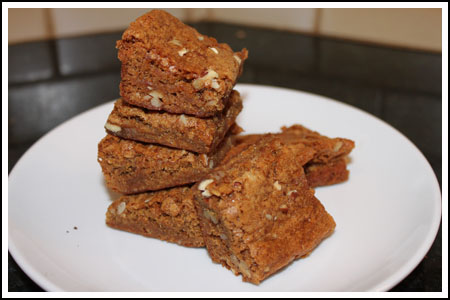 Stay-Fresh Butterscotch Bars
Butterscotch blondies with added glucose syrup to keep them fresh
Ingredients 
1

cup

all-purpose flour

plus 1 tablespoon (4.8 oz)

1/2

teaspoon

baking powder

1/4

teaspoon

baking soda

1/2

scant teaspoon Kosher salt

Morton – use half if using salted butter

1/4

cup

unsalted butter

1/4

cup

liquid glucose

the kind you find on the cake decorating aisle

3/4

cups

packed light brown sugar

1/2

teaspoon

vanilla extract

1

large egg

1/3

cup

coarsely chopped toasted pecans
Instructions 
Preheat oven to 325°F and line an 8 inch square metal pan with aluminum foil. Grease foil and set pan aside.

Sift or stir together flour, baking powder, baking soda and salt; Set aside.

Melt butter over medium heat in a small saucepan. Cook just until it starts to brown, then remove from heat and transfer to a medium size mixing bowl. Let cool slightly. Add brown sugar, glucose and vanilla extract. Beat with a hand-held electric mixer on medium speed until combined. Add the egg and beat on high speed for about 3 minutes or until the egg is fully incorporated and the batter is lighter in color and texture. By hand, stir in the flour mixture and nuts; Spread in prepared pan (damp fingertips help).

Bake for 30 minutes until top is firm. Cool on wire rack. Cut into bars.
Notes
Glucose syrup can be ordered off Amazon or found in the cake decorating aisle of craft stores. It's clear like corn syrup, but very, very, thick.