Fuzz is home on break from college and the subject of Yogurt Bran Muffins came up. She wanted a recipe to take back to school with her. Specifically, one that tasted good and didn't have any weird ingredients. Looking through Cookie Madness I came on this old post and almost teared up at how time flies. And then I made some updates.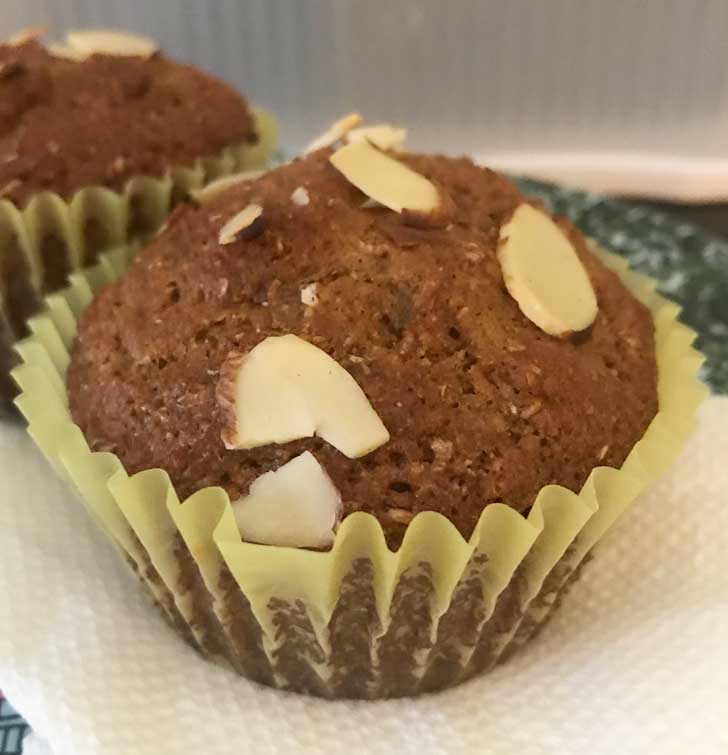 Yogurt Bran Muffins
My original goal back 2010 was to find a muffin that would be good without any add-ins. That is, no relying on raisins or dates for extra moisture, and no extra nuts. This was my daughter's preference, not mine. Luckily these days she tolerates raisins and appreciates nuts, so that's not a huge factor in finding good muffin recipes. However, I'm keeping those things out of the muffins for now and you can add in anything you like.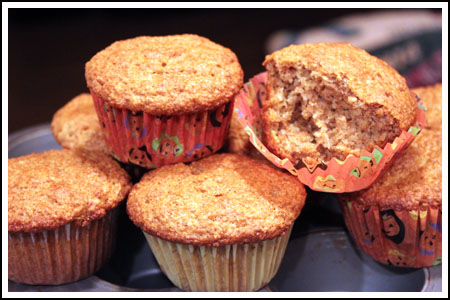 Yikes With the Baking Powder
Yogurt Bran Muffins are heavy on the leavening agents. Originally from Recipezaar, the batter calls for 2 teaspoons of baking powder and 1 teaspoon of baking soda. That's what I used when I originally made these and it works just fine. I'm still experimenting with the perfect amount of leavening agents, so for now you can stick with 2 teaspoons of baking powder or cut to 1 teaspoon. With the 2 teaspoons, the muffins don't have very high crowns but are light textured. With one teaspoon, the texture is slightly heavier and the tops are more rounded.
Half Cup of Brown Sugar
The original version also calls for ½ cup of brown sugar. My impulse was (and still is, kind of) to cut the sugar. But when I cut the sugar to ⅓ cup the muffins lost a little bit of moistness. A half cup of sugar seems like a lot, but isn't as bad as it seems since the recipe also includes a full cup of yogurt and bran to help balance it.
Half Cup of Oil
Cutting the oil to ⅓ cup reduced the overall deliciousness of the muffins a tiny bit, but they were still good. Next time I make these I'm going to cut the oil to ⅓ and add 3 tablespoons of prune puree or perhaps ¼ cup applesauce. I do think there's room for improvement.
Future Experiments
This is one of those recipes you could make endless changes to and still have really good bran muffins. I've pasted the tested version below, but here are some potential changes I plan to try.
2 teaspoons of baking powder lightens the muffins, but I'm going to keep experimenting with 1 teaspoon, as I like a slightly heavier texture
The ½ cup of brown sugar could be replaced with coconut sugar or a mixture of brown sugar and honey or brown sugar and maple syrup.
I'd love to try these with ½ cup of ghee in place of oil! If you get to it first, please let me know how it works. Coconut oil would also be great, as would grapeseed. As mentioned, I think using ⅓ cup of oil and 3 or 4 tablespoons of some sort of fruit puree would be good.
Yogurt Bran Muffins
1 cup all-purpose flour (125 grams)
2 teaspoons baking powder (You can use 1 teaspoon if)
1 teaspoon baking soda
¼ teaspoon salt
½ teaspoon cinnamon
1 egg
⅓ to ½ cup packed dark brown sugar (70 to 100 grams)
½ cup canola oil (or use a different oil like coconut or grapeseed or ghee)
1 cup unprocessed bran
¾ teaspoon vanilla (can add in a little maple extract if you have some)
1 cup plain yogurt (Greek yogurt)
Preheat oven to 400 degrees F. Grease 12 muffin cups or line with paper liners.
Mix together the flour, baking powder, baking soda, salt, and cinnamon; set aside.
Mix egg, brown sugar and oil together in a mixing bowl. Stir in vanilla and bran.
Add the flour mixture to the sugar mixture alternately with yogurt -- don't over-mix. Fill muffin cups ⅔ full (don't fill too the top!). Bake at 400 for 5 minutes, then reduce heat to 350 and bake for another 15 minutes.