Yesterday I got about 20 emails requesting yogurt bran muffin recipes, so…
Wait, that was a lie. I only got one request for muffins and it was from my daughter.
And really, that was kind of a lie too because the way it went was it was 5:00 PM and she was starving. I said "Hey, how about I make you some muffins?!" Because really, I just like making muffins and I figured if she was hungry, this would be a good time for me to test out these semi-healthy bran muffins made with yogurt.
The end result was a clean plate and compliment which included "Thanks for not putting anything in them, Mama." because I'd left out the fruit and nuts which she hates, but which you might want to add back in if you or your kids need more than a less homogeneous texture. Served plain, these are lighter than the usual bran muffins, just sweet enough to please a sweet tooth, and made with unprocessed bran which is never a bad thing. I wish I'd used white whole wheat flour too, but I have to go stock up on that today.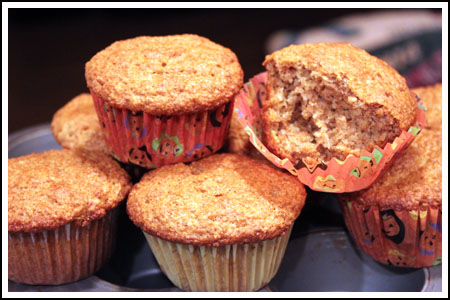 Cinnamon Yogurt Bran Muffins
1 cup all-purpose flour
2 teaspoons baking powder
1 teaspoon baking soda
1/4 teaspoon salt
1/2 teaspoon cinnamon
1 egg
1/2 cup packed light brown sugar
1/2 cup vegetable oil
1 cup unprocessed bran (the kind in the bulk bin)
1 teaspoon vanilla
1 cup plain yogurt
Preheat oven to 375 degrees F. Grease 10 muffin cups or line with paper liners.
Mix together the flour, baking powder, baking soda, salt, and cinnamon; set aside.
Mix egg, brown sugar and oil together in a mixing bowl. Stir in vanilla and bran.
Add the flour mixture to the sugar mixture alternately with yogurt — don't over-mix. Fill muffin cups and bake on center rack for 25-30 minutes.
Makes 10 (although you could make them smaller)
Adapted From this fine recipe on Recipezaar.