Heath Bar Cookies are my spin on an old recipe from Marcel Desaulniers called Mrs. D's Chocolate Chip Cookies. I found it in his book Death By Chocolate Cookies, while looking for
Super Bowl treats.
Mrs. D's Chocolate Chip Cookies
Desaulniers (Mrs. D. is his mother) says this is his favorite recipe in the book, and I can see why.  They are beautiful cookies - large, thick, sturdy and packed with chocolate chips and dark brown sugar.  Fuzz loved them, and not just because the cookies are as big as her head.
Use Lots of Chocolate!
The cookies are well balanced.  The dough itself isn't very rich, but it's balanced out by a more than generous portion of chocolate chips and my theory is that if you don't add the full 12 oz or perhaps even more chocolate chips, the cookies won't be quite the same....perhaps even, lackluster.  Also, I think you have to make them big (like the recipe instructs) or you won't get the proper texture.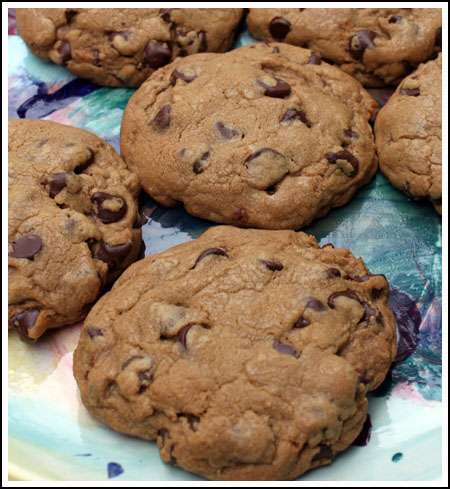 Heath Bars
So I loved the crispy, almost hard texture of the cookies, but thought I'd take it a step further and throw in some Heath bar chunks.  The Heath bar addition was great and I'd do it again, but I'd also make these again with just chips and maybe some walnuts.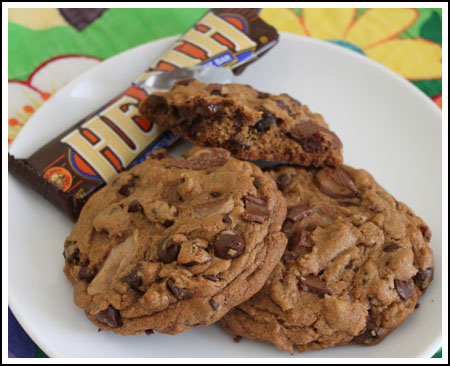 One last note.  These would be excellent for a bake sale.  In the book, Desaulnier says his mother used to ship them to Vietnam, so no doubt they keep well. Plus, they are easy to wrap once they've set and cooled.  If you are crafty, you could come up with a lot of fun ways to package these.
Heath Bar Cookies aka Mrs. D's Chocolate Chip Cookies
4 oz unsalted butter, cool, cut up (114 grams)
1 cup packed dark brown sugar (200 grams)
1 large egg
2-3 teaspoons rum (14 ml)
¾ to 1 teaspoon vanilla extract
½ teaspoon salt
¾ teaspoon baking soda
2 cups all-purpose unbleached flour (260 grams)
12 ounces semisweet or extra dark chocolate chips (I used extra dark)
2 oz Heath bar, cut up (56 grams)
Preheat oven to 300 degrees F.
Cream the butter and brown sugar with an electric mixer for a full 4 minutes – I used a stand mixer with a paddle attachment for this. Add egg, rum and vanilla and beat on medium for 1 minute until combined. Scrape sides. Beat in the salt and baking soda. Scrape sides again. With mixer on low or by hand, gradually add flour. Stir until almost fully mixed; mix in the chips. At this point, you can stir in the Heath chunks or you can press them into the cookie later so you can control how many Heath chunks per cookie. It's nice to in control of something, right?
Divide dough into 3 equal parts, then divide each of those parts into 4 to make 12 big mounds of dough. Shape into balls and chill for about an hour or until you intend to bake the cookies.
When ready to bake, preheat oven to 300 degrees F.
Arrange the cookies 6 to parchment or foil-lined cookie sheet and press them down slightly to make thick discs. Press a few chunks of Heath bar into each cookie (if you haven't mixed it in). Bake one sheet on the top rack and the other on the center rack, swapping racks halfway through the cook-time and rotating the cookies sheets 180 degrees. Bake time should be 25 to 28 minutes. If the dough is cold, you might want to bake them for up to 32 minutes. The original recipe said not to over-bake, but I kept over-baking mine on purpose because I liked the crunch.
1 dozen huge cookies