I've been on a Heath Bar kick which meant this recipe needed a revival. It's a fairly old one, and I kind of forgot about it over the years even though I really liked it back in the day.  This is yet another batch of cookies which I plan on wrapping and freezing for a big event next week.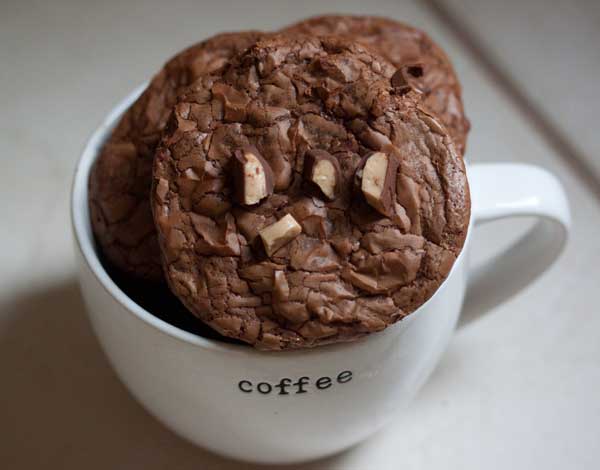 The recipe calls for a half pound of chocolate, but you can definitely get away with using chocolate chip if you use a good brand. The bittersweet Ghirardelli chips work really well and aren't overly sweet.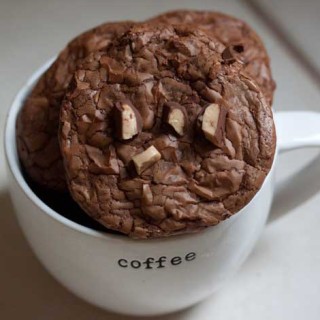 Double Chocolate Toffee Cookies
Double Chocolate Toffee Cookies are made with bittersweet chocolate chips and chopped up Heath toffee bars. The original version, Giant Chocolate Toffee Cookies from Bon Appetit, called for regular chocolate, but over the years I've found that regular chocolate chips work well, too. I also make mine a bit smaller.
Ingredients 
1/4

cup

all-purpose flour

35 grams

1/2

teaspoon

baking powder

1/8

teaspoon

salt

1/2

pound

Ghirardelli Bittersweet Chips

1 1/3 cups**

2

tablespoons

unsalted butter

3/4

cup

plus 2 tablespoons

packed light brown sugar (170 grams)

2

large eggs

1 1/2

teaspoons

vanilla extract

12

Heath minis

coarsely chopped

1/2

cup

walnuts

toasted, chopped
Instructions 
Mix together the flour, baking powder and salt and set aside.

Combine chocolate chips and butter in a microwave-safe bowl and heat on high, stirring every 30 seconds until smooth. Let cool to lukewarm.

In a medium size mixing bowl, beat the eggs for about a minute. Add the brown sugar and beat for 3 or 4 more minutes. Beat in vanilla. With a scraper, stir in the melted chocolate/butter mixture. By hand, stir in the flour mixture, followed by the chopped Heath bars and walnuts.

Chill the batter just until it is thick enough to scoop (about 45 minutes).

Preheat oven to 350°F. Line 2 large baking sheets with Silpats. Parchment is okay too. Drop batter by generously heaping tablespoons onto sheets, spacing 2 1/2 inches apart. Bake just until tops are dry and cracked but cookies are still soft to touch, about 12 to 14 minutes.

Let cool on the baking sheets for about 8 minutes, then carefully transfer to a rack to finish cooling.
Notes
Bittersweet (60%) worked well, but you could even go with a 70% chocolate bar or something even less sweet.
The cookies spread as they baked, the puffed up towards the end. The flattened out a little bit upon cooling.